These New 'Handmaid's Tale' Photos Will Help Fuel Your Season 2 Predictions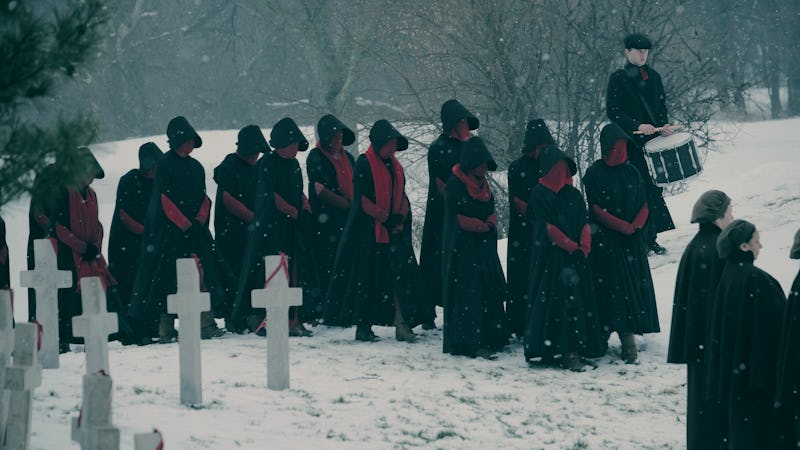 Hulu
What's to come is going to be dark, chilling, and wildly unexpected. And no, that's not a reference to real-life politics. New photos from Handmaid's Tale Season 2 have been released by Hulu, and while they support what the cast and creators have hinted about Season 2 so far, they still raise more questions about what's to come in Gilead's horrifying dystopian future.
Since last summer, Handmaid's star Elisabeth Moss has guaranteed that Season 2 will be absolutely nothing that audiences expect. "Give up trying to guess what happens," she told the DGA Theater, as reported by Variety. And more recently, Moss even narrowed it down to Season 2's opening scene. "Don't try to guess what happens in that first scene of episode one in Season 2," she said at the Golden Globes. "You will never get it, and I mean that objectively as a viewer. You just won't guess."
Now, fans have photos, but perhaps they shouldn't look too much into them or over-theorize (per Moss' prior advice). Still, the photos are very intriguing and perhaps tie into a few storylines that have been confirmed for Season 2 thus far such as: exploring the Colonies, the inception of Gilead, and Offred's (Moss) pregnancy and rebellion.
One jarring photo shows Offred covered in blood. But whose blood is it?
As described by Hulu, Season 2 is "shaped by Offred's pregnancy and her ongoing fight to free her future child from the dystopian horrors of Gilead... Offred and all our characters will fight against — or succumb to — this dark truth." Show creator Bruce Miller also hinted that motherhood will be a solid theme throughout Season 2. "What does it mean to be a good mother? It's about the way we mother the people in our lives," he said at the DGA Theater in summer 2017. Is Offred hurt while she's pregnant? Or is this photo of a flashback which could help explain backstory and how Gilead was formed in the first place?
That brings us to the second photo, an ominous look at a group of women holding long sticks and walking through a field. They're heading to something unknown and being led by people on horses. Is this a look at the Colonies?
The cast and creators have confirmed that Season 2 will explore the Colonies, a secretive place where women who misbehave (known as Unwomen) are sent to work until their death. "I'm sure it will be another wretched and fascinating place, like Gilead," star Alexis Bledel hinted at the DGA Theater last summer.
Samira Wiley (Moira) has also teased the show's look at colonies, telling ABC News, "We're going to go there... meet those women and see what their day-to-day lives are like." After visiting the set, Marie Claire described the Colonies, saying, "They're just about as depressing as you'd expect, but there's a certain sinister beauty that the cinematography team worked to capture." That seems like a close match.
The final photo shows a group of handmaids wearing a different uniform, in all black with red scarves, sleeves, and their faces completely covered in red cloth. They also seem to be in a funeral procession, as they're in a cemetery.
Does this mean a handmaid commit suicide? Was a handmaid murdered? In December, Moss did hint that "there is a breaking point for somebody" to Today. "But it's what happens after that that's really interesting," she said.
And these photos don't even begin to explore many other unanswered questions, like Moira's journey in Canada and Offred's love triangle, which Moss has humorously described as "the most complicated Real Housewives episode you've ever seen" to Elle.
After looking at the photos and gathering the hints so far, Moss is right, there's really no use in guessing what's to come before Season 2's April premiere. "All I know is that it's going to make Season 1 look like a walk in the park," actor Amanda Brugel (Rita) told People in September.
No one knows what to expect, everyone's a little terrified, and that's what's so unique and immersive about the Handmaid's Tale experience.