Samira's 'Love Island' Experience Stings For Women Of Colour & Here's Why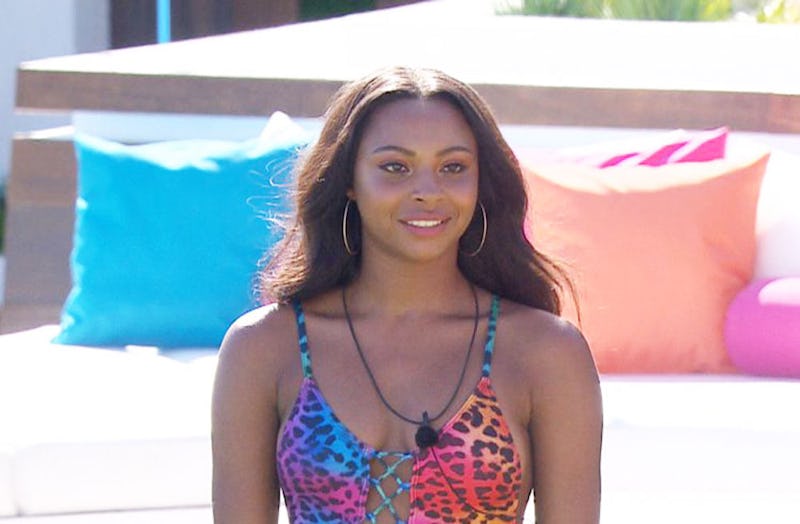 Love Island/ITV
I am a huge fan of Love Island. I mean, who isn't? But there is a problem with Love Island 2018 — its lack of diversity. I've said it before and I'll say it again: there's one person who's suffering acutely this year, and it's Love Island's Samira Mighty. Put simply, she deserves more. So why does it matter so much? It matters because diversity isn't as simple as having a line-up that includes people of colour. It's the way people of colour are treated and the narratives around them too.
Research has shown that seeing people who look like you reflected positively on screen makes you feel good about yourself. During a 2012 study conducted by the University of Michigan, black children's self-esteem reduced as they watched white little boys and girls on TV. One of the researchers on the project, Nicole Martins, told the Huffington Post of the findings: "We feel pretty comfortable that it's this lack of representation that could be responsible for this effect."
Now, let's apply this to Love Island. What impact do ITV producers think Samira's experience on the show is going to have on black girls watching at home? As she is sidelined from the narrative, rejected by the boys, and treated badly by the girls, how will it affect viewers? And yes, I know Samira has friends in the villa, but she has been treated badly by the girls on several occasions, like when she was told to shut up on the balcony, or when the female islanders wouldn't show her the phone after Adam sent a picture of the two newbies. I'm not saying that producers should intervene and make the girls be more inclusive towards Samira, but I hope that when viewers think about whether they have ever — no matter how unconsciously — contributed to a person of colour being excluded, and vow to never to let it happen again.
ITV, if you're reading this, what I am saying is that when producers introduce contestants of colour, they have to support them in the same way they do white contestants. Anything less is tokenism, pure and simple. It's clear Samira's struggle to find love isn't getting the same amount of attention as Alex, but producers could easily switch this up by sending a couple more guys into the villa, rather than just adding more and more white girls.
When you're sat at home watching Love Island as a person of colour and you see a person of colour on screen being rejected apparently for no other reason than the colour of their skin — Samira has so much going for her, I can't see any other explanation for why she hasn't been successful so far — it stings.
It's important that people of colour not only see themselves reflected on screen but that people of colour see themselves reflected as the hero of their story, not just a sidekick. But unfortunately due to the lack of romantic interests for Samira, that's exactly what's happening to her. She's getting hardly any airtime and when she does, she's helping the other contestants with their dramas, informing their narratives rather than shaping her own. Worse still, she risks being dumped from the villa on Friday because there aren't any boys for her to couple up with.
In Monday's episode, Samira aired her concerns over whether Ellie's interest in Alex was genuine. She was immediately criticised by Josh, who told her to let Alex "have his time." Whether or not Samira was looking out for Alex or trying to safeguard her place on the island, why does anyone expect her to sacrifice her summer of love for some guy she barely knows?
She's been a great friend to Alex, encouraging girls who are interested to date him, despite it meaning she might be sent home, and the one time she expresses the slightest bit of doubt, everyone jumps down her throat. It strikes me as extremely unsavoury that we expect her to sit tight, squash down her feelings, and potentially give up her place for a group of white contestants she didn't know two weeks ago. Who, as we've seen, have a funny way of showing they care about her. It's also telling that the clip of her discussion with Josh on the Love Island Youtube page is titled "Samira Kicks Off Out Of Nowhere," despite the fact that she actually remains quite calm throughout. Angry black woman stereotype, anyone?
We saw the same thing last year with Marcel Somerville and Montana Brown. Marcel eventually found love with Gabby Allen but was still reduced to a comedy character by the constant references to his time in Blazin' Squad (which, he revealed after leaving the villa, he had been instructed to talk about by producers to mention), and he too became a confidant to other contestants. Remember the whole "Paging Dr. Marcel" thing? Meanwhile, Montana somehow managed to cling on to a place in the villa despite being relegated to the funny sidekick slot right up until the last couple of weeks when Alex Beattie came in. And it's not just Love Island, people of colour have a tricky time on other reality shows too. Alexandra Burke was hounded by the press during the 2017 series of Strictly for being a "diva" and when she showed her vulnerability, was described as "fake".
Love Island is one of my favourite shows, but this year, it's testing me. The producers need to remember that its audience isn't just white. The series has a duty to those watching at home to show that people of colour deserve the chance to find love in the sun just as much as everyone else.
People have called for Samira to leave because it feels pointless a black woman being on the island if she's just going to be neglected and ignored. Is this really what Love Island wants the extent of its diversity to be? A total fail that leaves viewers of colour feeling they aren't quite part of the fun?
And while yes, I'm not expecting a reality show to undo centuries worth of racial conditioning that sets white women up as the ideal (give the term "mysogynoir" a Google, if you want to know more), the least it could do is give its female contestants of colour a fair chance. Which means the next set of bombshells better be boys who fancy Samira, or I might just have to give my fave show the swerve.