You Can Get This Massive 3-Tier Mickey Mouse Cake At Sam's Club For Under $70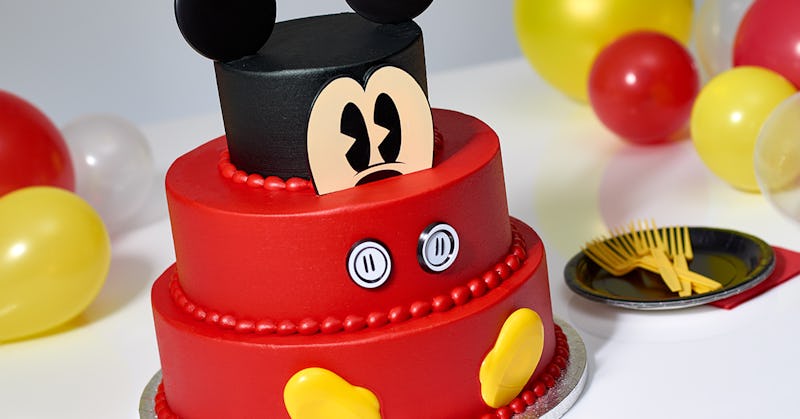 Courtesy of Sam's Club
Imagine the most extravagant birthday celebration you have attended. Maybe it celebrated someone's 15th or 16th trip around the sun, or perhaps it was for a 50th birthday. But have you ever celebrated a 90th birthday? Few have had the chance to celebrate the life of someone born in the 1920s.
Until now. Lucky for you, you get to join in a worldwide celebration for the 90th birthday of the world's most famous rodent: Mickey Mouse. What's a birthday without a show-stopping cake, you say? Not good enough! Luckily, there's a three-tiered Mickey Mouse cake at Sam's Club for all the festivities.
Sam's Club has created a truly spectacular cake big enough to feed large Mickey Mouse birthday parties. In a press release, the superstore chain describes the Mickey Mouse cake, designed specially for his 90th birthday, as a three-tiered "mouse-terpiece" big enough to feed 66 people. The cake is obviously designed to look like the mouse it is celebrating; the two base layers are fire engine red, the first emblazoned with fondant shaped like Mickey Mouse's signature yellow shoes, and the second sports two small edible buttons like those found on his trousers.
The top layer is black with an image of Mickey's face. The whole cake is, of course, finished with Mickey's big round ears.
If you don't need to feed 66 people cake (or can't stomach that much yourself), Sam's Club has a number of other options for your Disney party desires, in the form of Mickey Mouse cupcakes, or a Mickey Mouse cupcake cake. Available in chocolate, vanilla, or a mix of the two, cupcake orders are topped with red and white frosting and a fondant image of Mickey through the ages. Some are Steamboat Willy, Some are Fantasia Wizard Mickey, and some are general Mickey Mouse. The cake is frosted with white icing and finished with a red and white piped border. An image of Mickey's silhouette adorns the top of the cake.
Just because Mickey has never been present on a Sam's Club cake does not mean this is the first time Sam's Club has released a beautiful, enormous cake. Over the summer, the chain released a differed three-tiered cake modeled after an aquatic mystic that also served 66 people. The spectacular mermaid cake was the perfect centerpiece for a pool party, and was sure to make you feel like you were going to sprout fins and a tail.
A true work of culinary wonder, the bottom tier of the mermaid cake came covered in a pattern of blue, green, and purple scales, reminiscent of a mermaid tail.Every inch of the second layer was covered in rainbow sprinkles— so much so you couldn't even see the icing keeping them there. The top tier resembled an underwater botanic garden, decorated with beautiful, precisely piped frosting decorations that look like algae, kelp, and other aquatic plant life. The entire cake was finished with a plastic mermaid tail on top.
Sam's Club knows cakes. To celebrate Mickey Mouse's 90th birthday, the chain has once again created a marvelous edible work of art, sure to please even the hardest-to-please Disney fans. Now all you need is some ears and you're ready to party. Make sure to call ahead to make your order — your "mouse-terpiece" awaits!