San Franciscans Are Using Dog Poop To Drive Out The Far-Right & It's Total Genius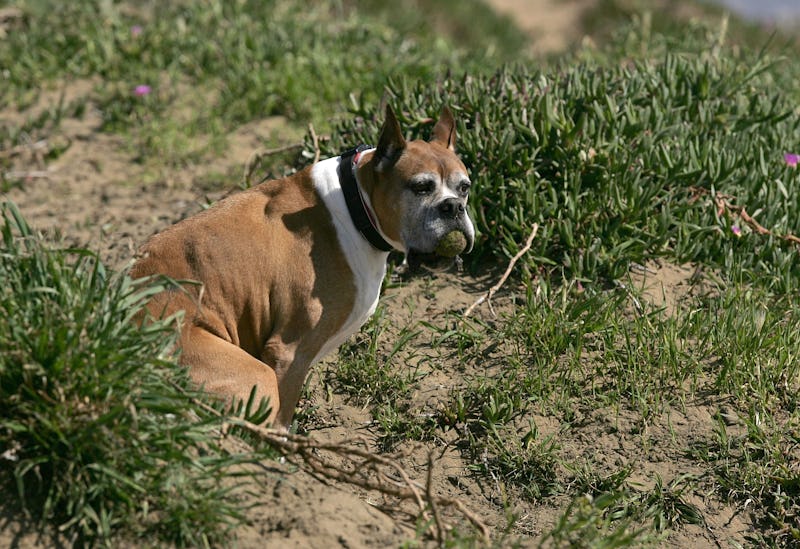 Justin Sullivan/Getty Images News/Getty Images
After the National Park Service issued a permit to the group Patriot Prayer for a right-wing "freedom rally" at Crissy Field, counter-protesters are already gearing up to make their opposition known. One particularly unique approach will be taken by San Francisco dog owners who will protest by leaving dog poop at Crissy Field on Saturday, the day of the Patriot Prayer event.
"Leave a gift for our Alt-Right friends," reads the counter-protest's Facebook page. "Take your dog to Crissy Field and let them do their business and be sure not to clean it up! Watch out for landmines, friends! We can get together Sunday and clean up the mess and hug each other!"
So far, nearly a thousand people have RSVP'd as "going." Terrence Ryan, who organized the poop protest, said the idea came to him during a walk with his dogs as he thought about the violence that recently unfolded during a white supremacist rally in Charlottesville, Virginia.
"I just had this image of alt-right people stomping around in the poop," he said. "I was trying to think of a way where we could have an act of civil disobedience without having to confront each other face to face and risk physical conflict."
Responses to Ryan's protest have been mixed, with one side praising it as a humorous and peaceful way to fight back against white supremacists, and the other side criticizing it as juvenile and disrespectful of others trying to enjoy the park as well as employees responsible for maintaining the grounds clean.
The Patriot Prayer event page on Facebook claims that the event has no connection to hate groups and specifically denounces a couple of well-known "alt-right" figures. Patriot Prayer was created by a Trump supporter named Joey Gibson.
"No extremists will be allowed in," reads the page. "No Nazis, Communist, KKK, Antifa, white supremacist, I.E., or white nationalists. This is an opportunity for moderate americans to come in with opposing views. We will not allow the extremists to tear apart this country. Specifically, Richard Spencer and Nathan Damigo will not be welcome."
Despite these claims, public officials in San Francisco made efforts to block the rally from transpiring, fearing a repeat of Charlottesville.
With a little over 400 people planning on attending, the Patriot Prayer "freedom rally" currently has less than half the pledged RSVPs as the dog poop counter protest.
Dog owners planning on participating in Saturday's demonstration are expected to return on the following morning to clean up the park.