This Millennial Pink Skin Care Product Has A 11,000 Person Waitlist & It Hasn't Even Launched Yet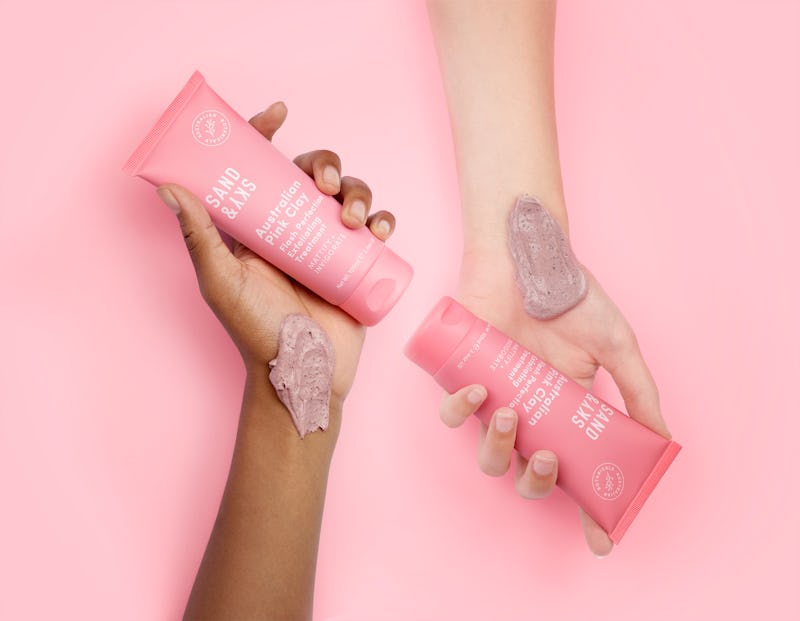 Courtesy Sand & Sky
The Australian-based skincare brand Sand & Sky created an exfoliator as their second product ever, and people are excited to say the least. The Flash Perfection Exfoliator Treatment already has an 11,000 person waiting list and it isn't even out yet. The hype isn't because of the millennial pink bottle, either. The product has incredible benefits that will make you want to add your name to the list.
When it comes to great skincare, you can't always believe the hype. This is not one of those times. Sandy & Sky started out by creating a pink clay mask that broke the internet with 60,000 sold in the first three months. Now, the brand is on track to do the same with its second product.
According to the press release, the Flash Perfection Exfoliator Treatment will detox, exfoliate and resurface, and invigorate the skin all in five minutes. Just like the bestselling mask, it includes pink clay inside to clean out pores. It also has powerful AHAs, rosehip, grapeseed, and olive oil as well.
The already-viral product will be availale on Apr. 24 on the Sand & Sky website. If you're hoping to get your hands on the product on the first round of sales, you can sign up to get alerts on the website. Because you're going to want to act fast if you want to be one of the first ones to get the product. After all, there are 11,000 people waiting.
Why are so many people interested in this product? Well, for starters it is PETA-approved. According to the press release, all of the ingredients in the product are vegan and have been approved by the organization as safe for animals and your skin.
While the vegan, hard-hitting ingredients are great, it's also super easy to use. All you do is cleanse your skin, squeeze a little out of the tube, massage into your skin for 30 seconds, and then leave it on for five minutes. The product promises to rid your skin of oil, help wit acne, tighten pores, and wake up tired skin. Basically, there's nothing that this little bottle can't do.
According to the press release, the point of this product is that it's easy and quick to use. Great skincare doesn't have to be a ten steps of intricate and expensive items. It can mean putting on one mask for ten minutes and multiple benefits at once.
The little pink bottle does not come with a drugstore price tag though. You'll have to shell out a cool $59.99 for a 3.4 oz. bottle. Because if you want a great product in an Instagram-friendly tube, it's going to cost you a little extra. To be completely honest, it's a small price to pay for all of the quick-acting benefits.
You'll know how healthy that this mask is at first glance. It looks like you're rubbing a pink smoothie on your face. It has tiny little beads inside to exfoliate the skin, but is meant to be gentle while it works. Because if you're not going to have an acai bowl every morning, you might as well have one on your face.
The good news is that this is a permanent products. Even if the product sells out on the first day of the launch, it will be back for you to try. You can also get the brand's clay mask, while you're at it.
With summer right around the corner, there's no better way to start fresh faced than with a mask like this. With all of the benefits and healthy ingredients, it's no secret why this product has an 11,000 person wait flist.