Sandra Bullock's Comments On Sexism In Hollywood Will Make You Nod Your Head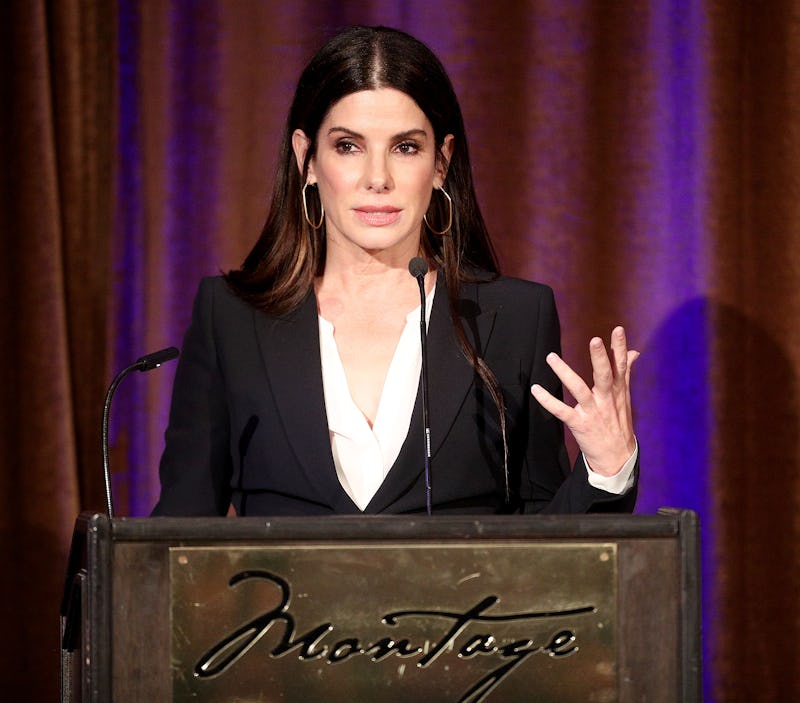 Frederick M. Brown/Getty Images Entertainment/Getty Images
By now, it's no well-kept secret that sexism often runs rampant in Hollywood. And, as the voices of Time's Up and #MeToo have bravely made clear, it's been running rampant for a long, long time. Unfortunately, that means it shouldn't come as too much of a surprise that, like so many women in her industry, Sandra Bullock almost left Hollywood due to sexism, according to a new report by USA Today.
As to the question of exactly when she'd hit her breaking point, Bullock didn't specify. But after parsing through her comments to USA Today, one thing seems pretty clear: You don't need to work in Hollywood to understand what Bullock's talking about here. Her experience is, sadly, one that'll probably resonate with a whole lot of women, regardless of their profession or industry. In the U.S., around 42 percent of employed women have reported incidents of gender-based discrimination in the workplace, according to a 2017 study by the Pew Research Center. (And, as the study notes, that statistic only accounts for the reported incidents.)
Bullock never quit acting. But after a recent three-year hiatus, Bullock makes her return to the big screen this Friday with Oceans 8, the all-female revamp of the traditionally male-led Oceans franchise. As USA Today notes in its report, Bullock's last title was 2015's Our Brand is Crisis. When Bullock sat down with the news outlet (alongside Oceans 8 co-stars Cate Blanchett and Sarah Paulson) to talk about her upcoming film, she also took some time to revisit some of her past encounters with sexism earlier on in her career. That seemed pretty appropriate, given Oceans 8's delightfully feminist parameters, as well as the national conversation about sexism in Hollywood and beyond.
Though Bullock didn't go into detail about those incidents of sexism that nearly drove her out of the industry (and she doesn't need to), she did say that, at one point, they'd piled up to such an extent that she "got to where I [felt] like I was less than because I was a woman." As she revealed to USA Today, that feeling of inferiority eventually led her to question her career path — even at a time when, she said, she'd begun to receive opportunities for steady work. "I was like, 'Wow, maybe I need to step out of here. Maybe I need to do something else for a living,'" Bullock said. "I didn't want to be a part of that world where there was that experience."
As is the case for so many young women, sexism hit Bullock like an unexpected slap in the face. "My mother raised me like, 'You don't need to get married, you forge your own path. You make your own money, and be your own person,'" Bullock remembered. "And I literally went out into the world thinking there was no disparity, that everyone was equal, and I can do whatever a man can do."
Of course, as she realized a bit later on in her career, not everyone shares that particular perspective. Speaking to USA Today, Bullock described a "wake-up moment" — the first time she pinpointed sexism as the root of her feelings of inadequacy and frustration at work. "I was like, 'What is this feeling? Why do I feel so [expletive]?" Bullock said. And then, she realized: "Oh my god, I'm being treated this way because I have a vagina."
Much to the probable relief of her fanbase, Bullock never actually hung up her acting hat for good. But that certainly doesn't mean that her encounters with sexism within the Hollywood sphere were easy to grapple with, by any means. "It was hard for me," Bullock told USA Today, speaking about how she dealt with feeling "less than" amid male counterparts. "That was a hard pill to swallow. I had a lot of sadness from that."
Though Bullock can't ever erase those experiences from her memory, it seems critical — for the actor herself, as well as fans who've experienced something similar — that she's finally taking the time to speak openly about them. Hopefully, with the release of Ocean's 8 on the horizon, Bullock will have more opportunities to share her thoughts on female empowerment, even in the face of deeply-ingrained patriarchal systems. As far as talking about personal encounters with sexism is concerned, it seems there's never been a more relevant time than right now.