Sandra Oh Won A Golden Globe For 'Killing Eve' & Fans Are Like, "It's What She Deserves"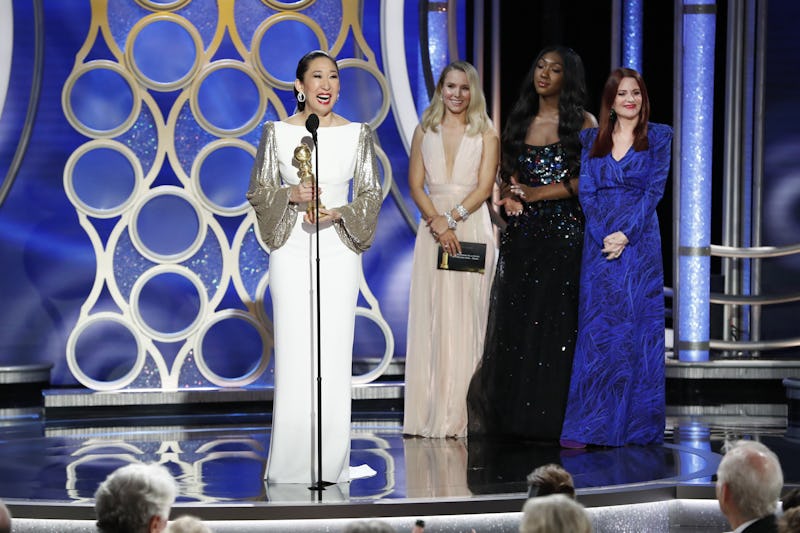 Handout/Getty Images Entertainment/Getty Images
The 2019 Golden Globes were a huge night for Sandra Oh. Not only did she share hosting duties with Andy Samberg, but Sandra Oh also won a Golden Globe for Best Actress in a TV Series, Drama for her excellent, excellent work on Killing Eve. That makes her only the second person of Asian descent to do so. Oh seemed genuinely surprised that she won, and it's no wonder — it was a stacked category.
Other nominees included Caitriona Balfe from Outlander, Elisabeth Moss from The Handmaid's Tale, Julia Roberts from Homecoming, and Keri Russell from The Americans. If you would have asked many television fans, the award seemed Russell's to gain, simply because The Americans is over and she'll never get a chance to win an award for playing that character.
But nope! Oh's name was announced, and, most adorably, her dad stood up from the audience to applaud his daughter's win. Can you believe? Oh's speech was short and sweet, thanking the entire cast of Killing Eve, on which she plays the title character, an MI6 agent who's obsessed is finding a notorious assassin. "There are two people here tonight that I'm so grateful that they're here with me. I'd like to thank my mother and my father," Oh said.
Before her historic win, Oh told the New York Times that she saw her nomination as a mark of the slow charging forward of progress. "I think people who have been in power, who have mostly been white men, and people who are white, they listen now," she said. "They not only listen and are open, they make the effort for change. I do feel that has changed. I can feel it now because of the way I can push: 'Hey, what about this? Hey, what about that?' Trust me, I'm relentless."
Oh's fans were just as overwhelmed as she was. Just take a look at their reactions.
It Was Really A Big Mood
I'll look back on this moment during my hard 2019 moments.
Everyone Loved Her Parents
What's not to love, though?
Honestly, People Had A Lot Of Joy Around This Win
I think these people would be happier with her winning than if they actually won a Golden Globe themselves.
At Least One Fan Was Ready To Leave His/Her Wife
This sounds like something you need to talk through...
Earlier in the evening, Oh expressed that even though she was terrified to host the show with Samberg, she did it because of what it would mean for diversity and representation. "I said yes to the fear of being on this stage tonight because I wanted to be here and look out onto this audience and witness this moment of change," she said. "I'm not fooling myself. Next year could be different and probably will be. But right now, this moment is real."
For Oh, her moment in the sun is duly real, and she should be celebrating and basking in all of her hard work.