Sandra Oh's New Spy Show Is About Female Rivals, But It Actually Subverts The Sexist Tropes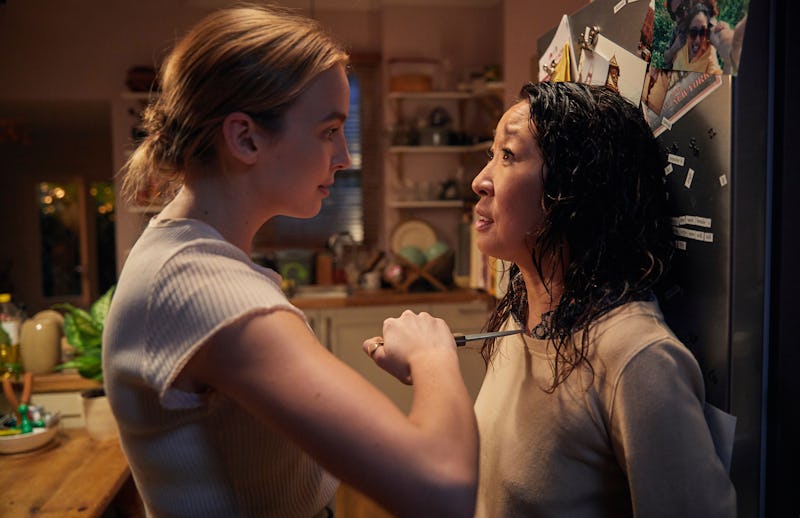 BBC America
There's a moment in the first episode of BBC America's new spy thriller Killing Eve, which debuts Sunday, April 8, that will make any woman feel a pang of recognition: A woman, in this case Sandra Oh's character Eve Polastri, stands in front of a bathroom mirror, fussing with her hair — she can't decide whether to put it up or wear it down. Another woman, this one Jodie Comer's Villanelle, exits the stall and eyes her with consideration, hesitating to converse with a stranger as she washes her hands. "Wear it down," she says finally, before letting the door shut behind her.
It's a brief moment that highlights a specific kind of fleeting intimacy that sometimes exists between two women strangers, and it's one made even more complex by the fact that the audience — though not yet the characters themselves — knows that this is actually the first meeting between two adversaries who will become hell-bent on tracking each other down.
The fact that our hero Eve Polastri (Oh), a sometimes scatterbrained British intelligence officer who yearns to be a spy instead of a desk drone, and antihero Villanelle (Comer), an impeccably dressed, psychopathic assassin, meet in the first episode of what's being billed as a cat-and-mouse thriller is an early signal that Killing Eve isn't much interested in unnecessarily drawing out the suspense of the chase. Yes, watching two fully-formed female characters hunt each other down is sadly still thrilling in its novelty amid a sea of male-dominated spy stories. But Killing Eve does much more than simply gender-flip a genre and call it day, and it's these smaller injections of a specifically female strain of everyday mundanity that allow the show to transcend the spy thriller tropes it's built on.
And Killing Eve is built on some pretty solid ones. Adapted from Luke Jennings' Villanelle novels by Fleabag's Phoebe Waller-Bridge, the show's source material provides plenty of tension and globe-trotting action for Waller-Bridge to use as backdrop for her signature dark humor ("I don't want your children," Villanelle says, bemused, when one of her soon-to-be-victims pleads for his life by saying he's a father). After getting fired for insubordination for following a potential lead too far, Eve is recruited by her ex-boss Carolyn (Fiona Shaw) for some off-the-books work as an M16 spy. Her task? Tracking down the very assassin she was fired for fixating on, who's described dryly by a witness as a "small-breasted psycho" who's seemingly getting cockier with every kill.
Waller-Bridge makes some changes from the books — both Shaw's respected and feared intelligence boss Carolyn, whom Eve and the other women in the office admire for her power in a male-dominated field, and Eve's coworker Elena (Kirby Howell-Baptiste) were men in the novels. The gender flip provides more opportunities for scenes like one in which Carolyn bonds with Eve over how their dedication to their spy work comes at the expense of their personal lives. "They all think we're having affairs before they think we're secret agents," Carolyn says of her and Eve's husbands, in what feels like a knowing wink at the trope of the husband who does dangerous work at the expense of his marriage.
But it's the quieter moments, like one where Carolyn off-handedly asks Eve for lipstick, chapstick, or "anything moisturizing" in a cab after a long flight on the way to a precarious mission, that put the language of female trust and intimacy on display in subtler and equally effective ways. For a brief moment, the spy intrigue stops, and we're just watching two women sharing a cab, trying to prepare for a risky operation while negotiating the boundaries and power dynamics of working alongside one another on a business trip. The way Oh's face changes as she rifles through her bag at Carolyn's request is oddly grounding: Is Eve close enough with her boss to lend her lipstick? Should she lie and say she doesn't have any? Do the politics of sharing lipstick with one's boss even matter if they both end up dead if the mission goes wrong?
And then, of course, there's the beguiling Villanelle. It quickly becomes clear that Eve is transfixed by Villanelle's extraordinariness. It's not hard to see why: She's an incredibly deadly woman whose exceptional skill as an assassin is matched by the flair and bravado with which she makes her kills. And though it's never explicitly stated, it makes sense that Eve would respect the cunning of a woman who is able to exploit the negative perceptions of femininity without resorting to seduction in order to gain access to people and places required for making a kill. (Eve is initially convinced the attacker in the pilot's first murder is female, for example, because she maintains that only a seemingly unassuming woman could have gotten close enough to the target in broad daylight without detection.)
Too often, adversarial relationships between women are either depicted as secretly sexually charged or truly hateful, or both. The beauty of Eve and Villanelle's mutual obsession is that it very well might be neither.
Eve's morbid curiosity and subconscious admiration for Villanelle more than once lead other characters to ask if she's sexually attracted to the woman she's hunting down. There are certainly sexual overtones to their relationship on both sides: Villanelle develops her own fixation on her hunter, who she calls "an Asian woman with amazing hair," and sends her fancy clothes, perfume, and a taunting note saying "I'm sorry baby." But Killing Eve isn't interested in explicitly exploring either woman's sexuality. Instead, it seems to place these conversations at the margins to show us just how often pop culture wants to simplify the complex relationship between women who are rivals.
Too often, adversarial relationships between women are either depicted as secretly sexually charged or truly hateful, or both. But the beauty of Eve and Villanelle's mutual obsession is that it very well might be neither. Eve and Villanelle may want to kill each other, but the show is careful to explain some of the reasons for their fascination with one another. But not everything can be explained, and Killing Eve thrives by making its central female relationship exist in the grey area between fixation, admiration, and rivalry, letting the tension linger over their scenes like the faint scent of a caustic perfume.