Sandra Oh's Parents Were The Breakout Stars Of The Golden Globes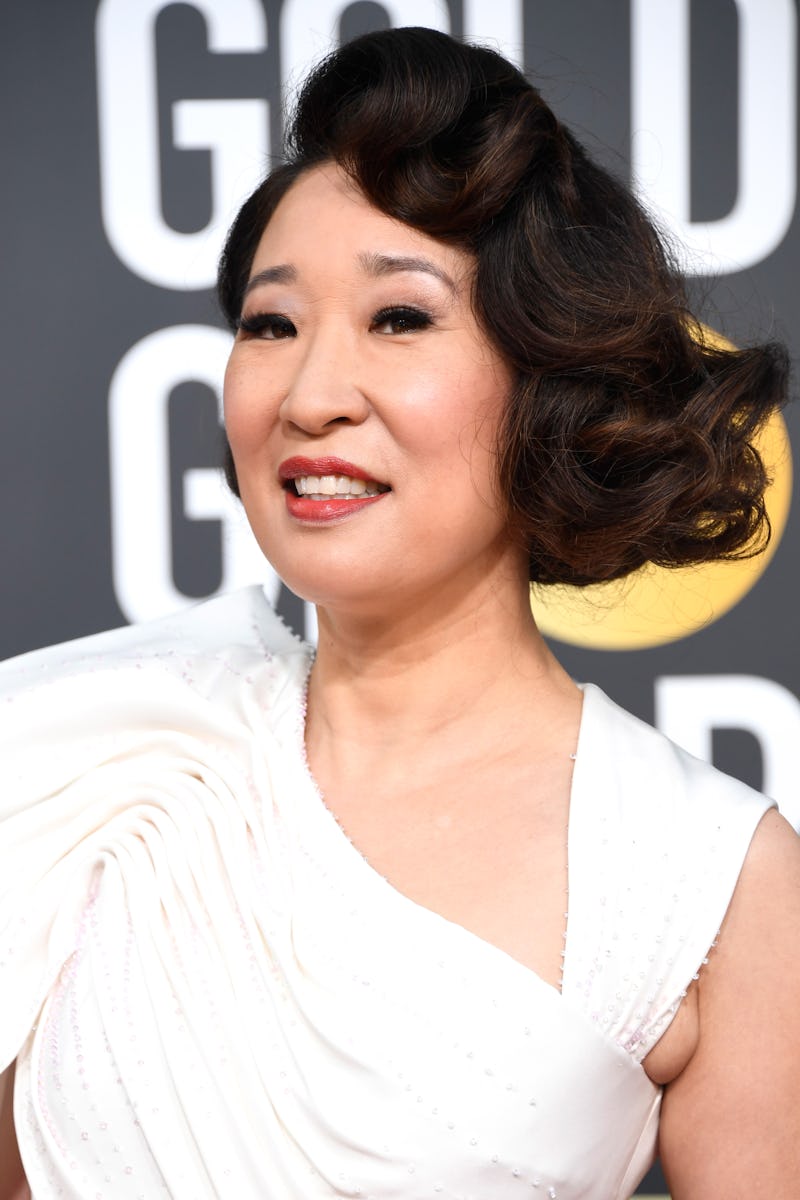 Frazer Harrison/Getty Images Entertainment/Getty Images
Killing Eve fans, rejoice! Sandra Oh won the Golden Globe for Best Actress in a Television Drama, and nobody was happier than her parents, who were sitting at a table watching as their daughter took the stage to accept her award. Sandra Oh's parents had the best reaction to Oh's win, and, in fact, they were the picture of supportive parents throughout their daughter's big night.
After winning her award, Oh took time at the end of her speech to thank her parents, saying, "Mostly, there are two people here tonight that I am so grateful that they are here with me. I'd like to thank my mother, my father," Oh said.
Mr. Oh and Mrs. Oh are Korean immigrants, who moved to Canada in the '60s, before the actor was born. They have been by her side at a few award shows. Most recently, they accompanied her to the 2018 Emmy Awards, where Oh was the first Asian actor nominated for Best Actress in a Leading Role in a Drama for her role in Killing Eve. Oh's mother stole the show on the Emmys red carpet when she was asked how proud she was of her daughter. "Oh, I'm so proud of her," she told Variety before reaching up to give her daughter a sweet kiss on the cheek. "Oh my god, that happened on film," Oh exclaimed in reply.
This time around, Mr. and Mrs. Oh managed to be even more adorable, jumping to their feet to give their daughter a standing ovation. "Oh, daddy!" Oh said upon seeing her father.
And audiences at home where equally moved at seeing the outpouring of love and support from Oh's parents.
Oh's parents have come a long way. The actor has previously stated that her family wasn't initially supportive of her when she said she wanted to be an actor. "It was very very tough," Oh said on The Ellen DeGeneres Show in 2007, via E! Online. "My parents at the time looked down on the arts," she added. "It's like one step above, you know, prostitution." Speaking on the Canadian talk show George Stroumboulopoulos, Oh revealed that her parents were a "tremendous obstacle" to her acting career when she was a young woman. "They were, in their own loving way, concerned that I was going down a road that they didn't think that I — that would be difficult and very sad for me," she explained. But, Oh said, her parents came around when she started getting work. And they were right by her side when she was nominated for her first Emmys for Grey's Anatomy.
Well, it's safe to say that as Oh has continued to grow an enviable body of work, and as the awards have also come calling, her parents have gone from disapproving to presidents of the Sandra Oh fan club. Hopefully, this Golden Globes night will just be one of many celebratory nights for the family, if for no other reason than we'll get to see plenty more clips of Oh's parents being adorable as she wins awards. A win for Sandra Oh is really a win for us all.