Drew Barrymore Is Undead In 'Santa Clarita Diet'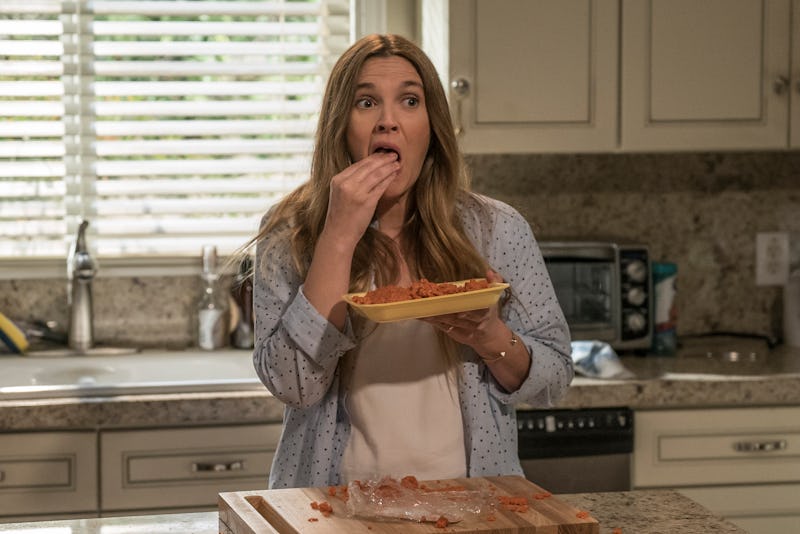 Sheila and Joel are just your average married couple. They live and work as realtors in Santa Clarita, a suburb of Los Angeles. They have a teenage daughter. They wear collared shirts. But Sheila, who's played by the wonderful/amazing/super talented Drew Barrymore, also feeds on human flesh, which is slightly more unique than your average bear... or person. In the first trailer for Santa Clarita Diet, a new Netflix series starring Barrymore and Tim Olyphant, it becomes apparent that Sheila has inexplicably become the living dead and needs to eat human bodies to survive. While the whole premise is dark, it also looks hysterically funny.
The Netflix special, which will air Feb. 3 comes, from Victor Fresco, the mind behind the slightly twisted series My Name Is Earl and Better off Ted. In the series, Sheila inexplicably wakes up without a heartbeat and spewing a "huge amount of vomit." As one of the characters in the trailer puts it, "she is dead and also undead." We should have known this 10-part series was going to be whacky when previous advertisements for the series were modeled off ads for popular diets like South Beach.
Even though death and cannibalism are pretty serious issues, the trailer shows off the light-hearted twists of the series. Sure, Joel and Sheila have to rent a storage unit and go on a murder spree to keep Sheila alive, but at least they have to do it together. And besides, Sheila is quick to focus on the benefits saying, " I have endless energy and I sleep two hours a night. I get so much done." I'm not about to start treating human feet like fried chicken but Sheila's claim that she's "so much more confident" and "can parallel park in one move" does sound like ideal results of a diet.
Still the stakes are high as "the undead are completely driven by their id" so the drama is sure to come. No matter what, this series looks like a hoot and a half with the added bonus of some gratuitous violence — but only for "someone who deserves it." Who is this family to judge who deserves to die? We'll just have to wait until Feb. 4 to find out!