Saoirse Ronan May Have Had An Oscar Nom At 13, But She Was A Lot Like You As A Teen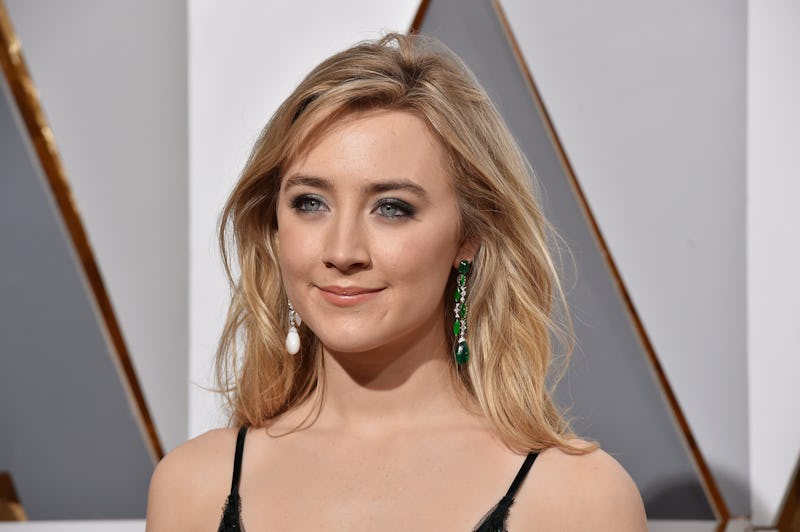 Kevork Djansezian/Getty Images Entertainment/Getty Images
When Saoirse Ronan was 18, the age of her titular character in Lady Bird, she already had nearly a dozen films and an Oscar nomination under her belt, not to mention the attention of Hollywood and some pretty famous friends. In other words, the actor's adolescence was as atypical as it gets, filled with fame and glamour and hours spent on movie sets. Yet for all the perks, there were also more than a few downsides — particularly, the loneliness and confusion that came with such a singular, inimitable coming-of-age experience.
"I remember as a teenager being like, 'oh god, what do I now, when I'm not [acting]?'" Ronan tells Bustle, speaking over the phone on a recent November day after Lady Bird's release in theaters. "Especially because a lot of my friends are older than me, so none of them were in school and a lot of them didn't live in Ireland. So yeah, there were a few years where you're kind of at a loss when you're not at work."
Even if your coming-of-age didn't involve award shows or red carpets, you probably felt the same uncertainty that Ronan did as a teen — after all, angst and adolescence practically go hand-in-hand. And that's never been portrayed as realistically on-screen as in Lady Bird, in which the titular high school senior feels such discontentment with her life and image that she tries on several different personas, in the hopes of finding one that fits. In one moment, she's an eye-rolling rebel fed up with the world; in another, she's a swooning romantic in love with everything and everyone around her. For Ronan, like so many other people, this teenage identity crisis feels strikingly familiar.
"I could relate to that, an awful lot," the actor says. "It's something that every teenager goes though, where they'll try on different characters and try to emulate the grownups around them and see if it fits... I knew what that was like, because I actually did that, and would go from being the showman and the comedian like Lady Bird is to someone who's insecure and lacks confidence... I think that's just imperative for being a person, really, not just a young person."
As a child and teen actor, Ronan did get to play with a number of identities, at least on-screen; at age 9, in 2003, she made her on-screen debut; by 13, she had earned a Best Supporting Actress Oscar nomination for her role in Atonement, the British drama that catapulted her to fame. In the years since, she's starred in everything from action thrillers (Hanna) to Wes Anderson comedies (The Grand Budapest Hotel) to heartbreaking period pieces (Brooklyn), picking up another Oscar nom along the way. And now she's earning raves for her luminous performance in Lady Bird. At just 23, Ronan's already had the kind of career most actors dream about. But for her, it's just normal.
"I never found it intimidating, because for a long time, it was all I ever knew, really," she says of her youth spent acting. "It was something that I had grown up with, and actually, it was the one sort of stable thing in my life."
"Obviously apart from my friends and family and things like that, that was my routine and that was sort of the thing that gave me structure," Ronan continues. "So when I was on set, that was like me going to school, or going to university and feeling like I had a sort of support system around."
But in all that time, throughout all those achievements, Ronan kind of skipped the whole "normal adolescence" thing. Still, she's at peace with that now, and much of it, she knows, has been a blessing — just take a recent experience filming the upcoming period drama Mary Queen of Scots. "I was in this 16th-century dress and I was on this beautiful stallion and on a cliff in Scotland, and I was like, this doesn't happen for everyone," Ronan recalls with a laugh. "It's things like that, where you kind of go, it's so unreal and fantastic."
It's a far different attitude than Lady Bird's, that's for sure. To the teen, not a single facet of her life is good enough for her — not her Catholic education (too stifling), not her relationship with her mother (too infuriating), not her best friend (too frustratingly loyal), and not her romantic relationships (too hot-and-cold). She wants nothing more than to leave her hometown of Sacramento, CA, and run off to New York, which she knows has to be more interesting; after all, she's more interesting than everyone else in her life. If she sounds insufferable, well, she kind of is.
"She's not nice," Ronan says with a laugh. "She's not unfriendly, but she's not gonna like, kiss your ass, and I love that. I just think that's more sincere than anything else…. she's always very authentic."
Lady Bird is like so many 18-year-olds wavering between adolescence and adulthood: wildly confident then painfully insecure, fiercely independent then heartbreakingly needy. She's a frustrating bundle of contradictions, and that realism is due both to Ronan's stellar performance and writer/director Greta Gerwig's excellent script. The two women, plus co-star Beanie Feldstein, have become quite close since filming began, hanging out and talking often; that intimacy, Ronan says, has caused the time she's spent making and promoting Lady Bird to feel truly special.
"It's just always a lovely thing when you have a great experience on a film set, and you then also get friendships out of it," she explains. "When I had done press for Brooklyn a few years ago, there was a lot of it I was doing by myself, and to do all of this with Greta — you can feel like you're part of a girl group or something."
One of the benefits of working alongside Gerwig was the inspiration it provided; Ronan has long been interested in potentially writing and directing someday, she says, but Gerwig helped push that goal along. "I can see myself every day just kind of opening up that door a bit more," the actor says. "It's something I've always wanted to do, like from even before I started acting or anything... I would write scripts for myself and my friends to do, and get the camcorder and shoot a little film and things like that. That was always where I gravitated toward."
Ronan has some hesitation about branching out for real. "Sometimes you can feel like you should only do one thing and just be really great at that one thing, and I still sort of stand by that," she says. Still, she feels certain it'll happen at some point, thanks in large part to Gerwig. "Seeing someone who's been able to let her creative juices flow in so many different directions, through different outlets, that's really inspired me a lot... There are friends of mine who are writers and things like that, and we want to do something together, and it's definitely been motivated by working with Greta."
For Ronan, it seems like moving behind the camera is a matter of when, not if. And it's not like she's lazing around in the meantime; when she's not traveling or hanging with the dog she shares with her mother, the actor is constantly working; in addition to the highly-anticipated Mary Queen of Scots, she also has an adaptation of Chekhov's The Seagull in the works, plus a hosting stint on Saturday Night Live this December. Ronan might've spent her teenage years as confused and conflicted as Lady Bird, but right now, it seems, she couldn't be more confident.