Sara Ramirez Addressed The Possibility Of Callie Finally Returning To 'Grey's Anatomy'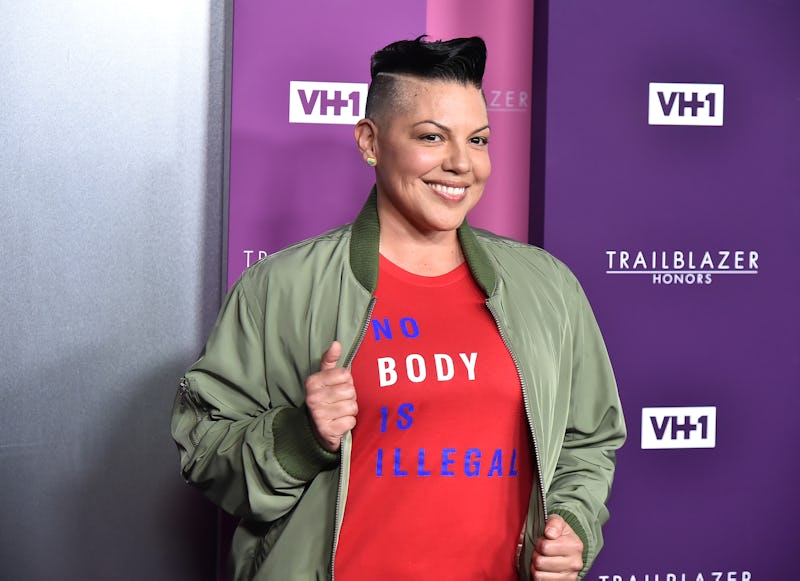 Theo Wargo/Getty Images Entertainment/Getty Images
For fans who think there's a poor prognosis that Sara Ramirez could return to Grey's Anatomy, the actor who played Dr. Callie Torres has a second opinion. After series creator Shonda Rhimes claimed she had tried — but failed — to get Ramirez to come back for a guest appearance on ABC's hit medical drama due to conflicting contractual obligations, the actor gave fans renewed hope in a Sept. 26 tweet.  
Insinuating that she's fully on board for Callie to make a comeback to Grey Sloan Memorial, Ramirez came to the defense of CBS, the network that airs her new show Madam Secretary — and said now it's actually up to ABC to make the decision.
"For the record @CBS has been nothing but gracious and generous to me," Ramirez, who left Grey's in 2016, tweeted. "They are open to Callie coming back! The ball is in @ABCNetwork's court." (Bustle reached out to ABC and Rhimes' reps for comment on Ramirez's tweet, but did not receive a response.)
Rhimes' initial statement came via an Aug. 8 question and answer session on her Instagram story, after a fan asked if she planned to "bring back Callie anytime SOON" (with a crying face emoji). "Let me tell you something: we tried," the Shondaland founder said in the video. "CBS has a hold of her because she's on another show, and we can't get her. But we love her. Always. This is her home. Come home, Callie."
Even though Ramirez joined Madam Secretary as political strategist Kat Sandoval last year, fans had been hopeful Callie would make a cameo in the Season 14 finale. In the episode, Arizona (Jessica Capshaw), her ex-wife and co-parent to daughter Sofia, left Seattle for New York to presumably reunite with Callie. Much to fans' disappointment, Callie's presence was only made known via text messages.
Ramirez, who appeared on Grey's for a decade, has always kept that door open. "When Shonda [Rhimes] and I last spoke, we agreed to keep the conversations going, and she knows I'm open to keeping those conversations going," she said in an interview with Entertainment Weekly last November.
Even when announcing her Grey's departure in May 2016, Ramirez showed no signs of animosity, praising Rhimes and reflecting fondly upon her experience filming the show. She tweeted:
"I'm deeply grateful to have spent the last 10 years with my family at Grey's Anatomy & ABC but for now I'm taking some welcome time off. Shonda's been so incredible to work for and we will definitely continue our conversations! I send my love to Ellen [Pompeo], the rest of the cast and crew, and I look forward to always being a part of the Shondaland family!"
At the time, Rhimes released a statement, saying Ramirez "will always have a home at Shondaland" and wishing her the best on "her well-deserved time off." Added Rhimes: "Dr. Callie Torres came into our lives dancing it out in her underwear almost a decade ago and I could not be happier or more proud of her journey. Sara Ramirez's performance inspired me as well as millions of fans each week."
If the ball truly is in ABC's court, it seems Ramirez's return to Grey's could truly be a slam dunk for all involved.