This One Exchange Between Sarah Huckabee Sanders & April Ryan Was Hilariously Uncomfortable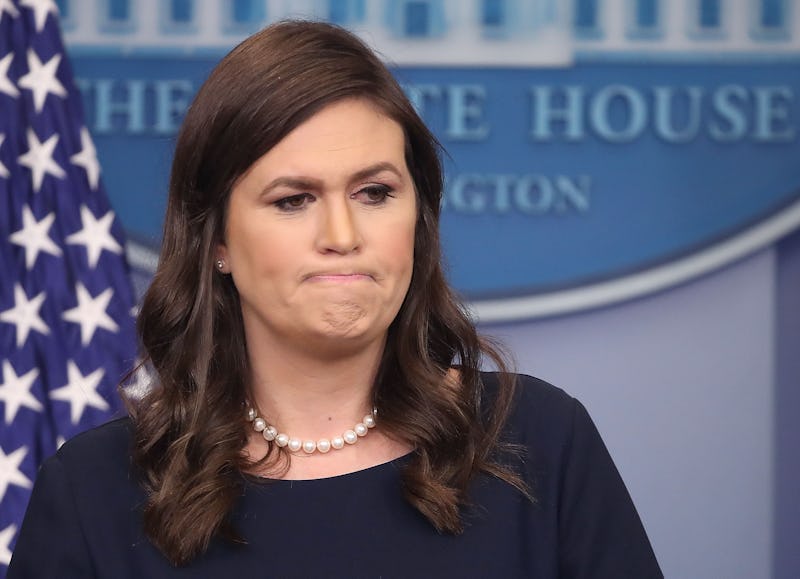 Mark Wilson/Getty Images News/Getty Images
What is it with the Trump administration and reporter April Ryan? The longtime Washington correspondent for American Urban Radio Networks has been covering White Houses for two decades, but this administration seems to keep creating weird moments with the veteran reporter. First the president asked her if she could set up a meeting with the Congressional Black Caucus, despite that not being her job at all, then she was berated by former Press Secretary Sean Spicer for shaking her head. On Tuesday, Spicer's replacement Sarah Huckabee Sanders had an awkward moment with April Ryan as well.
At the press briefing, Ryan called out Sanders' name. Sanders appeared to take an issue with her tone, calling on her and adding "since you said my name so politely."
"Thank you, Sarah," said Ryan, as the press room chuckled. "Somewhat sarcastic," Sanders responded. "Me being sarcastic?" replied Ryan, bewildered. "No, never."
The exchange comes in the midst of a period of ongoing strife between reporters and the White House press office. Last Wednesday, brand new White House Communications Director Anthony Scaramucci called up a New Yorker reporter, Ryan Lizza, and threatened to fire the entire communications staff if Lizza wouldn't reveal his source. After Lizza declined to do so, Scaramucci let loose a string of profane statements on the record (mostly directed at the White House staff). Days later, after Trump swore in John F. Kelly as new chief of staff, Scaramucci's resignation was announced, marking the second shortest tenure for communications director the White House has ever seen.
Sanders' uncomfortable exchange with Ryan quickly caught the attention of Twitter users, many of whom expressed the same bewilderment that Ryan did during the interaction. Others, too, pointed to how Trump and Spicer have treated Ryan before, in ways that quickly shot Ryan to viral fame. Many people who saw clips of Ryan's interactions with Trump and Spicer suggested that their comments to her were racial in nature.
Sanders' apparent rudeness towards Ryan was perhaps not on the same scale as her boss (the president) seeming to act as if Ryan was personal friends with the Congressional Black Caucus, or on the scale of her other former boss (Spicer) getting blowback for asking Ryan to stop shaking her head. But it's a sign that even with staff turnover and a less prickly presence behind the podium, the White House still isn't quite ready to play nice with the fourth estate.