Why Sarah Huckabee Sanders' Photo With Kanye In The Oval Office May Land Her In Trouble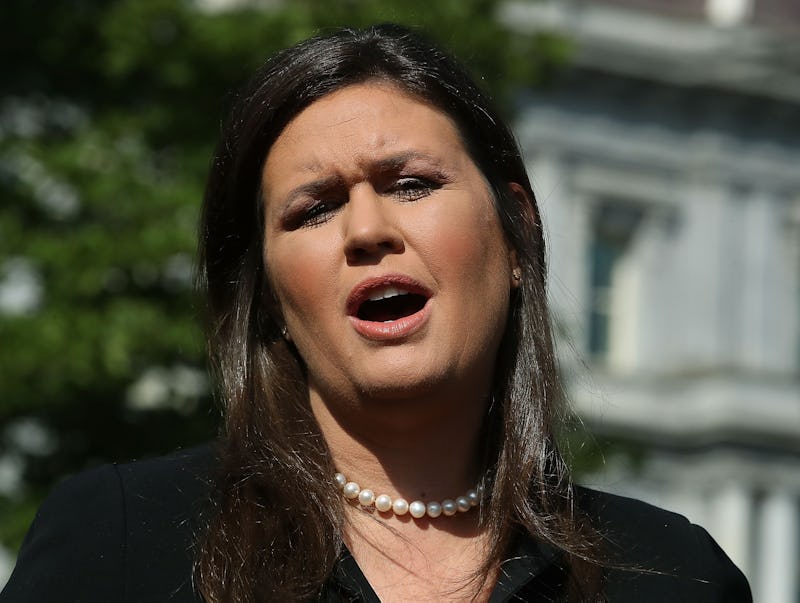 Mark Wilson/Getty Images News/Getty Images
A watchdog group has filed an ethics complaint against White House Press Secretary Sarah Huckabee Sanders for a photo with Kanye West that she published to her official Twitter account on Thursday, the Hill reports. The picture depicts West wearing a "Make America Great Again" hat while standing next to Sanders, and Citizens for Responsibility and Ethics in Washington (CREW) says that Sanders' publication of it is a violation of the Hatch Act. Bustle has reached out to the White House for comment.
The Hatch Act prohibits most federal employees from engaging in certain types of partisan political activity in their official capacities. The president, vice president and certain other employees are exempt from it, which is why it's not illegal for, say, a president to hold campaign rallies while they're still in office.
Hatch Act complaints are handled by the Office of Special Counsel (OSC) (not to be confused with Special Counsel's Office, from which Robert Mueller is leading the Justice Department's Russia investigation). In March, the OSC issued a guidance clarifying that "while on duty or in the workplace, employees may not: wear, display, or distribute items with the slogan 'Make America Great Again," as that's Trump's campaign slogan.
In August, CREW filed Hatch Act complaints against Sanders and nine other White House employees for publishing tweets that endorsed Trump's 2020 reelection campaign, in some cases with the phrase "Make America Great Again" or its associated hashtag, #MAGA. In 2017, presidential adviser Kellyanne Conway was the subject of a Hatch Act complaint after denouncing the Senate candidacy of Doug Jones in a TV interview.
"This administration does not seem to care about what the law says when it comes to ethics issues like using official positions for politics," CREW's Executive Director Noah Bookbinder said in a statement. "How many investigations and findings of violations are needed until this administration takes action to stop the misuse of government resources for political activity?"
Sanders posted the photo after West's highly-publicized visit to the Oval Office on Thursday. West surprised many fans earlier in the year when he became an outspoken supporter of Trump, and he wore a Make America Great Again hat during his meeting with the president.
In its letter to the OSC, CREW noted that West himself made several partisan statements during his White House visit, denouncing Democrats' economic policies, proclaiming his support for Trump and saying that wearing the Make America Great Again hat made him "feel like Superman."
Sanders' tweet with West "was directed toward the success or failure of Donald J. Trump, a candidate in a partisan race," CREW alleged in its complaint. It also clarified that the tweet was published to the official @PressSec Twitter account, which Sanders uses to make official White House announcements, as opposed to the personal Twitter account that she also maintains.
"By tweeting this post on a Twitter account referring to her official position and that she uses for official business, Ms. Sanders likely engaged in political activity prohibited by law," the watchdog group wrote.