Sarah Huckabee Sanders' Tweet About CNN The Same Day It Had A Bomb Scare Is Jarring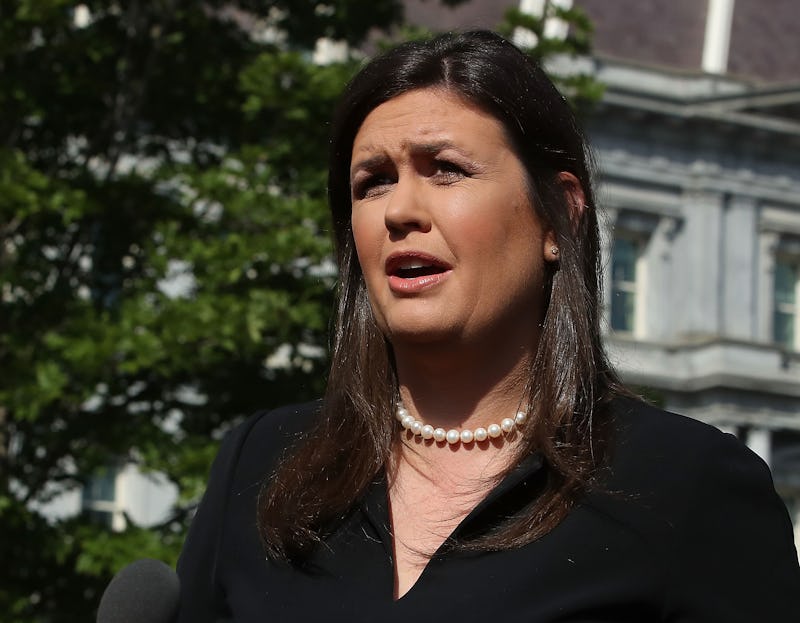 Mark Wilson/Getty Images News/Getty Images
The same day the media company's New York office was evacuated due to a suspicious package, White House Press Secretary Sarah Huckabee Sanders accused CNN of dividing America. Sanders was sticking up for her boss, who earlier that day called for Americans to "come together and send one very clear, strong, unmistakable message that acts or threats of political violence of any kind have no place" in the United States. But by attacking CNN, Sanders once again sent the message that the current White House is hostile toward the press.
"You chose to attack and divide," Sanders tweeted in response to a statement from CNN President Jeff Zucker. "America should unite against all political violence." Zucker's New York-based employees had a bomb scare on Wednesday after a package containing a pipe bomb that was addressed to former CIA Director John Brennan, a vocal critic of President Trump's, was discovered in the mailroom.
No one was injured, but Zucker issued a statement calling out Trump for "a complete lack of understanding" about the seriousness of his disparaging remarks about the media. "The President, and especially the White House Press Secretary, should understand their words matter," Zucker wrote in a statement posted online by CNN.
After Trump commented that the nation should "come together" on Wednesday, he bashed the press at a rally in Wisconsin that very night. "The media also has a responsibility to set a civil tone and stop the endless hostility and constant negative and oftentimes false attacks," Trump said in Wisconsin, per The Times.
He didn't let up the following morning, either. "A very big part of the Anger we see today in our society is caused by the purposely false and inaccurate reporting of the Mainstream Media that I refer to as Fake News," the president tweeted Thursday morning. "It has gotten so bad and hateful that it is beyond description. Mainstream Media must clean up its act, FAST!"
Trump, and Sanders by proxy, frequently calls the media "fake news," claims newspapers pull stories about the White House out of thin air, and condones lawmakers physically assaulting reporters. He even labeled the press "the enemy of the people" in August. Because of his track record, journalists weren't surprised when Trump quickly switched from calling for unity to again criticizing the "fake news" media the day a bomb was sent to a CNN office.
"Of course, he took no responsibility for his own rhetoric," CNN White House correspondent Jim Acosta tweeted about POTUS.
Suspicious packages were also sent to President Barack Obama, former Secretary of State Hillary Clinton, Rep. Maxine Waters (D-Calif.), former Attorney General Eric Holder Jr., former Vice President Joe Biden, actor Robert De Niro, and liberal philanthropist George Soros this week. All the packages were intercepted before they reached their intended targets and no one was injured.
But Sanders' assertion that CNN was in fact the one who "chose to attack and divide" signals that the White House plans to continue disparaging the media rather than encouraging the nation to "come together" as the president initially called for.