Sarah Hyland & Wells' Hilarious Halloween Costumes Have A Special Meaning For The Pair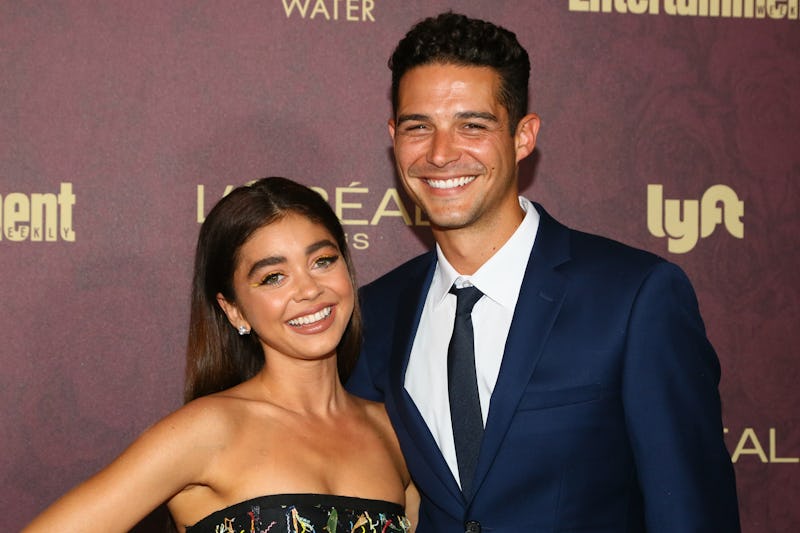 Gabriel Olsen/Getty Images Entertainment/Getty Images
The couple that makes puns together, stays together. On Saturday, Sarah Hyland and Wells Adams debuted funny Halloween costumes, and clearly this couple loves to joke around. According to E! News, they attended the Just Jared Halloween Party, where Hyland appeared dressed as a taco, while Adams wore a floor-length yellow dress and long brown wig to be Belle from Beauty and the Beast. It may seem the two costumes don't have much in common, but if you put them together, it makes Taco Belle. These two managed to pull off this hilarious look, and since Hyland and Adams' first date was taco-related, according to Elite Daily, it's the perfect couple costume.
Hyland and Adams both shared pictures of their Halloween costumes on Instagram. Their pictures had funny captions as well, pointing out the pun for fans. Hyland shared a set of photos on Instagram with the caption, "The only thing better than Taco Bell... is Taco Belle. #firesauce #dollopofdaisy," along with taco and heart emojis. In one of the photos, Hyland revealed there was a jumpsuit under the taco, printed like a packet of hot sauce.
Adams also shared the a photo from the evening on social media, captioning it: "Find someone who looks at you the way Taco looks at Belle."
It's not clear who came up with the idea for this costume, but the choice is no surprise. Hyland and Adams' love for tacos is well-documented. In January, Hyland revealed that the couple first bonded over a love of tacos during an appearance on Jimmy Kimmel Live. The Modern Family star said Adams slid into her Twitter DMs, and asked her out to get drinks and tacos. "He loves tacos, so that was his thing. Like, I love tacos, let's see if she likes tacos," she said. "We have an obsession with tacos."
Jason Lowrie/BFA/Shutterstock
RHTY/starmaxinc.com/Shutterstock
Tacos might have a special meaning for the couple, but Halloween does as well. In 2017, Hyland and Adams confirmed their relationship to the public by posting pictures of their couples costume. They went as characters from Stranger Things, with Adams dressing up as Eleven and Hyland being Dustin. The dating rumors began when Hyland and Adams started flirting on Twitter during Wells' appearance as a bartender on Bachelor in Paradise, and Halloween was the first public appearance the couple made.
One year later, the couple's relationship is still going strong. In August, Adams relocated from Nashville to Los Angeles to move in with Hyland. According to People, Hyland and Adams first few months together were a major success. During Variety's Power of Young Hollywood event, Hyland said the couple was loving being in the same city. "I think we're in the honeymoon phase of living together," she said. "It's good that nothing is already starting, because then I think that would be a bad sign."
After dating long distance, it seems like being closer means more time for couple activities. That clearly includes coming up with the perfect Halloween costume, and they nailed it with this punny look. It seems these two are planning to have many more years together, so fans can look forward to plenty of funny costumes in the future.