Sarah Hyland Met Wells Adams' Beloved Dog & The Photo Will Warm Your Heart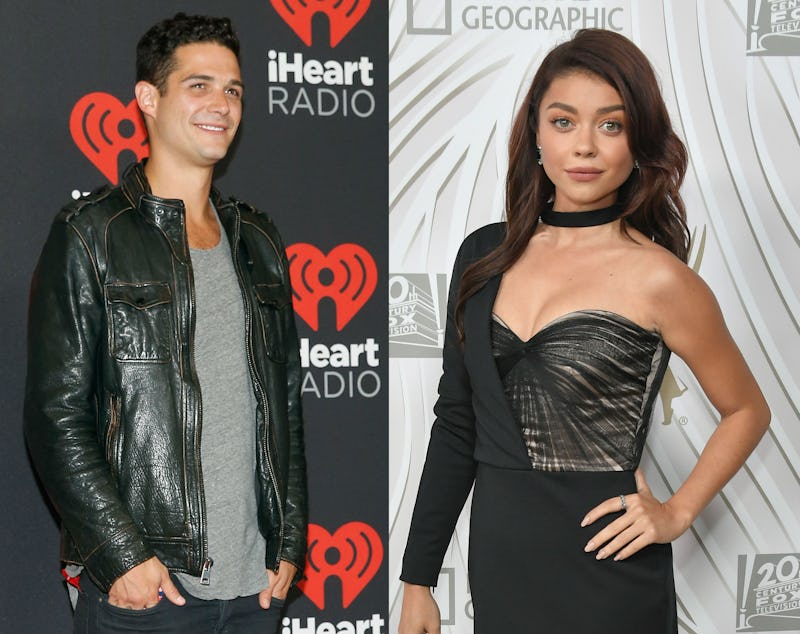 Isaac Brekken/Getty Images Entertainment/Getty Images; Neilson Barnard/Getty Images Entertainment/Getty Images;
Ever since Sarah Hyland and Wells Adams made their relationship mostly official, the adorable pair can't help but share even more photos highlighting themselves together. And one recent photo shows that the two just took a major relationship step, all thanks to a particular "Carl." Yep, Sarah Hyland met Wells Adams' dog AKA Carl and it's all seriously too cute. Hyland has been hanging out a lot with Adams recently, who has appeared on The Bachelorette and Bachelor in Paradise.
The duo shared photos and videos from this particular hangout on her Instagram story. The story shows the couple attending a shoe gallery together and chilling around while watching TV. But, the most interesting part of Hyland's Instagram story was the fact that Adams' beloved dog, Carl, was featured in it.
That means that things are serious enough between the two that the actress has met the reality star's dog. As one Twitter user jokingly noted, "i mean, it seems a little early to introduce your son to your new gf but what do I know?" Well, if things are going so well between the pair that Adams' introduced her to his beloved Carl, then things are pretty well for the couple. Hyland shared a video of herself with Carl on Instagram and the two seem to be getting along well.
In the vid, she asks the Carl (who has his own amazing Instagram page, @carlthebloodhound) if he wants her to leave to which he shows off his sad mug at the prospect of her leaving. Elsewhere in the story, Hyland shows Carl barking at a dog on the TV. But, neither Hyland nor Adams are too bothered by the pooch's barking, probably because it's impossible to stay mad at a dog who's that adorable.
The couple even took a fun photo with Carl that Hyland uploaded to her Instagram. She and Adams can be seen in bed "spooning" with their dog nestled against them. Can these three be any cuter?
This is a major relationship milestone for the pair because of the bond between Adams and his pup. The reality contestant has posted many photos of Carl on his social media and has highlighted how much his dog means to him. So, if Hyland didn't get along well with the lovable dog, it probably wouldn't bode well for the two's relationship. It doesn't seem like that's something they need to worry about.
In one of his posts about Carl, Adams even said, "You're my favorite thing in the world." in reference to his dog. It's safe to say that Carl means a whole lot to him. Look at those adorable puppy eyes in the Instagram photo below, you'd be head over heels for Carl, too.
Adams is also a total dog-lover and is a supporter of many animal related causes. He's not only posted cute photos of his own dog but of others in an effort to raise awareness for causes like the Nashville Humane Association. Adams' new girlfriend is also a big supporter of animal related causes and was honored by the ASPCA (the American Society for the Prevention of Cruelty to Animals) in October 2016 for helping animals in crisis and raising awareness for animal issues. These two are basically a match made in heaven.
In case you forgot, the couple recently made their relationship mostly official on Nov. 8, with Adams kind of confirming the news on The Morning Breath. He told listeners that if they wanted to know if the two were dating, then they should "just look at my social media." He's not wrong. Hyland and Adams have posted plenty of lovey-dovey photos of each other on their social media pages, including this photo showing their Stranger Things Halloween costumes.
By the looks of everything on this relationship front, things are going well for Hyland, Adams, and Carl, which is a great sign for this new couple.