The Author Of 'Throne Of Glass' Just Announced A New Series — For Adults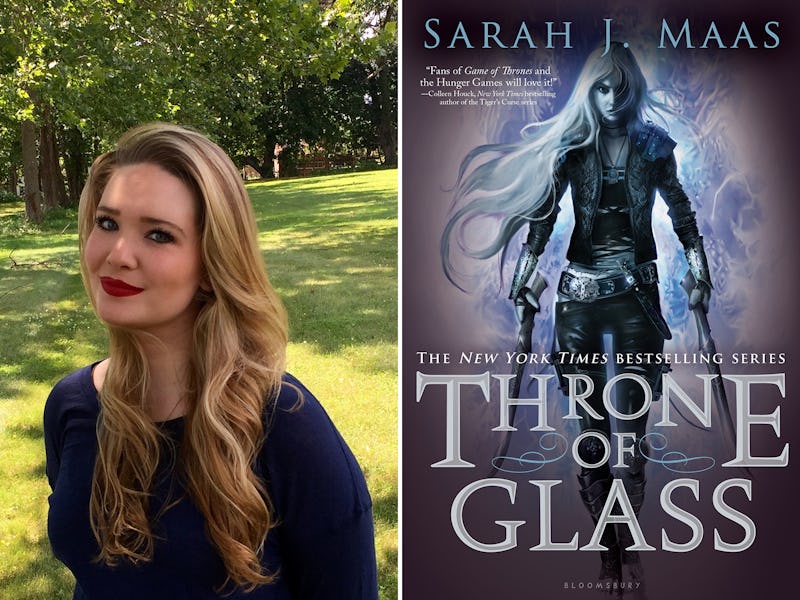 Photos courtesy of Bloomsbury
If you're one of the over six million readers who fell in love with the young adult fantasy series Throne of Glass and Court of Thorns and Roses, then I have some incredible news that just might blow your bookish mind: author Sarah J. Mass is writing her first series for adults, and the first book hits shelves next near.
On Wednesday, EW and the author's longtime publisher Bloomsbury revealed Mass has a brand-new series coming, this time, for adult readers. Beginning with Crescent City, which is expected sometime in late 2019, the epic fantasy seems to have everything fans love about Maas's earlier work: magic, action, romance, adventure, and one seriously badass heroine.
Check out the official synopsis, below:
"Set in a world where humans struggle to survive amid intricate hierarchies of demons, shifters, angels, and countless other magical creatures, Crescent City tells the story of half-human, half-Sidhe Bryce Quinlan. After the brutal slaying of her best friend, Bryce joins forces with a powerful warrior-angel to hunt down the killer, leading them toward a treacherous enemy that could destroy the fabric of their world. The series will feature an array of captivating new characters, including a spitfire heroine who will stop at nothing to avenge her friend and protect her vibrant city, an epic world on the brink of war, and Maas' signature heart-pounding romance."
According to the Maas, Crescent City is a passion project she has been working on for several years. "I can't wait to introduce readers to Bryce, its heroine, who I think would be very good friends with Aelin and Feyre," Maas said in a press release. "The world of Crescent City is more modern than those in my previous series (basically, if the Court of Thorns and Roses and Throne of Glass worlds had modern-day technology), but it's still chock full of magic, brooding warrior-types, and mysterious and deadly creatures."
That's right, readers, the Crescent City series will be perfect for fans of her previous fantasy books. Whether they were young adults who grew up reading about Aelin, or adults that got caught up in Feyre's adventures, readers of Maas's series are sure to fall for her new books for adults.
"Sarah is a masterful storyteller with narrative roots that hearken back to the great fantasy writers of our time," Cindy Loh, VP, Publishing Director US Consumer Division at Bloomsbury, said in a press release announcing the new series. "Crescent City's rich, complex, new world and characters will resonate with readers across genres. We are thrilled to share her work with a wider audience."
I think I speak for a lot of Maas fans when I say thrilled doesn't even begin to cover it. A internationally bestselling author whose books have spent a collective 92 weeks on the New York Times bestsellers lists, Maas has attracted readers from around the world, both teens and adults. Many of them took to Twitter to share their excitement over the news of Crescent City, including her literary agent Tamar Rydzinski, who called it "big, huge, amazing news":
Although Crescent City doesn't hit bookstores until late 2019, Maas fans have plenty to keep them busy until then. A Court of Frost and Starlight, the latest installment in the Court of Thorns and Roses series, was released earlier this spring, and the new Throne of Glass book, Kingdom of Ash, is slated to go on-sale in October. Not to mention, Maas's highly anticipated Catwoman: Soulstealer, a YA retelling of the legend of Catwoman, arrives in stores in August. Hulu is also producing a television adaptation of Queen of Shadows, and although there is still no official release date, the show is coming sometime this year.