Sarah Paulson Is Playing 3 Characters On 'AHS' This Season — Because She Can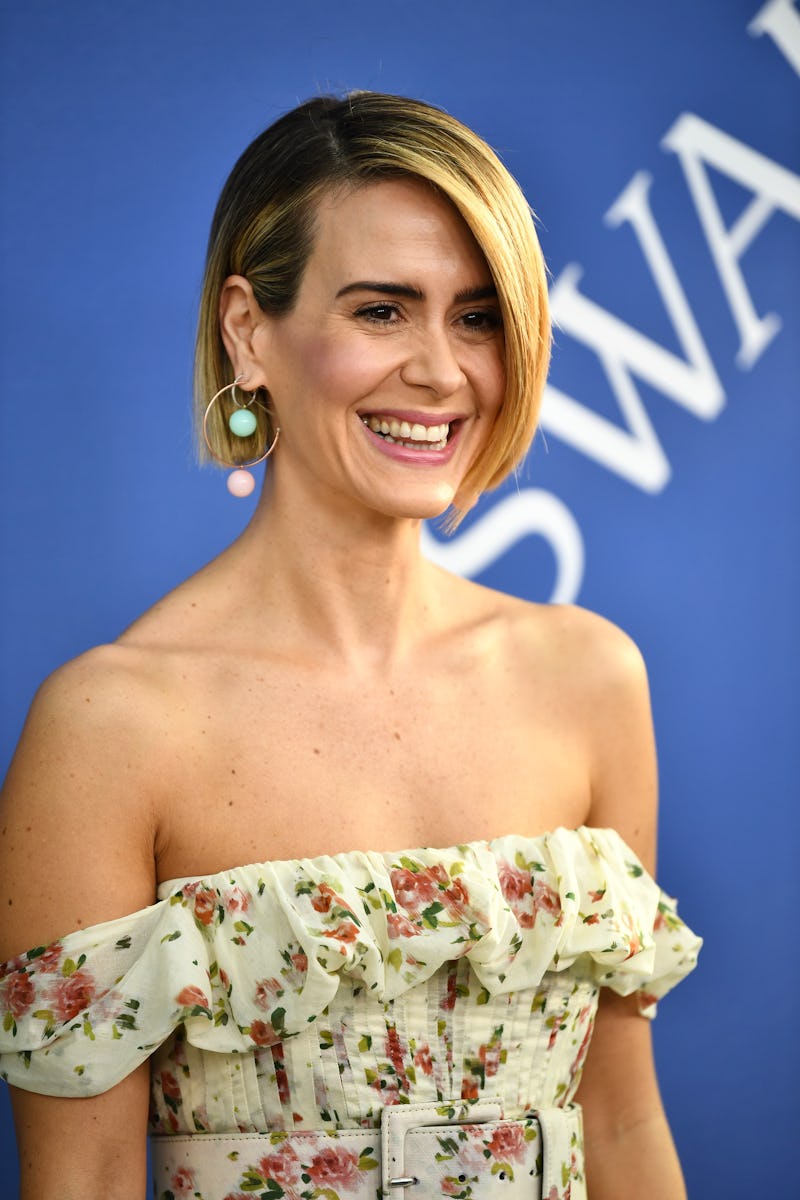 Dimitrios Kambouris/Getty Images Entertainment/Getty Images
Sarah Paulson is one of the staples of the American Horror Story franchise, and now as the past seasons of Coven and Murder House clash in the upcoming season, the scope of her role in the project has been more shrouded in mystery than ever before. Sarah Paulson is playing multiple roles in American Horror Story: Apocalypsebetween returning characters and a brand new one.
Viewers can certainly expect Paulson to play three entirely separate characters, two of which she's played within the series before. Let's focus on the newest addition first: in one of the latest teasers for Apocalypse, Paulson is shown as an eerie new character, clad in black and wearing a blank stare on her face. From the looks of it, she may be the operator of a strange bingo night, but who's to say? The short promo features Paulson saying, "Now is your chance to be one of the few remaining. This is your chance to survive. We'll find you soon."
That's pretty much the only information there is about this new character — though Entertainment Weekly notes that her name appears to be "Venerable" — but her other roles are much more clear.
According to E! News, Paulson said early last month at a press event that she would be returning as Cordelia Goode, witchcraft headmistress and coven leader extraordinaire, whom she played in Coven. And, she also revealed she would reprise the role of Billie Dean Howard, the medium from Murder House. A new teaser for the season includes some new shots of Cordelia.
If you think taking on three roles within the same single season of television sounds like an insurmountable feat, you obviously haven't paid much attention to Paulson's talent. Not only has she done double duty in the series before, like for AHS: Freak Show, in which she played conjoined twins with vastly different personalities, but she's also demonstrated time and time again her ability to sink her teeth into a role like no one else. Even when looking solely within the AHS anthology, she disappears into every role she's given, leaving no trace of the last one behind.
Even outside of the AHS universe, she stuns. Paulson won the Emmy for her role as Marcia Clark in The People vs. O.J. Simpson, which, like American Horror Story, was a Ryan Murphy creation. She, along with a crew of amazing women, achieved huge box office success with Ocean's Eight earlier this year. Her turn in Mark Duplass' film Blue Jay will make me weep to this day. And that's just to name a few.
Paulson's plate is more than full this season on AHS — in addition to the three roles, she'll also be directing the sixth episode of the season, according to Marie Claire. But her busy schedule isn't worrisome — it's exciting. Her many characters add even more intrigue to Apocalypse, which was already gathering steam for other exciting news and additions. According to the E! report linked above, legendary AHS alum Jessica Lange is returning for at least one episode after several seasons away from the franchise. Other familiar faces like Evan Peters, Emma Roberts, Kathy Bates and Adina Porter are all headed back, as well.
This season is shaping up to be a celebration of the series' legacy so far, and with Paulson doing quadruple duty, maybe its most impressive season yet.