Sarah Paulson's 'AHS: Apocalypse' Comments Show She Loved Playing These Characters Again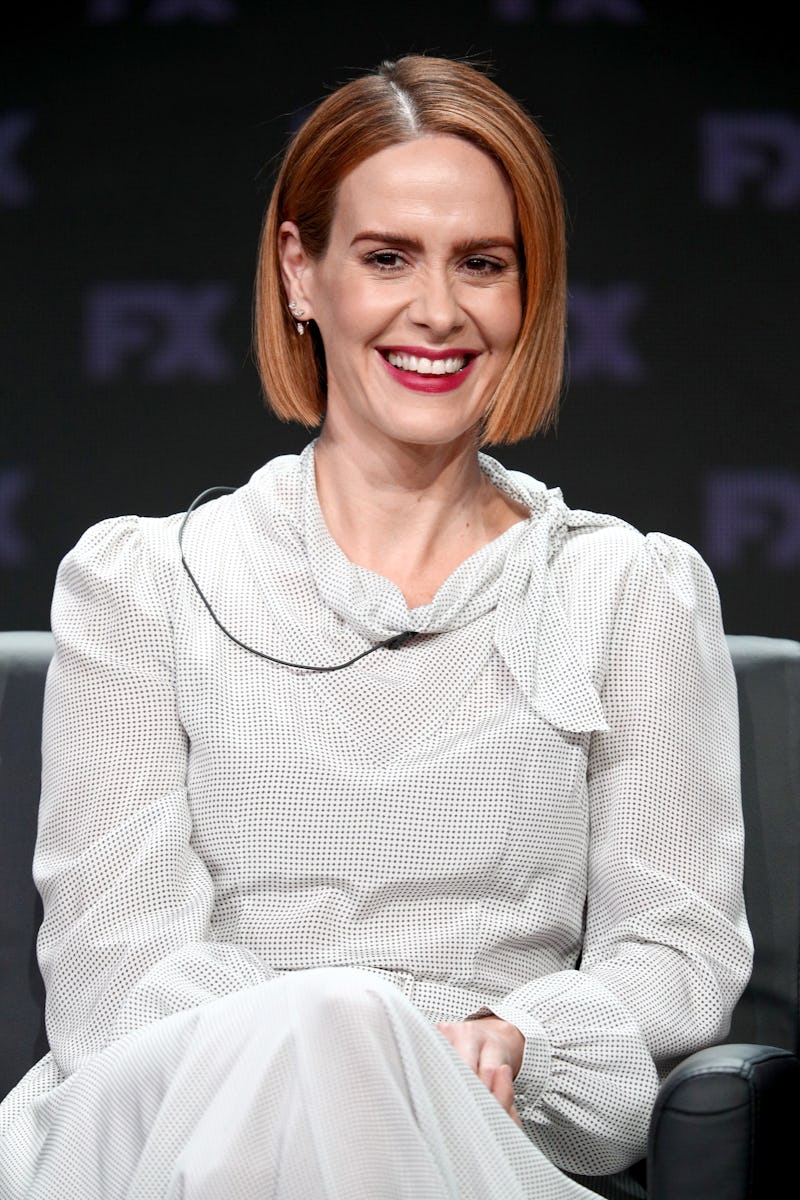 Frederick M. Brown/Getty Images Entertainment/Getty Images
So, who else feels like they've been waiting on the return of the Coven witches for a little too long now? How about the Murder House clan? Judging by Sarah Paulson's AHS: Apocalypse comments, it's pretty clear the veteran AHS star is totally thrilled to reprise her Murder House and Coven characters, too. During a Sept. 11 interview with The Hollywood Reporter, Paulson talked about what it's like to revisit complex, fan-favored (and, in Paulson's case, critically acclaimed) roles from AHS seasons past.
"It doesn't make me feel pressure," Paulson told the publication, despite the fact that Apocalypse marks the first time AHS will see a resurgence of former characters at all. Continuing, she said, "It makes me excited that I get to go visit an old friend, essentially."
Seasoned AHS fans know that Paulson has appeared in all of the series' past seven seasons. That said, those fans also know that she — much like the rest of the AHS cast — plays totally different roles in each of them, and she's never played the same role twice. "The unique thing about this show is that every year we are basically starting from scratch," Paulson told THR during that same interview.
And while the chance to play a psychic one year and a pair of conjoined twins the next probably poses exciting opportunities for Paulson as an actor, she told THR it doesn't offer a whole lot of closure. "There can be those moments where you feel, 'I don't know if I got to the end of things with that character,'" she said. Luckily, Apocalypse seems like the perfect opportunity for veteran AHS actors like her to tie up some loose ends.
American Horror Story's upcoming eighth season will see the spooky FX series doing out jump scares in an entirely new format. At least, it's new for the franchise, which has historically spun standalone narratives that change from season to season — save a couple of minor crossovers in the past, like the inclusion of Pepper in both Asylum and Freak Show. In a departure from that, AHS: Apocalypse is actually a crossover from the show's first and third seasons, Murder House and Coven, respectively.
That means, in addition to a resurgence of some old haunts (literally), the new season will also see the resurgence of some old characters. On AHS: Apocalypse, Paulson will play three different characters, two of which audiences have already met before. Those characters making a comeback are: Billie Dean Howard, Paulson's psychic role from Murder House; and Cordelia Foxx, the witch master from Coven. And, In addition to those fans already know, Paulson will also play an entirely new character on Apocalypse named Wilhemina Venable. Not too much is known about Ms. Venable just yet, except that she looks super formidable carrying a candelabra.
And while juggling three major roles might sound like a lofty task all on its own, Paulson's involvement in AHS: Apocalypse doesn't stop there. In fact, according to a report from Variety published a little over a month ago, in August, Paulson will also direct one episode from the upcoming season. And, much to the probable delight of AHS fans everywhere, it sounds like she'll direct the episode that also sees the return of Jessica Lange to the AHS franchise.
So, to borrow Paulson's turn of phrase, here's to revisiting some old friends — well, not sure we'd call Cordelia Foxx a friend, per say — and meeting some new ones when AHS: Apocalypse makes its much anticipated debut. And, whether it's old characters or new ones, who else can't wait to watch Paulson take on three whole characters come Season 8? Let's hope that translates to lots of screen time.