Sarah Sanders Said Workers Afraid Of Another Shutdown Should Look To Dems — Not Trump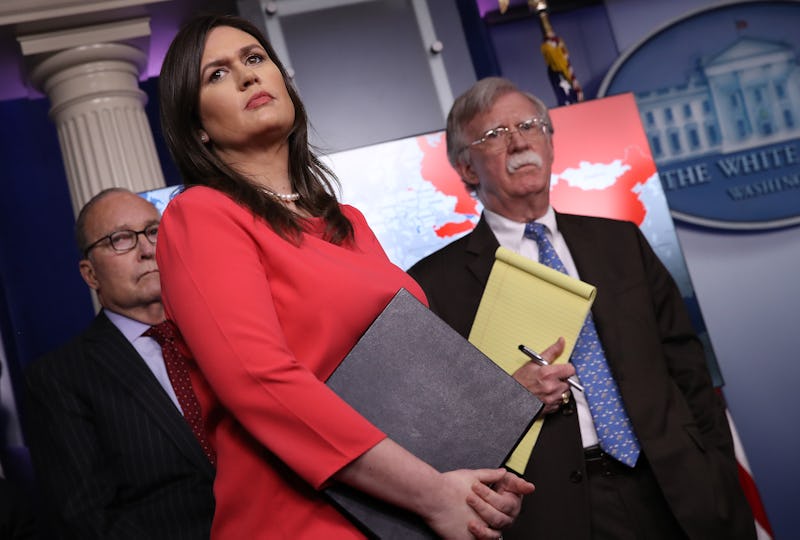 Win McNamee/Getty Images News/Getty Images
During her first press briefing of 2019, White House press secretary Sarah Sanders gave advice to federal workers post-shutdown — and it centered on Democrats, not the president. Sanders suggested that federal workers who are concerned about another government closure should look to Democratic members of Congress to remedy the issue ahead of the Feb. 15 spending bill deadline.
Sanders' comments come as a 17-member bipartisan congressional group is working to develop a spending bill that will be amenable to both parties' congressional delegations and to the president, the New York Times reported. However, Sanders' advice to federal workers seemed to suggest that the onus is on Democrats to avoid another shutdown in three weeks' time — not Trump. As the press secretary described via CNN:
My advice would be to call your Democrat member of Congress and ask them to fix the problem so we don't have to continue having this process.
The White House press secretary also implied that it's up to Democrats to end the spending bill stalemate at another point in her briefing, while simultaneously emphasizing that Trump " ... doesn't want to go through another shutdown ... That's not the goal," Fox News reported.
Sanders emphasized that she believes Democrats need to "come up with a deal," saying via Fox News:
Ideally, Democrats would take these next three weeks to negotiate in good faith, as they indicated that they would, and come up with a deal that makes sense, that actually fixes the problem ... If they don't come back with a deal, that means Democrats get virtually nothing ... That will ... force him [Trump] to take executive action ...
In Congress, both Democrats and Republicans are committed to coming up with a compromise spending bill in the aforementioned conference committee. As the New York Times reported, the committee is composed of eight Republicans and nine Democrats. Members of the committee were selected from appropriations committees in the House and Senate, since these committees have a reputation for being effective at bipartisan dealmaking, the paper noted. The group will meet for the first time on Wednesday afternoon.
Members of the committee seem to recognize the extent of the work ahead of them, but are hopeful they can reach a deal. "I'm going to remain optimistic … if you look at the impetus from both sides, the shutdown was a miserable experience for everybody," Senator Shelley Moore Capito, a Republican from West Virginia, told the Wall Street Journal. "There's a lot that tells me we may not get there, but there's more that's telling me we have the urge to demonstrate we can reach a consensus or we're signaling to the American people there's going to be two years of this [fighting] all of the time."
Democratic Representative Nita Lowey of New York also emphasized the significance of the committee's work to the New York Times. "In my judgment, the next three weeks will be one of the most important work periods in recent history — in my job here," she told the paper. "I've been an appropriator for a long time ... I'm always willing to work across the aisle and find compromise.
Overall, Congress appears to be taking a bipartisan approach to coming up with a spending bill ahead of the Feb. 15 deadline. While Sanders has suggested that the onus is on Democrats to successfully negotiate a spending deal, many members of Congress seem to believe that a unified approach to preventing another shutdown — one that will also eventually need to include the president — is best.