Sarah Huckabee Sanders Couldn't Say How Many Black Staffers The Trump White House Had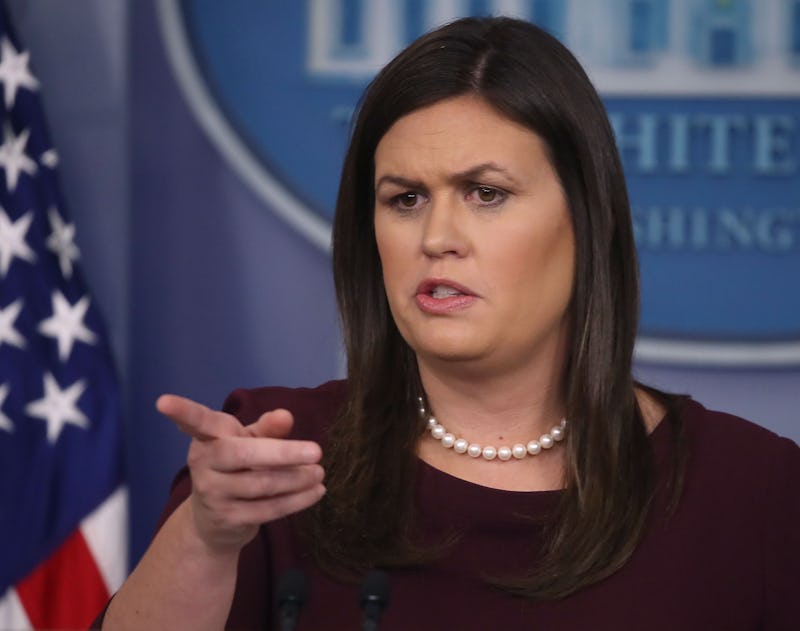 Mark Wilson/Getty Images News/Getty Images
If you've ever wondered about how diverse Trump's White House is, you may not get an exact answer from White House Press Secretary Sarah Huckabee Sanders. The White House would "try to diversify" its working staff, however, according to Sanders on Wednesday, after she hedged a reporter's question about the number of African Americans working in the White House.
During a press briefing on Wednesday, a reporter asked Sanders, "No staffer had been appointed at that level since [Omarosa Manigault Newman's] absence. Can you tell us exactly how many African American staffers there are in this building? And is it a priority for the administration to reflect the diversity of the country?"
"Certainly, as I addressed yesterday," the White House press secretary said, "we value diversity not just at the White House but in the entire administration. We are going to continue to try to diversify this staff. We have a large number of diverse staffers from various backgrounds ... race, religion, gender."
The subject of White House's staff diversity comes amid the chaos surrounding former White House adviser Manigault Newman and her promotion of her new book, which details a tumultuous experience while serving in Donald Trump's administration. While speaking to the press, Sanders declined to give a specific headcount of African American staffers in the White House but said that there would be attempts to ostensibly increase diversity in its working ranks.
When pressed to give an actual number of African Americans working in the White House, Sanders said, "Look, I'm not going to go through and do a count, the same way I'm not going to do a sit-down and count on the staffers that are in your news organizations."
The Wednesday press conference comes after Trump's senior adviser, Kellyanne Conway, couldn't name a single African American working in the White House during an interview with ABC News Chief White House Correspondent Jonathan Karl on Sunday. Karl asked Conway to name the "most prominent, high-level African-American serving in the West Wing on President Trump's staff."
At first, Conway dropped Housing and Urban Development Secretary Ben Carson's name. She was then reminded that Carson does not work in the White House. After that, Conway named "Ja'Ron" who apparently worked on prison reform policy with Jared Kushner, Trump's son-in-law and White House advisor.
Soon after her appearance on ABC News, NBC News reported that "Ja'Ron"'s surname was Smith while ThinkProgress reported that Smith was the director of Urban Affairs and Revitalization. Then Washington Post's Josh Dawsey pointed out on Twitter that Smith worked in the Eisenhower Executive Office Building, which isn't the White House.
It looks like the question of White House's apparent lack of diversity continued to return to Sanders at the Wednesday press briefing. When another reporter pointed out to her that "13 percent of the country is African American," she responded: "And we would love to diversify our staff and continue to do so. We do think it's important. We're going to continue to work to make that happen."