Sarah Huckabee Sanders Could Be Replaced By Someone From Trump's Favorite TV Network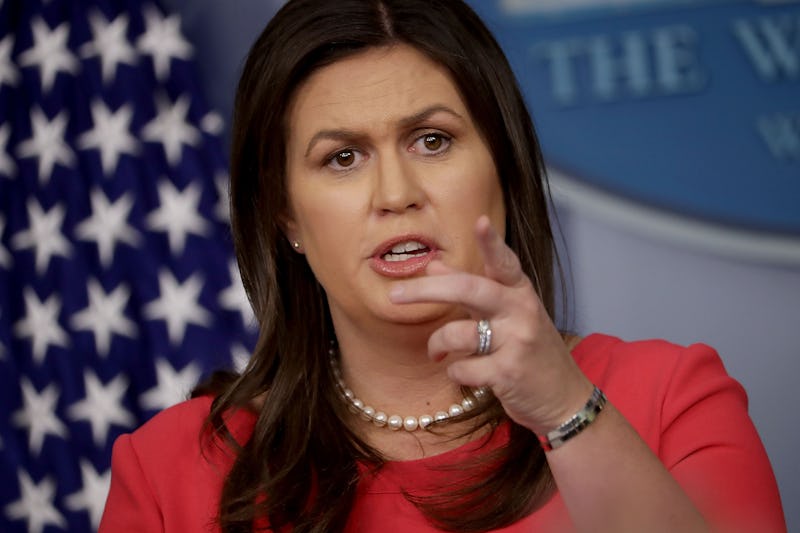 Chip Somodevilla/Getty Images News/Getty Images
The White House press secretary is reportedly planning to re-enter the job market by the end of year, and her possible successor has a history with the president's favorite cable news channel. A Politico report about White House officials starting to think about "life after Sarah" revealed that a former Fox News host could replace Sarah Sanders if she leaves the role. Heather Nauert, currently a State Department spokeswoman, is reportedly at the top of the administration's unofficial short list.
Although Sanders has publicly said she loves her job, reports surfaced earlier this summer that she was considering leaving in 2018. Her departure wouldn't be that unusual considering the Trump administration has seen the highest rate of staff turnover in decades — not to mention the White House's difficulty keeping communications staff. If Sanders does leave, her replacement would become Trump's third press secretary.
Nauert is no stranger to speaking in front of a camera, though. Before joining the Trump administration in April 2017, she was a correspondent for Fox News. She reported on breaking news, global and domestic crises, and the 2016 presidential primaries and election, according to her State Department bio, also working as a health insurance consultant prior to her journalism career.
Multiple people close to the White House told Politico that Nauert has remained on Trump's good side, as well as commented that her "close relationship" with Trump and ability to work well under pressure make her a "no-brainer" for the press secretary position. The fact that Nauert was named acting under secretary of state for public diplomacy and public affairs in March signals that she's moving up in the ranks.
The spokeswoman recently grabbed headlines when she brought up D-Day (the World War II invasion that began to curtail the Nazis' control over northwestern Europe) while answering a question about America's relationship with Germany.
"We have a very strong relationship with the government of Germany," Nauert said during a June press briefing. "Looking back in the history books, today is the 71st anniversary of the speech that announced the Marshall Plan. Tomorrow is the anniversary of the D-Day invasion. We obviously have a very long history with the government of Germany, and we have a strong relationship with the government of Germany."
The days following President Trump's one-on-one meeting with Russian President Vladimir Putin in Helsinki were shrouded in confusion, but Nauert appeared to contradict Trump on one point. Putin said during a joint press conference that he would like for Russian investigators to question people "who have something to do with illegal actions on the territory of Russia."
Before Nauert addressed the issue, the White House didn't take a strong stance. Sanders said in a press briefing that Trump would continue talking about it with Putin. And Trump called Putin's plan for a joint operation between the U.S. and Russia to combat cyber warfare an "interesting idea."
Nauert was much more blunt. She instead urged the Kremlin to work with the Justice Department to "pursue" Americans believed to have committed crimes related to Russia.
"What I can tell you is that the overall assertions are absolutely absurd — the fact that they want to question 11 American citizens and the assertions that the Russian Government is making about those American citizens," Nauert told reporters at a press briefing earlier this month. "We do not stand by those assertions."
Of course, Nauert isn't the only person being considered to replace Sanders should be leave the White House. Fox News anchor Bill Hemmer, former Fox News host Kimberly Guilfoyle, and former Fox News contributor Tony Sayegh are also reportedly on the shortlist.
So, the odds are, someone affiliated with Fox News would become the next press secretary.