Sarah Huckabee Sanders' Response To Michelle Wolf's Jokes Was Actually Pretty Biting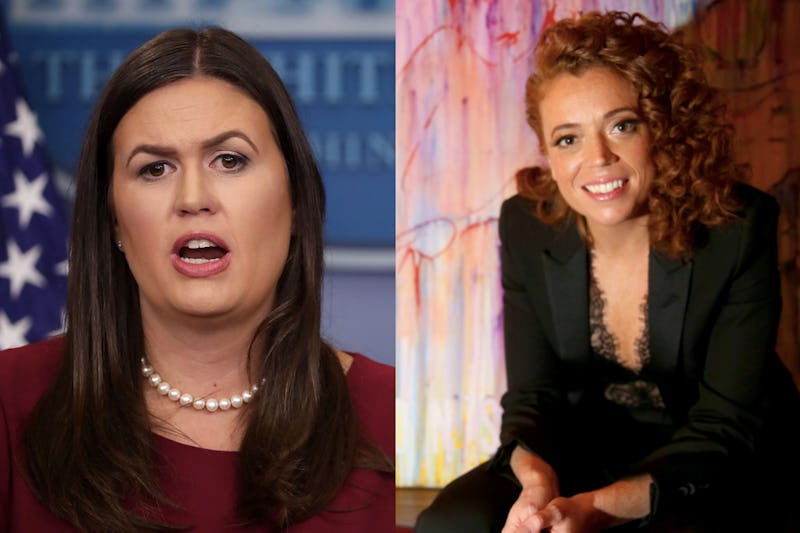 Chip Somodevilla/Getty Images News; Tasos Katopodis/Getty Images Entertainment/Getty Images
In an interview Thursday, White House Press Secretary Sarah Huckabee Sanders addressed Michelle Wolf's monologue at the White House Correspondents' Dinner, telling Fox News that Wolf's ribbing "says a whole lot more about her than it says about me." Sanders told the Fox News hosts, unprompted, that she hasn't lost any friends as a result of Wolf's monologue, and suggested that Wolf is an unhappy person.
"I hope that she can find some of the same happiness that we all have," the press secretary said, "because I think she may need a little more of that in her life, 'cause the rest of us here are doing great."
Host Ainsley Earhardt expressed sympathy for Sanders, telling her that "we're so sorry that that happened."
"There's no excuse for that," Earhardt said. "I mean, women should support other women." She added that Sanders "handled it with grace and with class."
Wolf teased plenty of politicians at the White House Correspondents Dinner in April, but one of her jokes about Sanders drew the most attention and criticism. "I actually really like Sarah," Wolf said during her speech. "I think she's very resourceful. Like, she burns facts, and then she uses the ash to create a perfect smoky eye. Like, maybe she's born with it; maybe it's lies. It's probably lies."
Some expressed consternation at Wolf's jokes, with several media figures accusing Wolf of mocking Sanders' physical appearance. The White House Correspondents' Association, which hosts the dinner, has disowned Wolf's monologue, and some media organizations said they'd no longer attend the dinner on account of Wolf's speech.
Wolf has firmly rejected the accusation that she ever teased Sanders for her looks, noting that she only criticized Sanders' "despicable behavior," not her appearance.
"Why are you guys making this about Sarah's looks?" Wolf tweeted. "I said she burns facts and uses the ash to create a *perfect* smoky eye. I complimented her eye makeup and her ingenuity of materials."
Criticisms notwithstanding, Wolf's monologue quickly became the most-watched speech on C-SPAN by a WHCD emcee, according to The Hill, racking up over 4 million views in just three days.
Wolf says she doesn't regret any of the jokes she told and is happy with her speech. "I wouldn't change a single word," Wolf told NPR Tuesday. "I'm very happy with what I said, and I'm glad I stuck to my guns." At other points in her monologue, Wolf compared Sanders to Aunt Lydia from The Handmaid's Tale, and said that the press secretary is like "'Uncle Tom,' but for white women who disappoint other white women."
Many of Wolf's fellow comedians also defended her monologue, including Seth Meyers, Samantha Bee, Dave Chapelle, Jimmy Kimmel, and Stephen Colbert.
"Look, you didn't like it? You have that right. Don't invite her back again. But grow a pair," Colbert said on his show. "This was a roast, and you're the ones who hired Michelle Wolf. Being mad at her for doing her job is like accusing the valet of briefly stealing your car."
In addition to not apologizing for her routine, Wolf criticized Sanders for not laughing at her jokes.
"There's plenty [of past WHCD dinners] where you could look back, and the camera was on Obama when people were making pretty aggressive jokes about Obama, and he was laughing," Wolf said in her NPR interview. "And I think having the ability to laugh at yourself is important."
Wolf also claimed that, in an unaired portion of the dinner, Sanders didn't stand and applaud when CNN was given a journalism award.
"I cannot remember the exact award they got, but they came up to accept them and [Sanders] sat the whole time, while we all stood and shook their hands," Wolf said. "I would say if this is about celebrating the media, she wasn't there to celebrate the media."