Sarah Sanders Thinks God Had To Do With Trump's Election & People Are Bewildered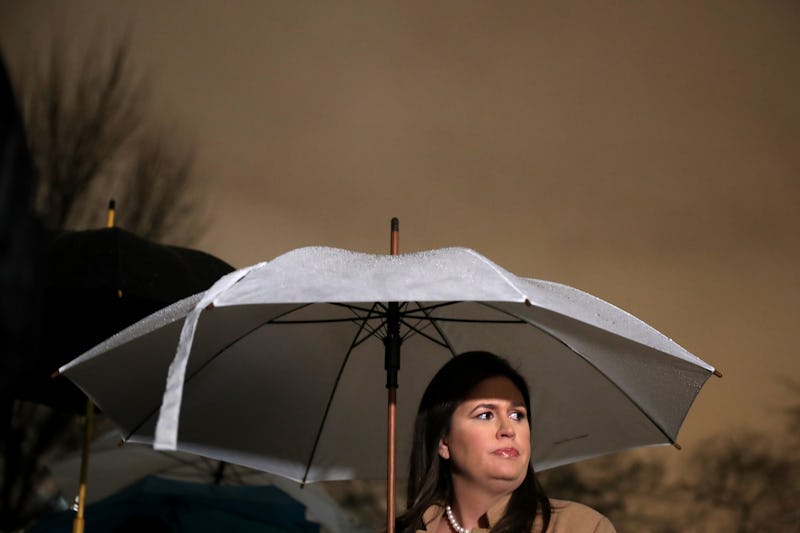 Chip Somodevilla/Getty Images News/Getty Images
On Wednesday, White House Press Secretary Sarah Sanders said Trump was elected president because it was what God "wanted," though she didn't clarify why, exactly, she believed in POTUS' spiritual destiny. The comments came during an interview with the Christian Broadcasting Network, when Sanders answered a question posed by CBN's David Brody, who asked if Trump's presidency "blew her mind" from a "spiritual perspective." Sanders certainly indicated that it did — but her comments left a lot of people scratching their heads.
To Brody, Sanders said in full, via CBS News,
I think God calls all of us to fill different roles at different times and I think that he wanted Donald Trump to become president, and that's why he's there and I think he has done a tremendous job in supporting a lot of the things that people of faith really care about.
Sanders did not clarify whether she believed God chose all of the presidents who preceded Trump, many of which have been mocked by the current president. She also didn't clarify whether she believed God called on her, specifically, to fill the role of press secretary of Trump's White House.
Of course, those are only a few of the questions that people asked of Sanders on Twitter, in response to her comments.
Bishop Talbert Swan wrote a Twitter thread of 10 questions, which included "What God are you talking about?" and "Did God sanction Trump grabbing women by the p*ssy?"
MSNBC analyst David Corn wrote on Twitter, "So did God want @BarackObama to be president? Or did he take off those eight years? Did he want the House Dems and @RepAOC to win in November? Or was he napping then?"
Rep. Ted Lieu tweeted, "Dear @PressSec Sarah Sanders: I see that you now also speak for God. Here's a tip. If you open your heart and eyes, it appears God is sending lots of signals that @realDonaldTrump should step down, or not run again. Also, how come your boss committed so many sins?"
Evangelical Christians make up a large contingency of Trump's voting base, according to The Huffington Post. In an interview with CBN in November, Trump flexed his religious prowess, arguing, "no one...[has] done more for Christians or evangelicals or, frankly, religion than I have."
POTUS went on to say that he was told frequently by supporters that they were praying for him, and that he was confident that his Christian base would show up for him in the 2020 election. He said, "I know they're very happy with me. We've seen they're very happy...I have no doubt they're going to be there in '20. I hope they're going to be there now because it'll be a lot easier if they are, a lot better."
Later on in her interview with CBN, Sanders noted the most concrete piece of evidence for how POTUS has represented the wishes of his Evangelical base: through the court system.
Sanders said,
I would argue he's the most conservative president that we've ever had. You look at the judicial nominations alone I think that will be one of the greatest legacies that the president has after his 8 years in office is how he has completely remade the judiciary and started to stop this activist court that we've started to see over the last 8 years.
Sanders concluded, "There's a reason evangelicals are sticking with the President, and that's because he's delivered on all the things he said he would do."