Sasha Pieterse Shows A New Side In 'Coin Heist'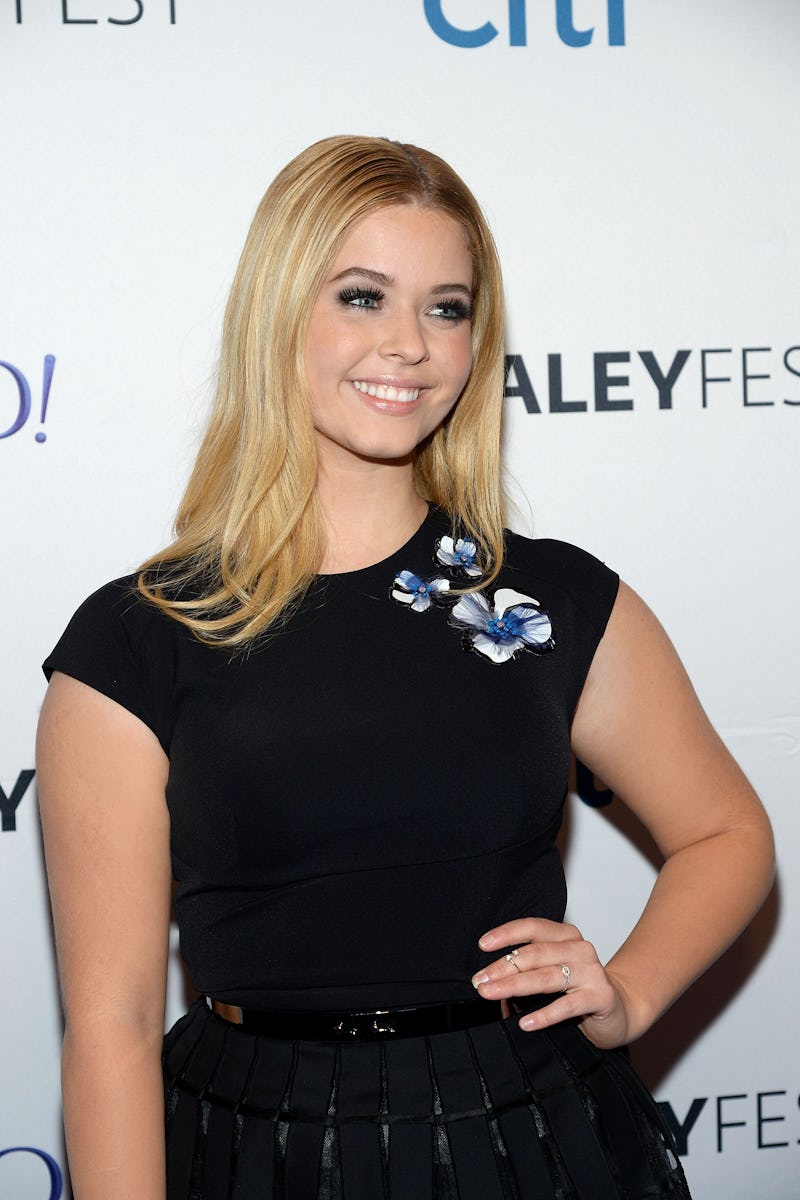 Ben Gabbe/Getty Images Entertainment/Getty Images
She's best known as reformed mean girl Ali DiLaurentis from Pretty Little Liars, but Sasha Pieterse's role in Netflix's new film Coin Heist proves that the versatile star shouldn't worry about being typecast after the TV series that made her famous concludes this summer. Coin Heist focuses on four teenagers from different social circles who form an unlikely alliance when they learn the doors of their Philadelphia prep school are about to close because the principal has been arrested for embezzlement. In an effort to save their school, they hatch a plan to steal $20,000 in rare coins from the U.S. Mint. In an interview with Bustle, Pieterse talks about her character Dakota, her experience on set, and what she hopes teens will learn from the film.
The actor says she was immediately drawn to Coin Heist when she met with the director, 24-year-old Emily Hagins. "It's a super cute film and Emily was really excited to start this movie and her enthusiasm is a big reason why I wanted to be involved," Pieterse recalls. She plays Dakota, the perfect student who dreams of pursuing the arts but is pressured by her parents to follow a more traditional route and eventually head off to an Ivy League college like her older sister.
"I don't know that I necessarily relate to [Dakota], but she's a really fun character and definitely different from Ali," Pieterse says. "She's a little high strung, but she has a good heart."
She also notes that many teens are in a similar position as Dakota where "their heart is pulling them in a different direction" than what their parents want for them, but Pieterse is confident that her character will ultimately follow her own path. "She's strong and is going to do something awesome with her life and that's really an important thing to showcase," Pieterse tells Bustle. "She's not entitled; she really does want to get out there and work hard."
On the surface, each of the four main characters in Coin Heist fits neatly into a high school stereotype — the perfect student, the nerd, the slacker, and the athlete. Pieterse hopes the film will show teens that they shouldn't take each other at face value. "It's a sweet story about how you shouldn't judge people based on your first impression because they can be very different deep down," she says. What else does she hope high schoolers will learn from the film? "That any teen can go into a coin heist," Pieterse jokes.
Pieterse says she and the Pretty Little Liars cast are "like family," but she loves films because they provide the opportunity to work with new people. "It's brand new and fresh, and I'd love to do more of that," she says. Although Pieterse's Coin Heist co-stars are newcomers to the film and TV world, she says she's actually the one who learned from them. "They were just such an awesome group and they brought a lot to the table," she says of her castmates. "Alex [Saxon] is an incredible writer, Jay [Walker] is hilarious on Vine and now on Twitter, and Alexis [Zall] is crazy good at what she does on YouTube."
Although it's aimed at teens, Coin Heist is a totally enjoyable movie for viewers of all ages and Pieterse's amazing performance proves that she has a bright future in film.