Scarlett Johansson's Controversial New Role Is Definitely Going To Raise Eyebrows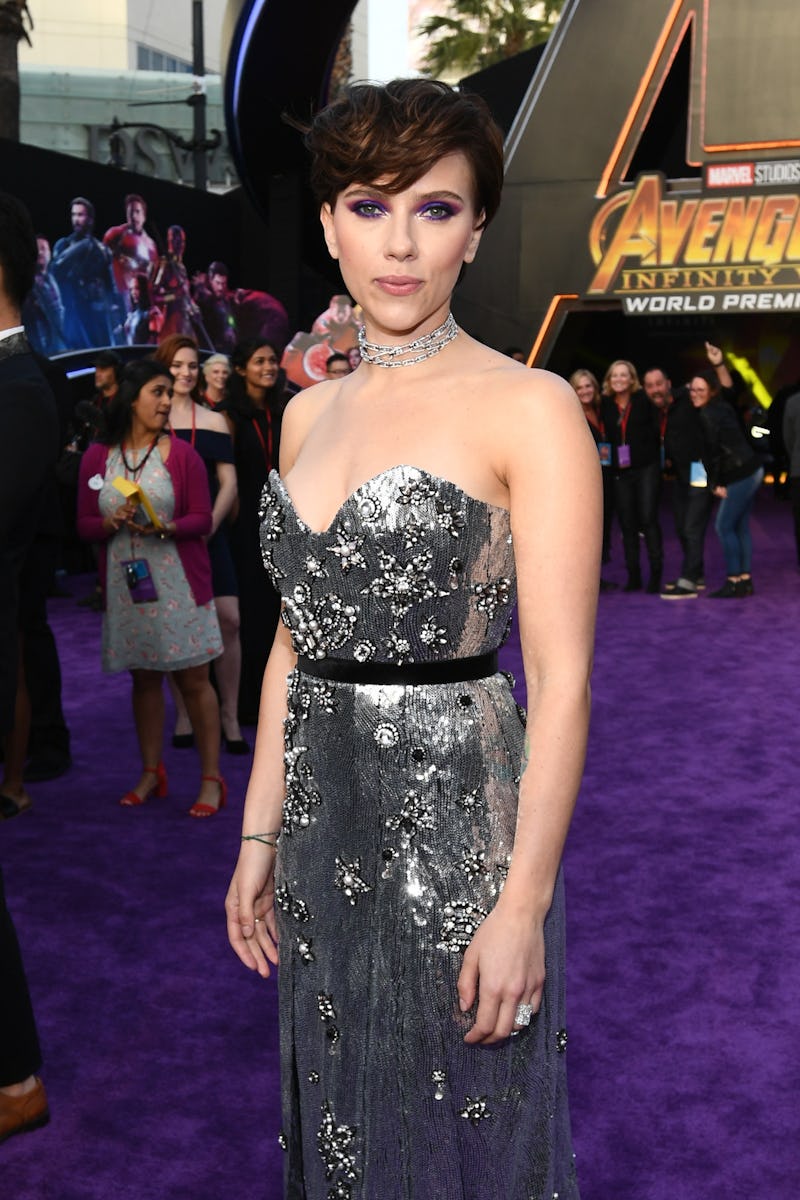 Emma McIntyre/Getty Images Entertainment/Getty Images
With the final Avengers movie set for release in May 2019, Scarlett Johansson is ready to look for new and exciting characters to play. In fact, according to ScreenCrush, Johansson is gearing up to reunite with her Ghost in the Shell director, Rupert Sanders, in a new project titled Rub & Tug. However, the star's role in the film is being met with some controversy, particularly because Johansson's new role may be a transgender man.
UPDATE: Scarlett Johansson issued this comment to Bustle via a representative: "Tell them that they can be directed to Jeffrey Tambor, Jared Leto, and Felicity Huffman's reps for comment."
EARLIER: Rub & Tug will tell the fascinating story of a massage parlor owner in 1970s Pittsburgh whose business served as a front for prostitution in the red light district. Johansson is set to star as said parlor owner, Dante "Tex" Gill, who The Hollywood Reporter describes as "a woman [Jean Marie Gill] who succeeded in Pittsburgh's 1970s and 1980s massage parlor and prostitution business by assuming the identity of a man, Dante 'Tex' Gill." However, other publications like Vulture have described Johansson's character as a "transmasculine crime boss," while others, like the Pittsburgh Post-Gazette, called the real-life Gill a lesbian "who dressed like a man in suits and ties, wore short hair and sideburns and preferred to be called 'Mr. Gill.'"
All three of these descriptions are somewhat different, and depending upon which one is more accurate, could prove highly problematic for Johansson. The obituary for Gill alleged that "she may even have undergone the initial stages of a sex change that made her appear masculine." It went on to say that "In all the old newspaper stories about Dante 'Tex' Gill, she was always 'the woman who prefers to be known as a man,' or some variation of that description, and she sure looked and acted the part," adding that Gill "insisted she was a man."
If Gill identified as a transgender man, it's definitely problematic for Johansson, a cisgender woman, to portray Gill on screen. Bustle has reached out to Johansson for comment, but did not receive a response at time of publication. Hollywood has a history casting of cisgendered actors to play trans characters, like former Transparent star Jeffrey Tambor, which is why the casting news instantly caught Twitter's attention. Some users, of course, had a lot to say on the matter. Twitter user @missunitedface took a more sarcastic approach to the issue, writing, "does scarlett johansson think that she is mystique." (Mystique is an X-Men character who can transform into anybody, meaning she can take on different ethnicities, genders, and looks.)
Another Twitter user @gregperkinss even had some ideas of who Johansson might play next in future roles after this one, writing, "My sources have told me Scarlett Johansson will be playing Michelle Obama in Quentin Tarantino's new film."
Others like @ItsJam_Ok were upset but not surprised by the latest casting news, tweeting that "A trans man should have been cast instead of Scarlett Johansson and it doesn't surprise she took the role."
Then there were those like @kish_lal, who was disappointed with the actor's decision in the wake of her Time's Up activism, writing, "Scarlett Johansson is the type of white woman that complains about injustice only to turn around and underhand POC and trans ppl RATHER than do anything to stand up to rich white men...."
Meanwhile, Twitter user @AlexQRyan has already started predicting what this potential backlash could do for Johansson's career, stating, "I can only assume Scarlett Johansson needs an agent."
Fans were also quick to point out that Rub & Tug will be directed by Rupert Sanders, the same man who directed Johansson in Ghost in the Shell, which many accused of whitewashing. @GregorArnott, for example, was quick to point the finger at Sanders, writing, "The weirdest part to me is that the director was heavily criticised for white washing when it came to casting Scarlett Johansson as Motoko," @GregorArnott wrote. "Not only does he make a similar mistake here but it's with the same actor. How do you blatantly make the same mistake twice?"
This controversy just helps to further prove why it's so important to have LGBTQ representation on projects in Hollywood, both in front of and behind the camera, so that problems and oversights like these can finally become a thing of the past.
Editor's Note: A previous version of this article misidentified Dante "Tex" Gill. It has been updated.