Scarlett Johansson Officially Meets Her Doppelgänger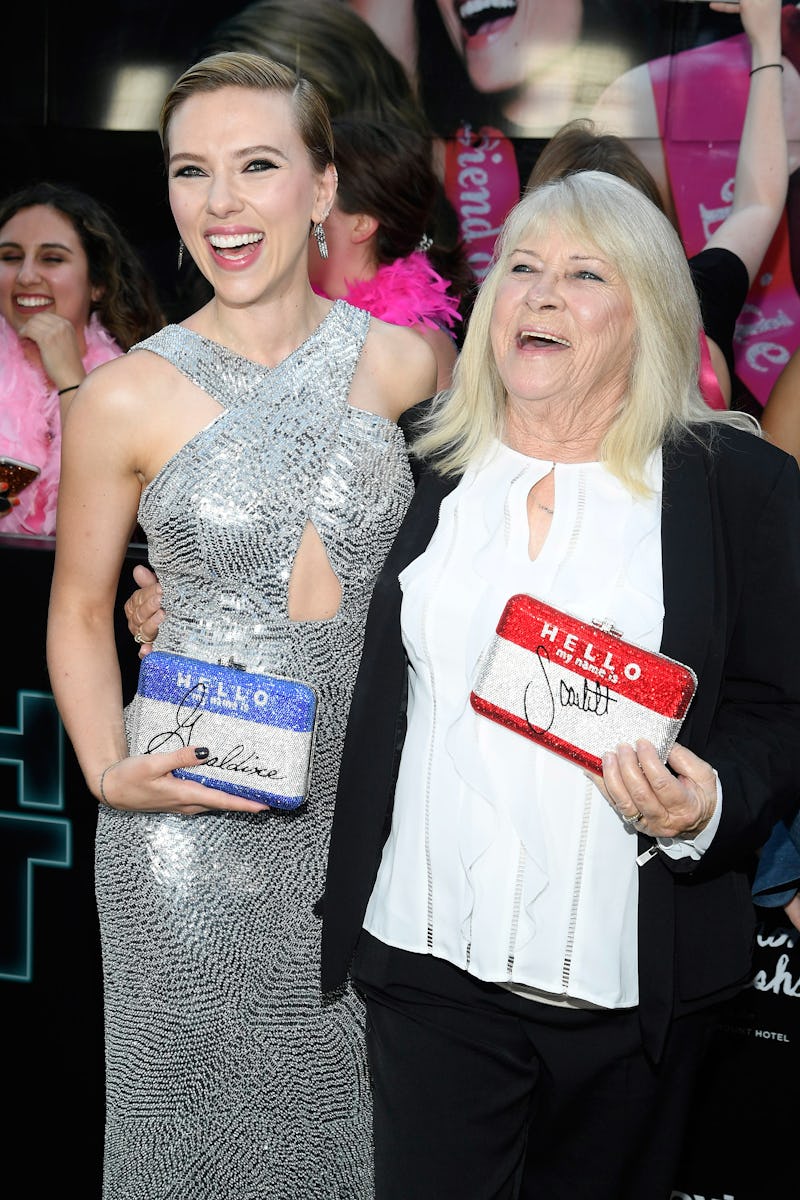 Dimitrios Kambouris/Getty Images Entertainment/Getty Images
Looks like I have yet another piece of news to file in the "Totally Amazing" category: Scarlett Johansson finally met her future self at the Rough Night premiere — sort of. Of course, Johansson knew it was going to happen because she helped to make the magical doppelgänger moment occur, but it was an absolutely precious event nonetheless. I don't know about you, but I think it's pretty damn cool that Johansson got to celebrate the premiere of her new film with someone who looks like her.
According to E! News in April, Johansson first learned about her septuagenarian doppelgänger, Geraldine, when Geraldine's grandson posted a picture of her at 22 years old to Reddit. The photo blew up, and apparently, despite Johansson having zero social media presence, she found out about the photo's existence. The actor actually recorded a video commenting on the photo and expressing excitement about having a "twin":
"I want to meet you in person. I saw that you were quote 'drunk as a skunk' when taking that photo, and I would like to see your drunk face. I want to share a drunk face with you. Let's have a drink, Geraldine ... Do you want to come to see 'Rough Night' with me? Be my guest? We're a bunch of partying girls, so it's a good running theme, and I'll cover all your hidden costs. I'll see you at the bar. Be there or be square!"
Fast forward from April to June — specifically, the night of the Rough Night premiere. Guess who showed up? Geraldine. And guess who was happy AF to finally meet Geraldine face-to-face? Johansson, obviously. I mean, check out this happy hug moment:
For reference, here's the picture of a young Geraldine:
When Johansson recounted this red carpet meeting during an interview with Stephen Colbert recently, she also revealed that, true to her original proposal, she and Geraldine got "trashed." Johansson appeared totally excited about the fact that she has a badass woman for a doppelgänger and mentioned that this wasn't the last time she wanted to hang out with Geraldine.
After revealing that Geraldine's daughter owned a bar, she joked that she'd be making her way down to Arkansas to get trashed once more with her lookalike.
Now, what would it take to ensure that Johansson and Geraldine star in a movie together?