Scientists' Reactions To Stephen Hawking's Death Sum Up His Mind-Blowing Legacy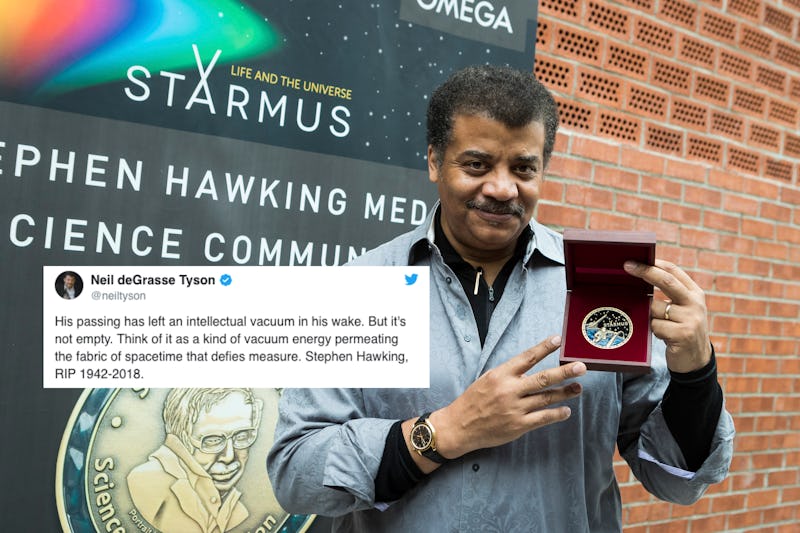 Michael Campanella/Getty Images Entertainment/Getty Images
On Tuesday night, the scientific community lost one of its most influential figures. But scientists' tributes to Stephen Hawking vow that his influence on the field — and on their own learning experiences — will never die. Astronomers, astronauts, and physicists honored not only his mind-blowing findings about black holes and relativity, but also his optimistic outlook on life.
Following his family's announcement of his death in Cambridge, The Guardian reported, the University's vice-chancellor Professor Stephen Toope pretty accurately summed up how people are remembering Hawking and his legacy.
Professor Hawking was a unique individual who will be remembered with warmth and affection not only in Cambridge but all over the world. His exceptional contributions to scientific knowledge and the popularisation of science and mathematics have left an indelible legacy. His character was an inspiration to millions.
Hawking was the Lucasian Professor of Mathematics at the University of Cambridge for 30 years up until 2009. Still, after he retired, he never truly slowed down. For example, in 2015 he helped create a documentary on space colonization, Stephen Hawking: Expedition New Earth, and even continued proposing new theories about black holes. And less than a year before he died, Imperial College London gave him an honorary doctorate.
Now, his fellow scientists want to make sure his musings inspire the future generation to be fascinated by the universe too. Here are just some of the ways they paid homage.