It Turns Scott Disick & Sofia Richie Reportedly Never Broke Up After All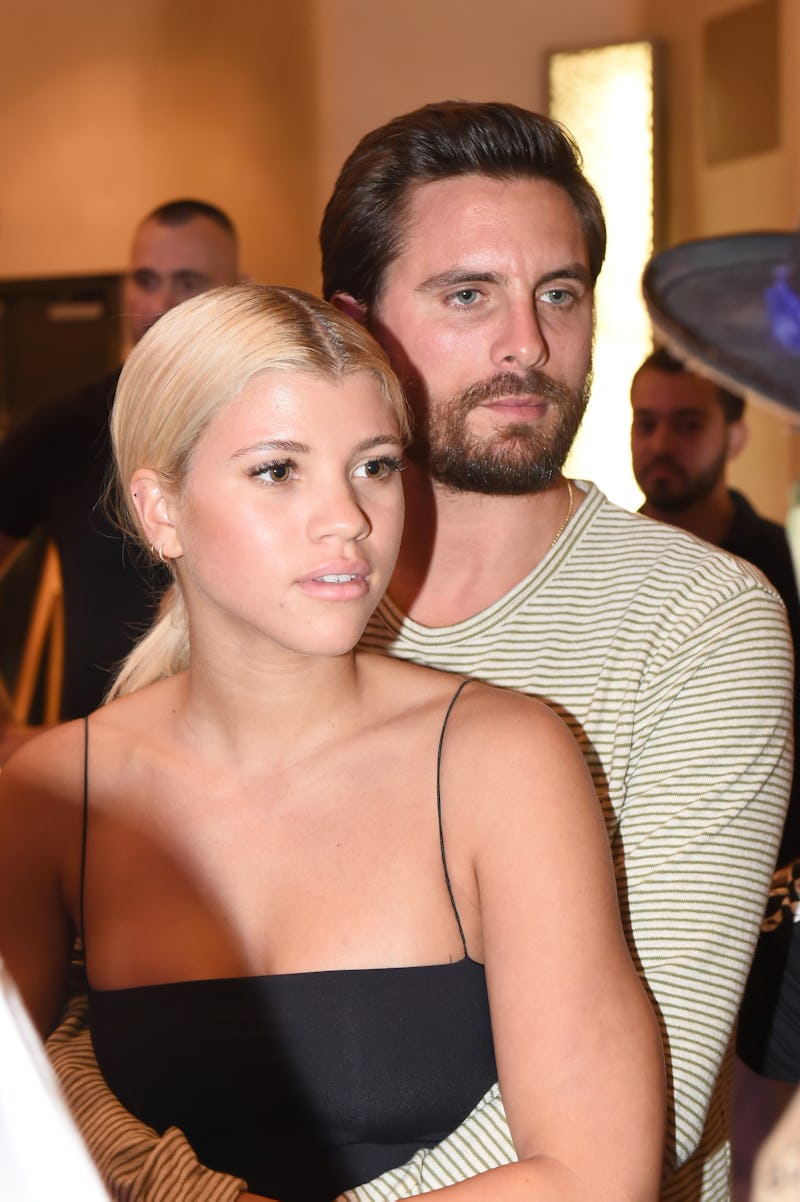 Romain Maurice/Getty Images Entertainment/Getty Images
If Scott Disick and Sofia Richie broke up, it's news to Disick. On Monday, Us Weekly reported that despite rumors to the contrary, Disick and Richie are still together. The pair was seen getting lunch in Malibu, on Monday, June 4. Additionally, Disick denied rumors that the couple had split on Instagram.
On his Instagram Story that same day, Disick confirmed the report, posting a screencap of a TMZ article titled, "Sofia Richie & Scott Disick Still Together" with the caption, "We had no idea we even broke up but thanks for thinking of us." Later, Disick also posted what appeared to be a paparazzi photo of he and Richie. An unnamed source told Us, "They are now back together and Scott isn't done with her. Sofia had a strange weekend, and Scott and her are working through things."
Rumors swirled over the weekend that the couple had split after Disick, 35, was allegedly seen embracing a woman who was not Richie at Kanye West's Ye listening party on Thursday in Wyoming. He reportedly told people there that he was single, according to TMZ. On Saturday, Us Weekly reported that Richie had broken it off after she learned that Disick had allegedly cheated on her during a trip to Miami. Bustle previously reached out for comment about the reports but did not receive an immediate response.
Richie, 19, found out about the alleged infidelity "after their trip to St. Bart's and it caused huge problems in their relationship," a source claimed to the magazine. "He went to Wyoming because of it and was photographed with another girl and that was the icing on the cake for her to break up with him," the source told Us.
E! News published a similar report, and a source told the publication that Richie's father, musician Lionel Richie, played a large part in her decision to end her relationship with Disick. "Her dad got to her and was a major influence," said the source. "He told her enough is enough and she deserves better than this. He told her to come home and she did."
In February, Lionel told The Daily Telegraph of his daughter's relationship with Disick, "She's 19," adding, "When you're 19 you know everything. Is it going to be for life? I don't know. But for right now it's just a phase and I'm going to stand real still in the corner, get me a good drink and not make too much noise."
Of Richie's state of mind following her supposed split from Disick, the source also told E!, "She is upset and sad but feels like she had no choice and she couldn't stand for being cheated on and being in such a toxic relationship."
While those reports turned out not to be true, and Disick and Richie are apparently still together, this isn't the first time the couple was rumored to have split. A source told People that the pair have "broken up multiple times since they started dating and always ended up back together."
Some members of Disick's family have voiced their disapproval of his relationship with Richie in the past, but another source told the magazine that while his ex, Kourtney Kardashian, with whom he has three children — sons Mason, 8, and Reign, 3, and daughter Penelope, 5 — thinks Richie is "too young" for Disick, he has been a more present parent thanks to Richie.
"Sofia was a good influence on Scott," said the source. "The kids are all very happy that Scott is around and Kourtney would hate for that to change." On Saturday, Disick posted a photo of himself with his children on a plane, with the caption, "Vacation complete! Love u family".
While the rumor mill continues to churn, it seems Disick has done his part to set the story straight, and while Richie has yet to comment, here's hoping the pair had a nice lunch together.