Kendall Jenner Dissed Scott Disick's Relationship On Instagram & Wow, She Really Went For It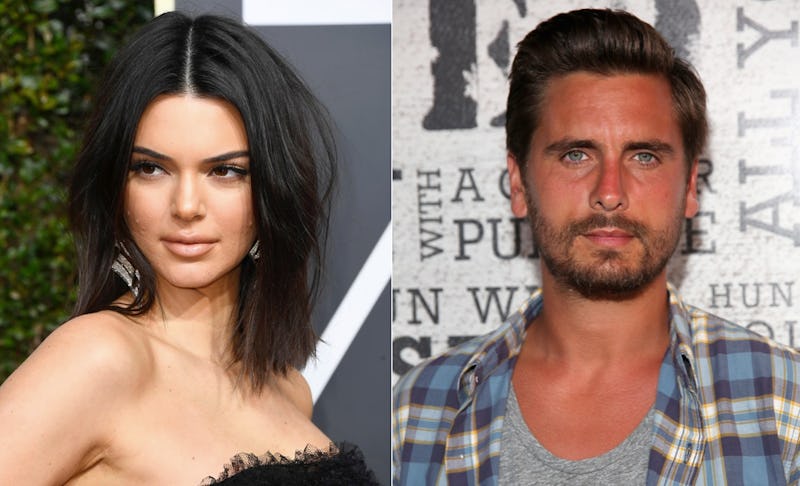 Frazer Harrison/Getty Images Entertainment/Getty Images; Paul Zimmerman/Getty Images Entertainment/Getty Images
Kardashian fans have been buzzing about Scott Disick dating Sofia Richie, but what do the Kardashian-Jenners actually think? Now, we have a little bit of insight. Over the weekend, Kendall Jenner commented on a paparazzi photo of Disick and Richie that was posted on a fan Instagram account, and let's just say that she's not holding back when it comes to her true feelings on the subject.
To put it mildly, there's been a bit of an adjustment period following Disick's split from Kourtney Kardashian, even though it's been more than two years since their breakup. Anyone who's been watching Keeping Up With The Kardashians knows it's been a difficult process for them both. This season alone, we've seen Disick lash out after finding out that Kardashian is dating Younes Bendjima, as well as many emotional moments from Kardashian while she tries to figure out the proper balance between maintaining a healthy co-parenting relationship and moving on from a relationship that she knows is over.
Because of all of this drama, it's not surprising that Kardashian's sister would have an opinion on Disick's new girlfriend... but seeing her commenting in such a public way like this was definitely unexpected.
"Awww Scott and his kids," Jenner wrote with a smiley face emoji.
It's rare that a member of the Kardashian-Jenner family comments this openly on things that are happening in their family. (It does happen though.) Usually, we have to wait until a big interview or KUWTK to find out what was really going on behind the headlines that have surfaced over the preceding few months. So, for Jenner to comment so openly about this, it has to have been something that really bothers her... or she's just teasing Disick and it wasn't meant to be taken seriously at all.
When it comes to Disick's relationship with Richie, it's difficult to ignore their age gap. Since Disick is 34 and Richie is 19, it's hard for a lot of people to understand why he'd date someone who is 15 years younger than he is— especially since Richie is still a teenager. That's a pretty big deal.
People shared a few insights into the night the photo Jenner commented on came from. Reportedly, the photo was taken during a dinner out at Nobu, and that it doesn't seem like Penelope, Reign, and Mason know Richie very well at all.
An insider told the magazine:
"You could tell that the kids don't know Sofia well because they weren't holding her hand. Instead, they all stayed close to Scott. It was a short dinner. Scott and Sofia were not affectionate. The kids seemed fine with her, but all sat close to Scott. He helped them at dinner and with potty breaks. Sofia acted like Scott's friend and you could tell she was trying a gentle approach to get his kids' approval."
Even though Disick and Kardashian are no longer together, he's still very interwoven in her family, and since they share three children together, it's impossible for them to fully separate the way a lot of couples can. Because of the bond he's built with her family for more than 10 years, which has spanned most of Jenner's life, it's not surprising that she'd have an opinion on his dating life, even though the way she shared that opinion is.
This might be the first time Jenner's been openly snarky about her family on social media, but maybe it's not her last. It'd definitely be interesting to see what she thinks about other stuff going on with her siblings, like her sisters' pregnancies. Is Kylie hiding from her, too?