Sean & Catherine Lowe's Son Was The FASTEST Ring Bearer Ever & The Video Is Too Cute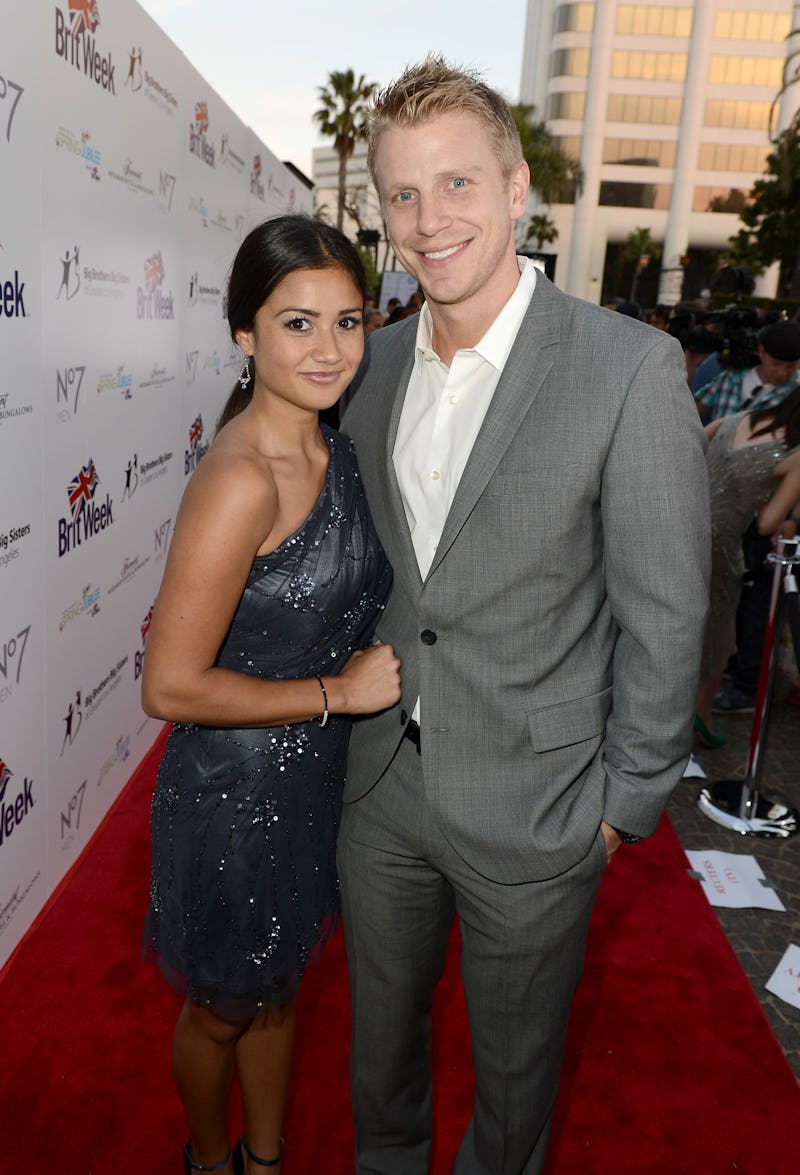 Kevin Winter/Getty Images Entertainment/Getty Images
After more than 30 seasons of The Bachelorette and The Bachelor in total, so many Bachelor Nation babies have been born, and these little ones are some of the cutest ever. Need proof? On Saturday, Sean and Catherine Lowe's son was a ring bearer in a friend's wedding, and thanks to the videos and photos his proud parents have shared, it's hard to imagine anyone else doing the job better.
While they were at the wedding, which was held at Southern Methodist University in Dallas, Texas, Sean and Catherine were posting plenty of pics of themselves, 1-year-old Samuel, and the happy couple, and of course, everyone looked amazing and seemed to be having a great time. But the real show didn't start until the ceremony began, which Samuel clearly saw as his time to shine.
At first, Lowe shared a super cute photo of Samuel all decked out for the occasion, wearing a tiny black tuxedo and matching bow tie and shoes, looking pretty pleased with himself. Just from that photo, it seemed like he had this gig down. Somehow, this little guy is the perfect mix of both of his parents, with his mom's smile and his dad's eyes and blonde hair.
In the caption, Sean mentioned how good Samuel looked, adding that he "sprinted down the aisle." And that led to fans begging for a video of Sam's big moment, which fortunately, Sean decided to bestow upon all of us to enjoy. And boy, is it something.
In the video, Samuel's the first kiddo down the aisle, and he wastes absolutely no time getting down it. He takes off, a little unsure at first, but by the time he reaches the altar, he's got a huge smile on his face. It seems he inspired the other ring bearer and the flower girl with his sprint, too, because it looks like they decided to run down the aisle, as well. Some people don't like to have kids in their wedding because of how unpredictable they can be, but this video is proof of how adorable that unpredictability really is.
It's hard to speak for the bride and groom on this one, but who could possibly upset at a ring bearer who is that pumped to fulfill his wedding duties? And like his dad said, he did look pretty good doing it.
The cuteness didn't start with the ceremony, either. Earlier in the day, Catherine shared a video of a sweet moment between Samuel and the flower girl as she happily fed him what look like Goldfish crackers. Clearly, weddings are very much Samuel's thing, because he seemed to be in his element the entire day.
Catherine also posted a few photos of herself and her family on Instagram. Even when Samuel wasn't busy hamming it up for wedding guests, he still looked too cute for words posing with his mom and dad — who, by the way, didn't look too shabby themselves all dressed up for the event.
It's hard to believe that, since meeting and getting engaged on The Bachelor in 2013, not only are Sean and Catherine still going strong, but they've also created a family, including the cutest ring bearer ever. This particular reality show may not have the best track record when it comes to lasting relationships, but these two are clearly an exception.
Now that Sean and Catherine are expecting their second child — who is due to arrive toward the end of May — Samuel will hopefully have plenty of opportunities to teach his little brother or sister his tricks before the next wedding. Considering how much fun Sam seems to be, it looks like his parents are about to have their hands full in the best way possible.