Sean Hannity Apologizes For Suggesting Roy Moore's Alleged Assault Was "Consensual"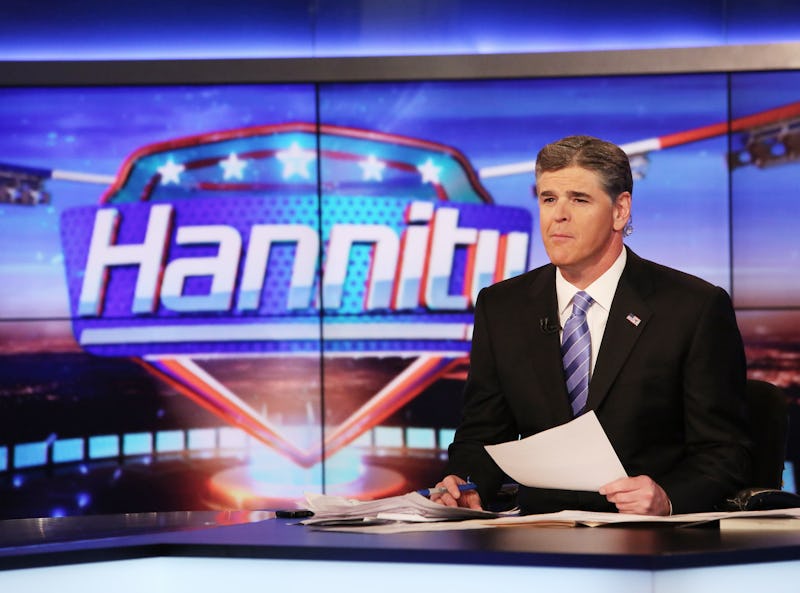 Paul Zimmerman/Getty Images Entertainment/Getty Images
On Thursday night, Fox News host Sean Hannity apologized and said he "misspoke" when suggesting the alleged sexual assault of a 14-year-old girl by Senate candidate Roy Moore was "consensual." Hannity was responding to a report from The Washington Post that Moore, who would have been in his early 30s during the incidents, had allegedly sexually assaulted a woman when she was 14, and asked out three other women on dates when they were teenagers. Moore has denied the allegations, calling them "a desperate political attack by the National Democrat Party and The Washington Post on this campaign."
"As I said on TV tonight, I apologize when I misspoke and was not totally clear earlier today," Hannity tweeted on Thursday night. "It's really sad when the lazy media in this country cuts and pastes a deceptive and out-of-context comment by a Soros-funded, radical, left-wing group that has purposefully taken me out of context for years. My comments on the topic of Judge Moore were clear and unambiguous both on radio and on TV."
On Thursday evening, Hannity was on a radio show discussing the Post report. Amid some crosstalk with co-host Lynda McLaughlin's own comments, many interpreted it as Hannity calling Moore's alleged encounters with the then-14-year-old girl "consensual." Hannity later explained that he was referring to the 17- and 18-year-olds — who can legally consent — according to a transcript by Media Matters.
Hannity: How do you possibly tell, know the truth, except — Okay, so, the two other girls were older in this case. He was apparently, like, 32, and he dated — one girl was 18, one girl was 17, they never said he did — there was no sexual — there was kissing involved, and then they're saying this one encounter with a 14-year-old —,
McLaughlin: And it was consensual.
Hannity: And consensual, that's true. And there's, you know — I just — I don't know how you find out the truth.
The bombshell story by the Post reported that Leigh Corfman, who was 14 at the time, was approached by Moore, who was 32 and working as district attorney. Corfman claims that Moore asked for her phone number, and that he told her she was pretty and allegedly kissed her. During a second incident, Corfman says Moore allegedly took off her clothes and touched her over her underwear. She also claims he also took off his clothes and allegedly moved her hand so that she touched him over his underwear.
Moore and his campaign have vehemently denied the allegations, saying, "This garbage is the very definition of fake news."
Three other women said that Moore asked them on dates when they were between the ages of 16 to 18, and that when two of them actually went on the dates, it never went beyond kissing. The other said her mother forbade her from going out with Moore.
Hannity received fervent backlash on Twitter for his comments about Moore. Renato Mariotti, a candidate for Illinois attorney general, tweeted: "Sean Hannity tries to excuse the sexual assault of a 14-year old girl by Roy Moore by saying it was 'consensual.' Does he have no shame at all?"
Other users called for boycotting Hannity's show. "Advertisers who continue to fund his show are sending a clear and unacceptable message and it would be irresponsible to give them our business," tweeted Kaivan Shroff, who worked on the Hillary Clinton campaign.
Moore is running for a Senate seat in Alabama to fill the seat vacated by Attorney General Jeff Sessions. After the Post story broke, Majority Leader Mitch McConnell said Moore "must step aside" ahead of the Dec. 12 special election "if these allegations are true."
That sentiment was later overwhelmingly echoed by other Senate Republicans who said that Moore should step aside if the claims were true, though Moore still appeared to have some support from Republicans who said that he would vote for Moore — whether the allegations were true or not.
One notable exception was Sen. John McCain, whose statement did not include a "if true" caveat.
"The allegations against Roy Moore are deeply disturbing and disqualifying," McCain said. "He should immediately step aside and allow the people of Alabama to elect a candidate they can be proud of."