A Woman Has Come Forward To Say Republican Roy Moore Sexually Assaulted Her At 14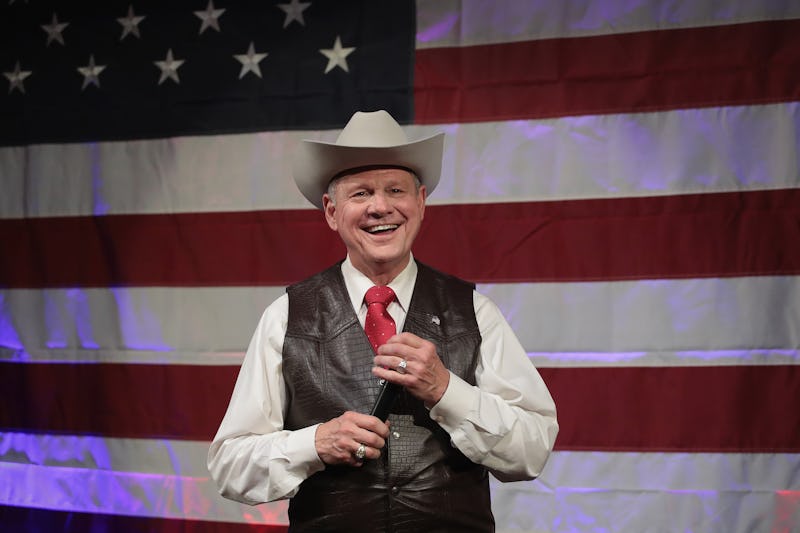 Scott Olson/Getty Images News/Getty Images
The man running to replace Jeff Sessions' empty seat in the Senate has been accused of sexually assaulting a child. In a Washington Post article published Thursday, a woman alleged that Roy Moore sexually assaulted her when she was 14. Three other women have also said that Moore asked them out on dates when they were teenagers; Moore would have been in his early 30s at the time of the alleged incidents.
Leigh Corfman told the Post that in 1979, when she was 14, she was at a courthouse with her mother when Moore, then 32 and an assistant district attorney in Alabama, offered to watch her while her mother went inside the courtroom to deal with a custody case. He reportedly asked for her phone number, and then a few days later picked her up and took her to his house. She claims he told her she was pretty and kissed her. At his house a second time, Corfman alleges that he took off her clothes and touched her over her underwear, and claims he also took off his clothes and moved her hand so that she touched him over his underwear.
"I felt responsible," she told the Post. "I felt like I had done something bad."
Three other women interviewed by the Post said that in the late 1970s and early 1980s, Moore asked them on dates when they were between the ages of 16 to 18. Two of the women did go on dates with him, saying it never went beyond kissing, while the other said her mother forbade her from going out with him.
"Now that I've gotten older, the idea that a grown man would want to take out a teenager," one woman, Wendy Miller, told the Post, "that's disgusting to me."
Moore has denied the allegations, stating, "These allegations are completely false and are a desperate political attack by the National Democrat Party and The Washington Post on this campaign." His campaign added, "this garbage is the very definition of fake news."
Moore, now 70, is currently running for Senate in an Alabama special election to fill the seat vacated by Jeff Sessions when he became attorney general of the United States. Moore is backed by Steve Bannon and defeated President Trump's endorsed candidate, Sen. Luther Strange, in the primary.
The Senate candidate founded the Foundation For Moral Law, a legal foundation that advocates for Christian values and a judge's right to have them. Just this past month, The Washington Post found that he had underreported taxes and secretly received a six-digit salary from the foundation, though he had publicly declared he did not take a regular salary.
Moore, a former State Supreme Court chief justice, was demoted from that chief position in September 2016 after he was found guilty of six charges of violating judicial ethics rules. Moore had ordered judges in the state to continue enforcing a ban on same-sex marriage, defying the U.S. Supreme Court's ruling. He had actually previously been suspended from the chief position in 2003 for refusing to remove a Ten Commandments monument from the State Judicial Building, despite a federal order directing him to do so.
Several current GOP senators endorsed Moore for Senate despite his past controversies, but after news of the allegations of sexual assault and inappropriate relationships came out, Republicans began calling for him to withdraw from the race.
Arizona Sen. Jeff Flake has reportedly said, "If there's any truth to those stories, he ought to step aside," The Hill reported. Senate Majority Leader Mitch McConnell echoed that, CNN said, saying "If these allegations are true, he must step aside." And according to a BuzzFeed reporter, Alaska Sen. Lisa Murkowski said, "I'm horrified, and if this is true he needs to step down immediately."