Fox News' Sean Hannity Is Totally Melting Down On Twitter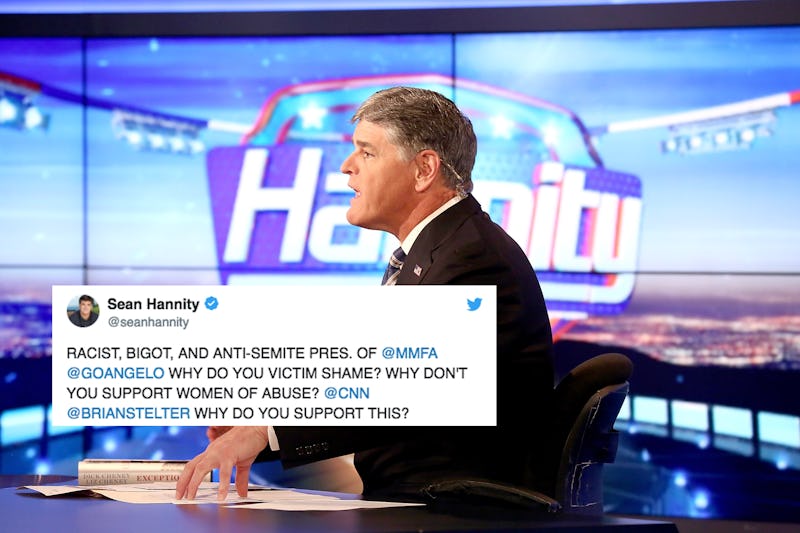 Paul Zimmerman/Getty Images Entertainment/Getty Images
When it comes to the mainstream media, Fox News pundit Sean Hannity has never been one to stay silent. On Sunday, he reached peak Hannity when he exploded on Twitter, releasing an all-caps tirade against CNN's Brian Stelter after he interviewed Angelo Carusone, who has been calling for advertisers to pull their messaging from Hannity's show.
Carusone, the president of Media Matters For America, first entered Hannity's orbit last week when he asked Keurig to pull its advertising from Hannity. The coffee company obliged, prompting backlash from Hannity supporters, who started encouraging people to #BoycottKeurig and smash their Keurig makers to pieces. Since Hannity was made aware of efforts to pull advertising from his show, he has targeted Carusone and Media Matters For America, criticizing the organization, claiming it failed to cover Sen. Robert Menendez's trial or the sexual misconduct allegations against Sen. Al Franken.
Hannity's feud with Carusone reached a tipping point Sunday, when the Media Matters For America president was invited to speak with Stelter on CNN about the organization's campaign to pull advertisers from Hannity. During the interview, Carusone told Stelter he believed the advertising boycotts had been successful, noting "In September alone, even before the latest flare up, Fox News's ad revenue was down 17 percent, which is rather atypical for the market as a whole."
Meanwhile in Hannity land, the television host published a series of tweets linking to a website that appears devoted to discrediting Angelo Carusone and Media Matters For America.
Written in all caps, the tweets called Carusone a racist, bigot, and an anti-Semite. The articles that Hannity referenced called out Media Matters For America for alleged hypocritical behavior in regards to politics, accusing the organization, for example, of defending former president Bill Clinton when he was scrutinized by the press for past sexual misconduct allegations.
Hannity didn't stop there. He published four more tweets, all lambasting Caruso for not paying more attention to the Clintons' indiscretions, asking him, "WHY DO YOU VICTIM SHAME? WHY DON'T YOU SUPPORT WOMEN OF ABUSE?"
One article that Hannity shared on Twitter criticized Media Matter For America for launching attacks on Fox News's Roger Ailes, as well as Trump advisor Steve Bannon.
Another tweet criticized Media Matters For America for calling one of Bill's accusers, Kathleen Willey, a "smear merchant," while a fourth accused the organization of downplaying Hillary Clinton's relationship with liberal activist Saul Alinsky. The last article that Hannity shared claimed that Media Matters founder David Brock sought to discredit Juanita Broaddrick, a woman who has accused the former president of raping her. Bill Clinton denies the allegations of rape.
While Hannity's meltdown over CNN's decision to interview Carusone might not come as a surprise to some, neither did his focus on the Clintons. The pundit never passes up an opportunity to focus on controversy surrounding Hillary — whether it's the Uranium One scandal, the missing emails, or Benghazi. The television host even displayed a flow chart on his show earlier this week, trying to connect a number of different conspiracy theories or scandals related to the former presidential candidate.
And it's not hard to figure out why Hannity zeroed in on Juanita Broaddrick for this particular Twitter tirade. This week, The Atlantic published an article by Caitlin Flanagan titled "Bill Clinton: A Reckoning," which provided details of Broaddrick's accusation that Clinton raped her while she was working on one of his gubernatorial campaigns. In the piece, Flanagan questioned why the former president has not yet been held accountable for these allegations.
The article has revived legitimate discussion within Democratic circles about the accusations. But for Hannity's purposes, it seems that the Broaddrick stories are simply a tool that can be used to discredit Media Matters For America, and paint Caruso as guilty of victim shaming.