Sean Spicer Grumbles The Melissa McCarthy 'SNL' Parody Of Him Was "Mean"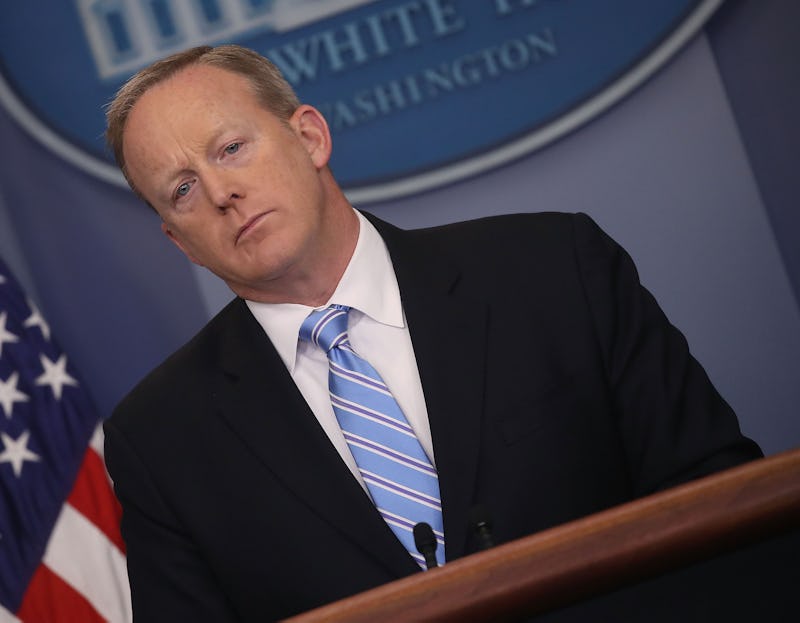 Mark Wilson/Getty Images News/Getty Images
In a Fox News interview aired on Friday night, Sean Spicer criticized Saturday Night Live's Melissa McCarthy parodies of him as an enraged, combative, over-the-top White House Press Secretary. "I think that there were a couple parts of it that were funny, but there's a little bit — a lot of it that was over the line," Spicer told host Sean Hannity.
"It wasn't funny. It was stupid, or silly, or malicious. But there are some skits that I've seen on late-night television that I had to crack up at, so sometimes it can be funny. Some of the memes, you have to laugh at yourself a little bit, but there are times when it goes from funny to mean, and there's a difference when that happens."
The sketches earned SNL's highest ratings in years and helped Spicer transcend his long-suffering position within the administration to become something of a household name across the U.S.
His remarks are more biting than those he'd previously made when asked about McCarthy's portrayal. In a February interview with Extra coming on the heels of McCarthy's first sketch as the press secretary, Spicer described the parody as "funny" but suggested that the comedian dial down her characterization and that she "slow down on the gum chewing; way too many pieces in there."
In a different interview with Fox News, Spicer deemed McCarthy's portrayal as "cute." He added, "I'd rather us be talking about the issues that the president is so committed to helping Americans on, but you know, it's a part of American culture."
Asked for his thoughts on the skits again in April, Spicer told CNN that he did not watch them. "I'm fast asleep. I'm in bed, get up, go to church the next day, and look ahead," he said.
Spicer resigned as press secretary on Friday after only six months of filling the role. According to a POLITICO report, Spicer had recently been in better spirits after going weeks without holding a press conference and working to lower his public profile. But after President Trump hired financier and personal friend Anthony Scaramucci as director of communications, a job Spicer had been holding, the press secretary reportedly resigned in opposition.
SNL bid farewell to Spicer with a short tweet reading "Spicey out" on Friday evening, accompanied by a montage of McCarthy's skits. Perhaps the character will make a future appearance spoofing Spicer's new role, whatever that may be.