Sean Spicer Threatened A Journalist With Legal Action For Texting Him — REPORT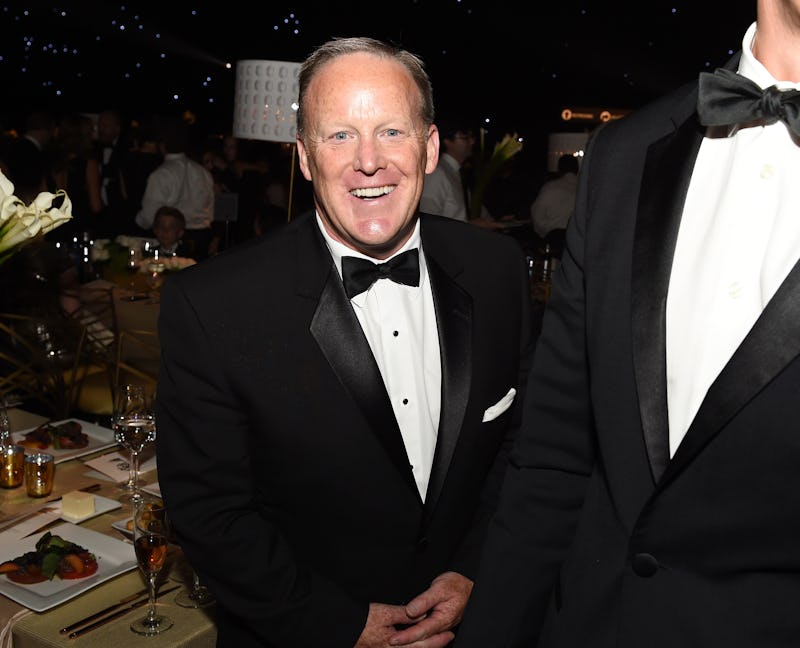 Kevin Winter/Getty Images Entertainment/Getty Images
Despite his high-profile appearance at the Emmys over the weekend, it seems the former White House Press Secretary Sean Spicer may be done with the limelight. According to the newsletter Axios AM, Spicer reportedly told journalist Mike Allen to stop texting and emailing him or he would "contact the appropriate legal authorities to address your harassment."
The newsletter was published Thursday morning, including a transcript of Allen's conversation with Spicer. Allen was reportedly trying to find out more information about journals that Spicer is alleged to have kept while he served as communications director for the Republican National Committee, but the former White House staffer shut down all questions immediately. Spicer has not commented on the authenticity of these documents, but he probably wouldn't respond to a request for comment anyway.
Allen stated the following in the newsletter:
When we texted Spicer for comment on his note-taking practices, he replied: "Mike, please stop texting/emailing me unsolicited anymore."
When I replied with a "?" (I have known Spicer and his wife for more than a dozen years), he answered: "Not sure what that means. From a legal standpoint I want to be clear: Do not email or text me again. Should you do again I will report to the appropriate authorities."
About an hour after Spicer's texts, he replied to a polite email I had sent earlier, seeking comment:
Per my text:
Please refrain from sending me unsolicited texts and emails
Should you not do so I will contact the appropriate legal authorities to address your harassment
Thanks
Sean M Spicer
According to the Reporters Committee for Freedom of the Press, Spicer has no legal standing for his harassment claims. It takes some very intrusive journalistic activity to get the law involved, such as "secretly recorded conversations, overly aggressive surveillance and the use of telephoto lens to capture photographs." Allen did nothing more than shoot Spicer a text, which really makes his overblown harassment claims that much funnier.
Anyone who remembers Spicer's tenure as press secretary knows exactly how ironic this situation is, given how he used to treat the reporters under him. Just this week, Spicer apologized for yelling at reporters during the whole inauguration crowd size fiasco. And who can forget when he told White House reporter April Ryan to stop shaking her head? It's almost comforting to see that Spicer has retained some of the rhetorical techniques that he picked up while working with the Trump administration, i.e. the remarkable ability to turn around blame.
This conversation between Allen and Spicer also sheds light on his controversial appearance at the Emmys this past weekend. It seems that there are two possibilities for how it came to pass: one, that Spicer wanted to do it and didn't think there would be any negative repercussions, or two, that the awards show producers convinced Spicer to do the bit despite his reservations.
The second option seems more likely, since Spicer obviously knows how the journalism industry works, and that's especially disappointing for Emmys fans. The Television Academy received tons of criticism for Spicer's appearance, and truthfully that response should have been foreseeable. It's distressing to realize that the leaders of the television industry really are that out of touch with their audience, though it's not unprecedented either.
Spicer has always been one of the more entertaining members of the Trump administration, and thankfully the gems haven't stopped just because he no longer works for the White House. But as he discovered this week, the country isn't ready to forgive or forget him yet, no matter how much he wants to fade into anonymity. The American people still want answers from Spicer, and there are only so many ways to dodge a question.