Sean Spicer Was Actually "Among" The Bushes, He Says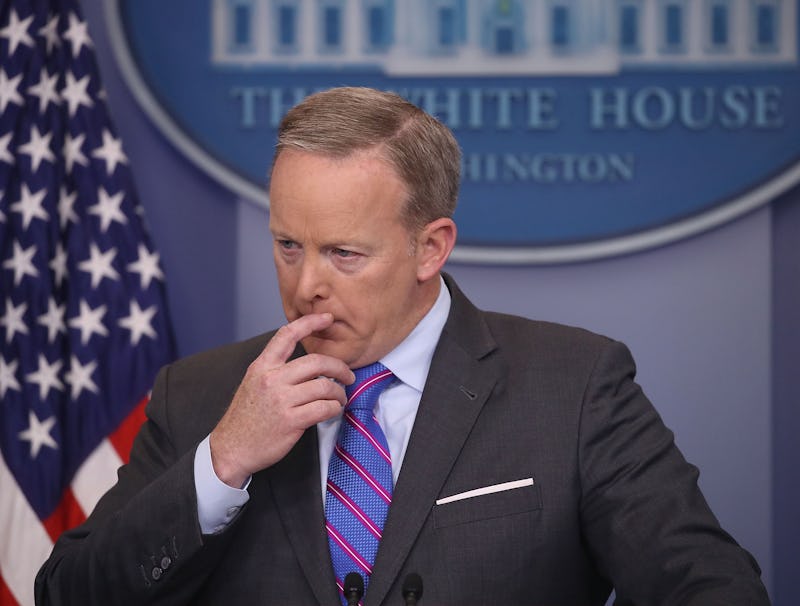 Mark Wilson/Getty Images News/Getty Images
As the news of FBI Director James Comey's termination triggered criticism on both sides of the political aisle, White House Press Secretary Sean Spicer and his staff scrambled to explain Donald Trump's decision. But late Tuesday night, after he had concluded a brief interview with Fox Business, Spicer huddled with his staff on the White House grounds — though where exactly they were huddling has become a topic of controversy. A Washington Post article initially said Spicer spent several minutes "in the bushes" near reporters' outdoor setup, but has since corrected the story to say that he had actually been "among the bushes."
According to the Post, Spicer was either in, among, or possibly near, some bushes — and, at one point, "behind a tall hedge" — because returning to his office from the grounds would have meant coming face to face with a group of reporters who wanted to know why Comey had been fired. Eventually, Janet Montesi, an executive assistant in the press office, said that Spicer would emerge and answer some questions as long as he was not filmed. That was how Spicer subsequently ended up spending exactly 10 minutes answering a dozen reporters' questions in the dark on the White House grounds.
Spicer was evidently quite frazzled as he answered reporters' questions. He referred multiple questions to the Department of Justice, including questions about Attorney General Jeff Sessions' involvement in the decision to fire Comey, whether or not Deputy Attorney General Rod Rosenstein had undertaken a broader review of the FBI, and why Trump hadn't chosen to fire Comey months ago. Spicer initially said the decision to fire Comey was completely due to Rosenstein's recommendation, but then he walked that back by saying that it had actually been a DOJ decision.
In addition to routinely referring reporters to the DOJ, Spicer also said he didn't know the answers to many of their questions. He did not know when Trump and Comey had last spoken, he was unsure whether Trump would be meeting with Russia's foreign minister on Wednesday — he did — and he said he would have to consult a timeline of events to know how long Trump deliberated before firing Comey.
Whether Spicer and his staff were huddled in, behind, among, or generally in the vicinity of some bushes, it's clear why they were there to begin with — they were not prepared for reporters' questions on the subject of Comey's termination, nor were they prepared for the fallout from elected officials. It is amusing to think that Spicer was hiding from reporters among the bushes, but it should also be a cause for concern that White House officials must routinely scramble to explain Trump's seemingly rash decisions with little success.