Selena Gomez Is Taking A Social Media Break For A Super Understandable Reason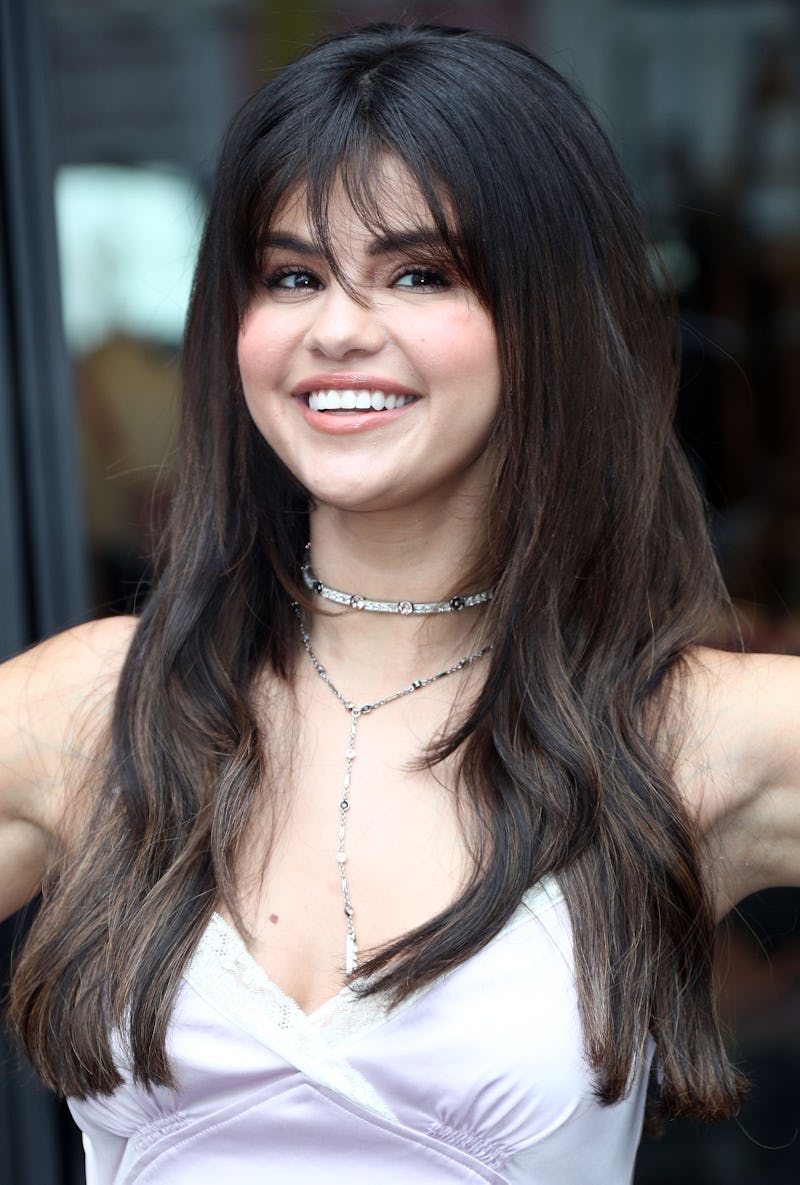 Frederick M. Brown/Getty Images Entertainment/Getty Images
Every once in a while, we all need to take a step back from being online. On Sunday, Selena Gomez announced she's taking a break from social media once again, but not before posting a special message for J.Lo. According to E! News, Gomez was among a group of stars attending J.Lo's All I Have concert at the Planet Hollywood Hotel and Casino in Las Vegas. Gomez shared a video dancing during the performance with Becky G on her Instagram Story, and later posted an appreciation message for the singer.
While many of her peers — including Jessica Alba, Sofia Vergara, and Dua Lipa — had the opportunity to go backstage for an after-party, but Gomez wasn't able to attend. Instead, she sent a DM to Jennifer Lopez and posted it along with a message about how inspiring the singer's performance was.
Gomez captioned the IG Story, "@jlo you are the definition of a triple threat!! Thank you for inspiring us female artists!" The full message read:
"You were absolutely incredible tonight!! I didn't want to bother you while you had a moment. My flight leaves now or else I would've stayed! I'm so sorry!! I wanted to tell you how much you inspired me tonight!!! I haven't felt that free in my entire life! Lol Thank you!! I just wanted to tell you how amazing god thinks you are!!! He was speaking to me through your show tonight!! Like made me feel like a woman!! Lol I love you so much!"
The concert posts rounded out a busy weekend for Gomez on Instagram. The singer created a clothing giveaway, gave a special shoutout to her bestie Taylor Swift, and posted plenty of updates from her daily life. It's no wonder the star is feeling a little exhausted, and not long after the concert posts, Gomez announced she would be taking a break from social media.
Gomez posted the announcement on Instagram, along with a mirror selfie. While appreciating the voice social media gives her, she admitted the platform has also prevented her from living in the moment. She signed off with a message urging fans to be nice and positive online. The caption read:
"Mood lol (I was looking at myself in the mirror -like an idiot!) Update: taking a social media break. Again. As much as I am grateful for the voice that social media gives each of us, I am equally grateful to be able to step back and live my life present to the moment I have been given. Kindness and encouragement only for a bit! Just remember- negative comments can hurt anybody's feelings. Obvi."
It's not the first time the star has taken a hiatus from social media. In early September, Gomez revealed that she only updates Instagram from a friend's phone and that she avoids being online in an interview with ELLE. "I'm not on the internet," she told the publication. "I haven't been on the internet in months. I don't have my password for Instagram. I have no apps on my phone, no photo editing apps."
In the interview, Gomez also discussed her decision not to actively participate in social media. Like her most recent post reveals, it has a lot to do with appreciating the moment "The reason why is, it's not real to me," she told ELLE. "I know my voice is very prominent, but I'm not careless with it. I'm selective. As far as my personal life, someone sees me having a glass of wine? I could give two s***s. I'm not trying to hide. That's my life. I'm living it the way I want to live it. But it's about making a conscious effort — if I can have a moment to be with my friends, I'll take that time. So I don't have any of it. I had to make that decision."
Social media can be overwhelming, and with 143 million Instagram followers, it makes sense that Gomez might need some space. The singer recently revealed that her new album is finished, and while it doesn't have a release date yet, social media will likely be essential after it drops. Let's hope the hiatus gives the singer a chance to reset, so she can come back strong to promote the release.