Selena Gomez's 'Fetish' Lyrics Are All About Confidence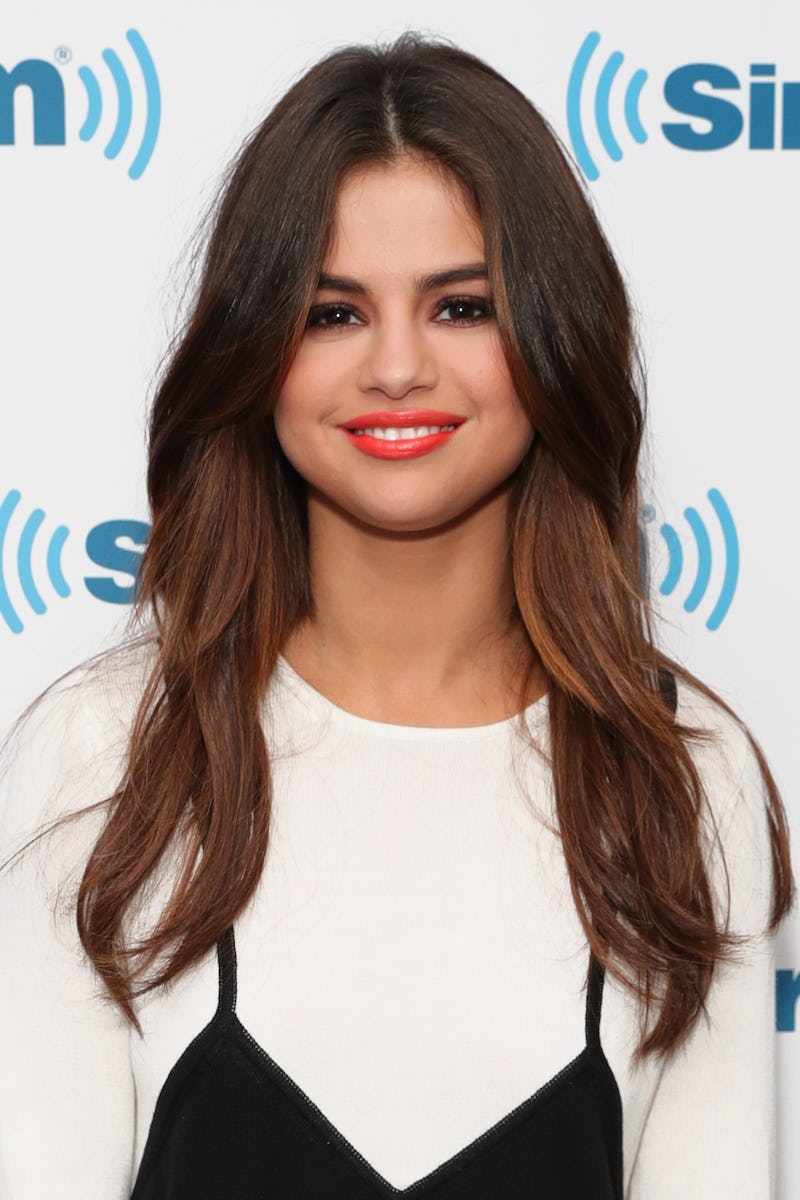 Cindy Ord/Getty Images Entertainment/Getty Images
Although her next album hasn't been officially announced just yet, lately, Selena Gomez has been killing it with her singles. It's impossible to turn on the radio without hearing "Bad Liar," and now, she's sending off another catchy song into the world. On Wednesday night, Gomez dropped "Fetish," her latest single featuring Gucci Mane, and it's definitely a continuation of that different sound she's been talking about. Gomez's "Fetish" lyrics are all about confidence, and the song is a perfect way for her to continue her transition into this new era of her music.
Overall, the lyrics of "Fetish" are pretty simple and repetitive, but even so, it's pretty clear that this is almost a total role reversal for her. In "Bad Liar," Gomez sang about how she had a crush (in the music video, it was on her gym teacher), but in "Fetish," she is the crush — and it doesn't come as a shock to her that she'd be the object of someone's fantasies.
Of course, this has been old news to Gomez's fans, because what's not to love about the 24-year-old actor and singer? But hearing Gomez proclaim that if she were you, she'd "do me, too," makes this a powerful anthem for anyone who's feeling themselves.
The first verse sets the tone for the entire song:
Take it or leave it
Baby take it or leave it
But I know you won't leave it
'Cause I know that you need it
Look in the mirror
When I look in the mirror
Baby I see it clearer
Why you wanna be nearer
Maybe the person she's singing about is threatening to leave, but Gomez isn't concerned — who would leave her when her reflection looks that good?
Then, in the pre-chorus and chorus, which are repeated three times throughout the song, Gomez admits that while she totally understands why the object of her affection would be a little addicted to her, even when "I push you out," they come running right back.
I'm not surprised
I sympathize,
I can't deny
Your appetite
You got a fetish for my love
I push you out and you come right back
Don't see a point in blaming you
If I were you, I'd do me too
Of course whoever she's singing about has a fetish for her love. This is Selena Gomez, guys.
Then, she launches into the second verse:
Reaching your limit
Say you're reaching your limit
Going over your limit
But I know you can't quit it
Something about me
Got you hooked on my body
Take you over and under and twisted up like origami
Like origami, y'all. This is getting serious. But as Gomez sings herself, even if they reach their limit, they still can't quit it.
Then, in Gucci Mane's featured verse, he's rapping from the opposite perspective: the person Gomez has been singing about.
The way you walk, the way you talk
I blame you 'cause it's all your fault
Ya playin' hard, don't turn me off
Ya acting hard, but I know you soft
You my fetish, I'm so with it
All these rumors bein' spreaded
Might as well go 'head and whip it'
Cause they sayin' we already did it
Call on Gucci if you ever need and I'll be South Beach in the drop top gleamin'
Order diamonds, Aquafina
Just need you in a blue bikini
Mane's admitting that Gomez is totally right, and he's addicted to her... but also admitting that she's not quite as tough on the outside as she seems. Oh, and she can call him up anytime for a diamond as clear as a bottle of water. Um, jealous?
The song ends with one more repeat of the chorus to drive the point home — it doesn't matter what Mane is rapping about, because as far as Gomez is concerned, she's got him wrapped around her finger. She's that good.
Whether you need a pick me up or just want to celebrate your own self confidence, "Fetish" is the perfect song to listen to if you want to feel like you can take on the world. Now, all we need is for Gomez to release a full album, because if her singles are any indication, it may be her best yet.