Selena Gomez Just Watched 'Vanderpump Rules' In A Very Lala Kent Way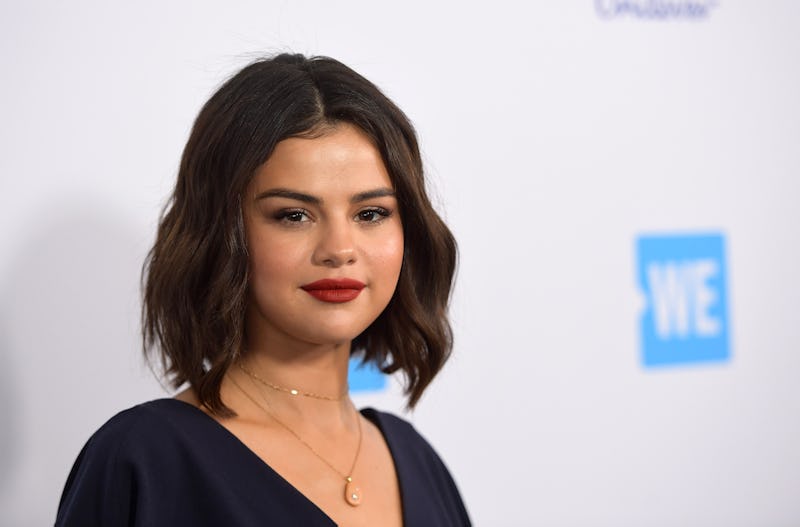 Matt Winkelmeyer/Getty Images Entertainment/Getty Images
No one can truly resist the amazingness that is Vanderpump Rules, not even one of the most famous singers in the world. As People noted, Selena Gomez watches Vanderpump Rules in Lala Kent-approved fashion by drinking from a baby bottle. So, it's safe to say that Gomez is big fan of the reality series.
The singer's friend, Anna Collins, posted a photo of herself and Gomez hanging out with some interesting props. The two posed with baby bottles, with Collins tagging Kent (who set off this new trend on the show) in the photo. She reportedly captioned it with, "The only way to watch Vanderpump Rules reunion."
OK, it's exciting enough to find out that Gomez is a fan of one of the best reality shows on television, but to find out that she watches it complete with a baby bottle in hand? It's almost too much to handle. Now, she just needs to reveal her thoughts on the reunion episodes. Does she think Jax Taylor and Brittany Cartwright will make it work? Is she all for a Kent and James Kennedy friendship reunion? The world needs to know!
As it turns out, Kent was also stoked to see the homage. The SUR staffer reposted Collins' photo on her own Instagram story and wrote, "Shout out to @annaballins & @selenagomez"" along with a bunch of baby bottle emojis to get in the spirit.
Now, if you're a fan of Pump Rules, you'll immediately get the reference that Gomez and Collins were going for. But, just in case you're not an avid viewer, or even need a refresher, the photo was hilarious because of a certain surprising moment from Season 6 of the Bravo show.
During a group trip to Mexico, Kent showed off her interesting bedtime routine as she settled into bed in the room she was sharing with castmate Scheana Marie. When Marie questioned why she was making a milky concoction in a baby bottle, she revealed that it's something that she does to help her anxiety.
She explained to her friend, "I turn on my favorite show and then I prop it [the bottle] up like this." In her confessional, she gave a little more insight into the situation: "I'm on a very low dose of my anti-anxiety medication. So, when I do feel like my heart's beating a little fast, I need my bubba and I little warm milk and honey in it. It soothes me like I'm a baby." It was frankly one of the most random moments on the show and was, as such, instantly iconic. So, it's so fun to see Gomez jump in on the "trend" Kent started.
Of course, Gomez isn't the only major celebrity fan of Pump Rules who has posted about the show recently. On April 3, Rihanna revealed that she was a fan of the show by posting one of her favorite clips from a recent episode. In the clip she shared, Tom Schwartz could be seen recounting a drunken night to his wife, Katie Maloney. Everything about the video was perfect and she even said that she'd be "besties" with whoever edited the montage that she highlighted.
There wasn't anyone who was more shocked and excited about Rihanna's Pump Rules love than the cast themselves — and with good reason. Who wouldn't be thrilled with Rihanna loving your show? On Twitter, Maloney responded to another celeb fan, Chrissy Teigen, and said how excited she was about seeing the clip. And now, based on a hilarious bottle-repping photo featuring Gomez, it appears that the SUR crew can count another superstar as a fan.
All of this celebrity Pump Rules love just goes to show you that no one can resist the drama and entertainment that the Bravo series brings to the table every single week.