Selena Gomez's New Song Is Absolutely Fire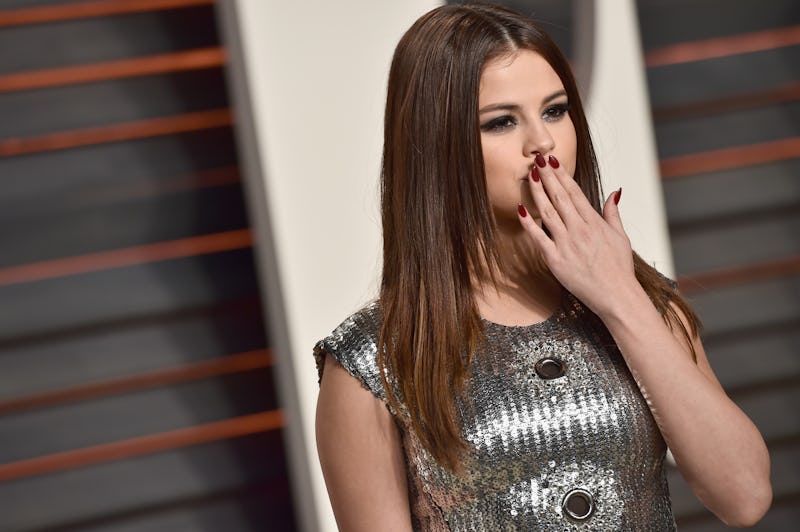 Pascal Le Segretain/Getty Images
Selena Gomez fans have a lot to look forward to in 2017. Not only is the singer rumored to be dating The Weeknd right now, but she's also releasing new music, and it's a relief to have her back so soon. The lyrics of Gomez and Kygo's "It Ain't Me" may be about a relationship breaking down, but they're spoken from a voice of experience, reminiscing about a bad situation that is no more. And, musically, the song is a positive party anthem you'll definitely be dancing to.
The singer's last album, Revival, came out in Oct. 2015, reintroducing the world to Gomez's music in the best way following her diagnosis with lupus. And, if her new single with Kygo is anything to go by, the pop star is in a great place in her life, and is ready to reclaim her place in the spotlight.
As always, Gomez continues to be a high-achiever. Her new show, 13 Reasons Why, on which she serves as an executive producer, premieres on Netflix on March 31, 2017. The series resonated with the singer in a powerful way, as she told The Hollywood Reporter at a press event,
"I was actually going through a really difficult time when they started production. I went away for 90 days, and I actually met tons of kids in this place that we're talking about a lot of the issues that these characters are experiencing."
The lyrics of "It Ain't Me" are a good indication that the singer has spent some crucial time working on herself and is feeling stronger and more secure as a result. Examining past relationships isn't always easy, but, as Gomez and Kygo's song proves, sometimes it's important to reflect.
"I had a dream. We were sipping whisky neat. Highest floor, the bowery, and I was high enough."
The lyrics for "It Ain't Me" start out with a dream that takes us back to a particular moment in a relationship. Drinking and smoking, the couple appear to be in tune with one another, but that feeling doesn't last.
"Somewhere along the lines, we stopped seeing eye to eye. You were staying out all night, and I had enough."
The relationship starts to deteriorate between the once loved-up couple, and one person's partying gets in the way. Verses like this are the reason there's so much speculation regarding the song's subject matter. In particular, Hollywood Life said, the lyrics "clearly match up to the problems in Selena and Justin's past relationship." And Gomez is one of the co-writers of the track, after all.
"No, I don't wanna know where you been or where you're going. But I know I won't be home, and you'll be on your own."
Having reached breaking point, the speaker is ready to wash their hands of the relationship. Cutting ties and leaving is the only option.
"Who's gonna walk you through the dark side of the morning? Who's gonna rock you when the sun won't let you sleep? Who's waking up to drive you home when you're drunk and all alone? Who's gonna walk you through the dark side of the morning? It ain't me."
The lyrics of the chorus are particularly strong, as the speaker is so resolute. Having experienced some dark times throughout the relationship, they're not looking back on their former love fondly. Instead, they're choosing to remember the more challenging aspects of the romance, from driving home a drunk partner to trying to coach the other person through their difficulties.
Whether or not "It Ain't Me" references any of her previous partners, it's possible that Gomez co-wrote the song in reaction to getting lupus. Living with a chronic illness, the singer will need to put herself first and is likely unable to deal with someone else's drama on the scale described in the song.
"I had a dream. We were back to seventeen. Summer nights and the liberties, never growing up. I'll take with me the polaroids and the memories. But you know I'm gonna leave behind the worst of us."
Despite choosing to leave the bad memories behind, the speaker isn't overcome with nostalgia for what could have been. Instead, they're firm in their decisions and are ready to move on. While the relationship was undoubtedly important, it's over, and there are concrete reasons why there's no going back.
The "Good For You" singer is most definitely entering a new and positive phase of her life, and her collaboration with Kygo proves that. "It Ain't Me" is an upbeat, summery anthem, but its serious lyrics will remind you to put yourself first.