Selena Gomez Wore Two Different Heels On The Red Carpet & Literally How Is She Walking?!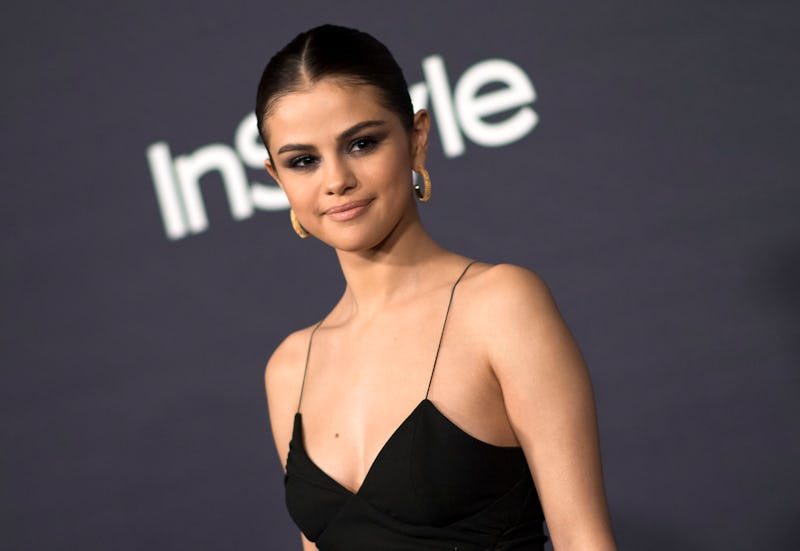 VALERIE MACON/AFP/Getty Images
Sometimes celebrities wear fashions that fans don't quite understand. But from questionable styles to fashion forward moments, what a celebrity wears could be the next big thing. Are Selena Gomez's mismatched heels from the Instyle Awards one of these moments? Possibly, so practice your balancing skills.
The Fetish singer's geometric inspired sandals from the awards may seem typical from the front, but once fans got a peek at the back, the surprise heels became the most talked about part of her ensemble. One heel was crafted out of a large orange ball while the other featured two wooden blocks with a darker wooden ball sandwiched in between them. The look was definitely different. But the real question is this: How did Gomez even walk in the mismatched heels?
As for the rest of her outfit, Gomez probably wanted the shoes to shine as she kept her dress chic and minimalistic. With thin spaghetti straps, solid black color, and side ruching, the frock was a perfect choice to draw attention to unique heels. Get ready to forget the laws of physics with this footwear.
Gomez rocked the heels while attending the InStyle Awards to support makeup artist Hung Vanngo, who was accepting the award for Makeup Artist of the Year. In fact, Gomez was there to present the award directly to him. While everyone loves Gomez for her loyalty to her friends — just think about the comments she left on Demi Lovato's YouTube documentary and their reunion this same night — fans just couldn't take their eyes off those shoes. While the round ball on one side seems precarious enough for walking the carpet, wait until you see the other heel.
In a photo with Vanngo, you can see the geometric shapes that make up the other shoe. Basically, not only are they mismatched shoes, but half of the population would probably fall to the ground immediately upon wearing them. In fact, how is the wooden ball in the center even structurally sound?
Since Gomez can clearly walk with no issue, they biggest question has to be whether or not they comfortable? After all, technically they could be considered a chunky heel which is far more comfortable than a stiletto.
Obviously fans took to the internet to express their opinions — and they did not hold back.
Not every fan was into the look, even asking Gomez to ditch the whole outfit.
Others were just on #TeamNotThoseShoes.
Overall, however, reactions weren't all good or bad but mixed. Some even praised the singer for being able to get around on those precarious heels.
Gomez, however, isn't the first person in Hollywood to rock mismatched shoes. For SuperBowl 50, Lady Gaga pulled the same style move. During her rendition of the National Anthem, she wore custom Gucci shoes in sparkling blue and red-and-white stripes for the occasion. Accented with studs along a t-strap, they were perfection for the event and looked gorgeous with her vibrant red pantsuit a la David Bowie.
As for Gomez's mismatched shoes at the Instyle Awards, those still seem to be up for debate among fans. While her makeup, hair, and dress weren't exactly feather-ruffling, the quirky shoes added serious pizzaz to a minimalist look. Whether you love it or hate it, Gomez seemed to want to add a bit of flare to the look, and she did just that.
Mismatched heels may not be the next big thing to trickle into department stores next season, but could more celebrities start rocking them? Only time will tell, but one thing is for sure: If they do, fans know to trace the trend back to Gomez.