Selena Gomez's Mom Says She Warned Her Against Working With Woody Allen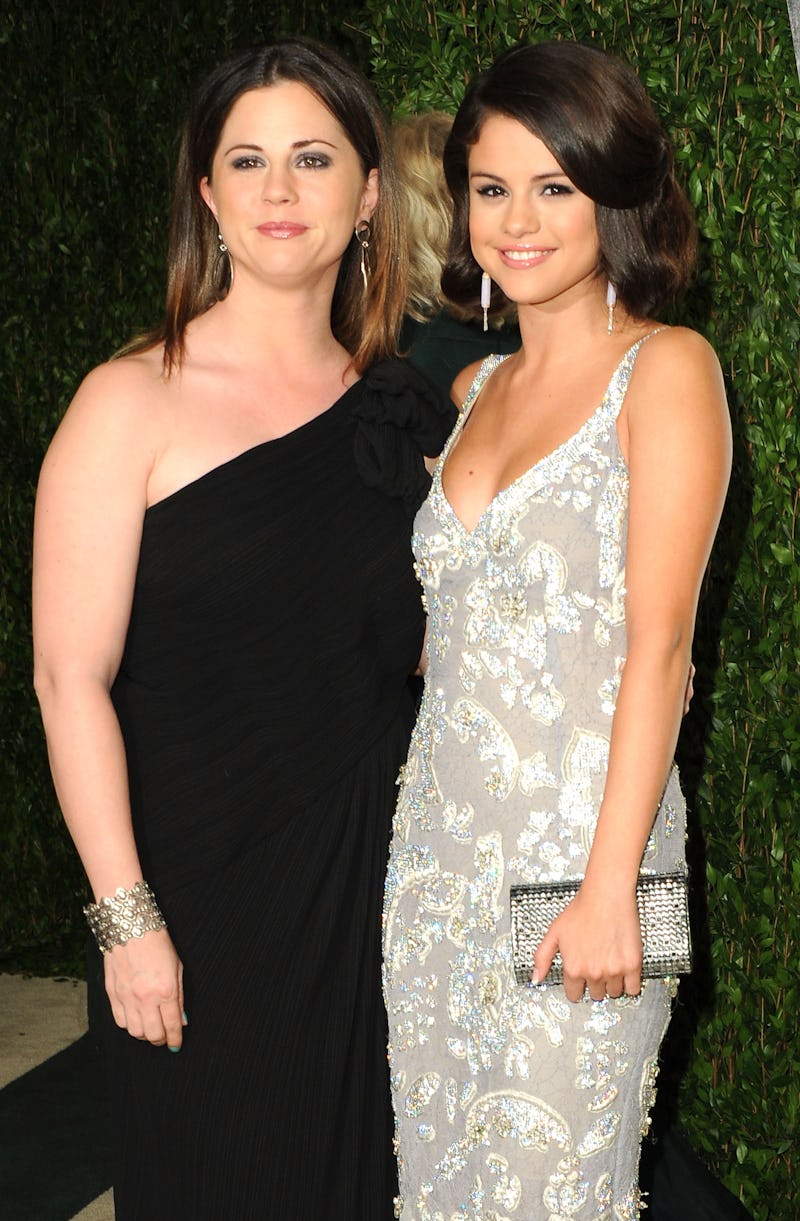 Pascal Le Segretain/Getty Images Entertainment/Getty Images
Is drama brewing between Selena Gomez and her mother, Mandy Teefey? On Instagram on Jan. 16, Mandy Teefey commented on Selena Gomez's involvement in an upcoming Woody Allen film, as noted by journalist Joshua Fox's tweet. And it's safe to say that Teefey didn't exactly agree with her daughter's choice to be in the controversial director's flick.
Teefey's statement came after one fan commented on one of her Instagram photos with, "make selena write an apology about the woddy Allen film" [sic]. She replied to the fan and said, "Sorry, No one can make Selena do anything she doesn't want to. I had a long talk with her about him and it didn't click." Gomez previously fired her mother (and stepfather) from her management team in 2014, as TMZ states. However, it seems as though she still seeks out advice from her mother from time to time, as one naturally does with their parent.
Teefey went on to claim in her statement that her daughter may not be here for her mother's advice anymore, or anyone else's for that matter. She continued to say, "Her team are amazing people. There is no fall person here. No one controls her. She makes all her own decisions. No matter how hard you try to advise. It falls on deaf ears." (Bustle has reached out for comment to Gomez but has yet to receive a response.)
Many users questioned Teefey in her post because Gomez is set to appear in Allen's 2018 film A Rainy Day In New York. The writer/director has previously been accused of sexual abuse by his adopted daughter Dylan Farrow, who wrote an op-ed in the Los Angeles Times about her alleged experience in December 2017. She also wrote about the allegations in the New York Times in 2014. Allen has long denied the accusations.
Gomez herself responded to a question about her involvement in the film when she spoke with Billboard in November 2017. When the interviewer asked if she was concerned with Allen's past before she filmed the movie, she responded with, "To be honest, I'm not sure how to answer - not because I'm trying to back away from it."
She then said that the Harvey Weinstein allegations happened during the filming of the movie and continued, "And that's something, yes, I had to face and discuss. I stepped back and thought, 'Wow, the universe works in interesting ways.'" The singer's comments didn't sit well with a lot of people, with some saying that her statements, and choice to work with Allen in the first place, were disappointing.
Teefey's most recent Instagram comment comes after a lot of reported strife between the mother/daughter duo. As Elle reported, the two unfollowed each other on Instagram in December 2017, after multiple reports from TMZ and People stated that Gomez's family is not a fan of her on-again beau Justin Bieber. That specific social media drama came shortly after it was reported that Teefey had been in the hospital recently, allegedly due to stress over her daughter's relationship with the "Sorry" singer, as TMZ stated.
According to Gossip Cop, there are many rumors floating around about the two women, including an OK! claim that said Teefey banned Bieber from their home. The former momager cleared some things up with the publication. She told Gossip Cop, "Every mother and daughter has disagreements." She also told them that the actor is an "adult" and "can make her own choices", which aligns with her recent social media statement.
Gomez has yet to comment on her mother's Instagram statement or follow up on her own Billboard comments concerning Allen. If her mother's Instagram comment is any indication, the singer, if she chooses, will touch upon these subjects on her own time.