Selena Gomez's Photos Of Her Volunteer Work Showcased A Cause Close To Her Heart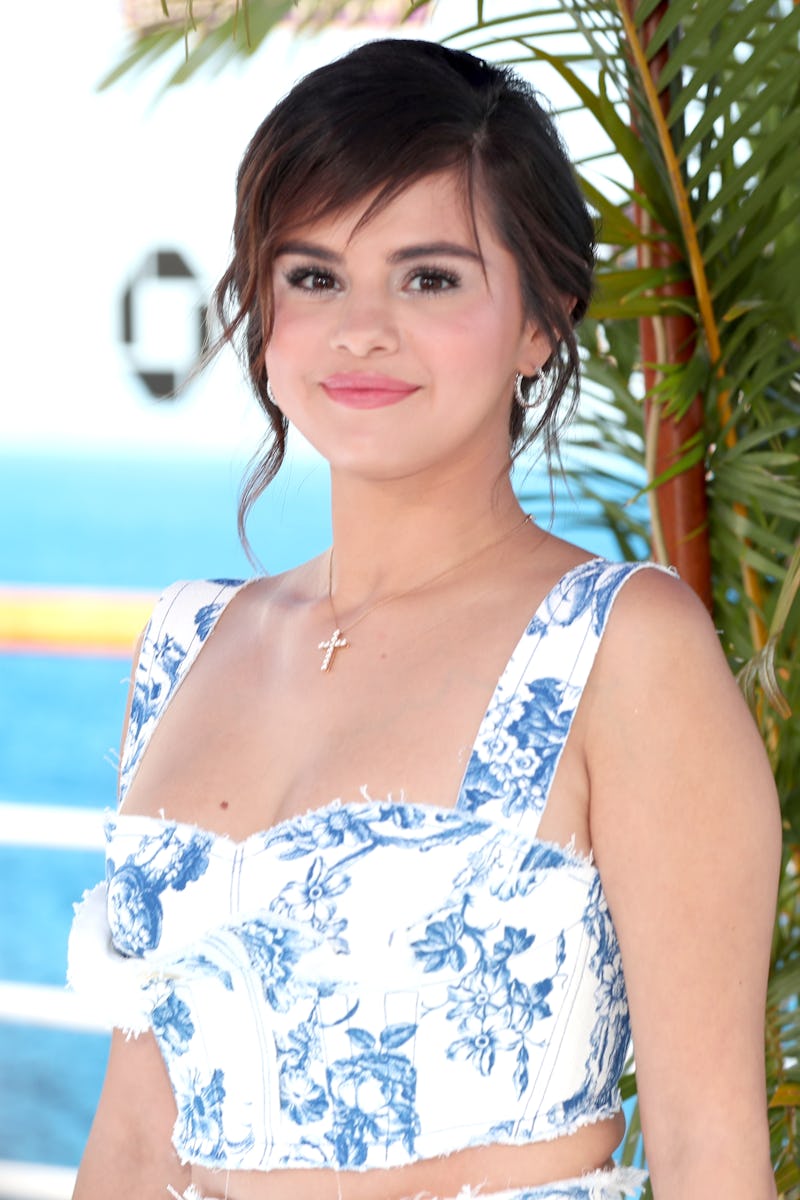 Christopher Polk/Getty Images Entertainment/Getty Images
It's no secret that Selena Gomez is pretty busy with her music career these days. But the singer still makes time to pursue other passions, particularly when that means lending a hand to a critical humanitarian effort. Selena Gomez's photos of her volunteer work, which the star shared with her 142 million Instagram followers on Tuesday afternoon, Sept. 4, highlighted a cause that is especially close to her heart. And, after learning a little bit more about it, it's clear that the cause is an essential one.
Tuesday's Instagram post features a string of photos that picture Gomez with children she met through A21, an anti-human trafficking nonprofit. She's been volunteering at the organization's Southern California location five days a week since March, according to a recent interview she did with Elle, published earlier on Tuesday. During the interview, Gomez explained that she felt like she "needed to be fully immersed" in A21 and its mission before talking about it publicly. Now, roughly six months later, Gomez told the magazine, "I can't be silent about this."
And it looks like she's still following through on that statement. After reading through her latest IG post's caption — and clicking through the accompanying string of photos — it seems Gomez is continuing to do her part to speak up about the frightening prevalence of human trafficking and encourage folks like us to lend a hand to anti-human trafficking efforts like A21's. (Tuesday's post also includes some references to the Elle interview and could be partially interpreted as a response to it.)
"The purpose of my interview was three fold," Gomez wrote near the top of the post's caption, before listing "my work with A21" as her top priority, followed by her Coach collection and upcoming album. Writing about why she's taken to using her platform as a celebrity to advocate for change, Gomez continued, saying,
"I'm grateful for my position and I will always find ways to make my job more about others and giving back— all while having the best time with my music, fashion, film and my love for learning about the world."
Beyond just raising awareness and "giving back," Gomez's Instagram post made it pretty clear that this particular organization — and what it fights for — is deeply important to her, in addition to just being deeply important on its own. Referencing her volunteer work with A21 (and, judging by the intimate photos included in her post, it seems safe to say she's referencing the people she's worked with, too), Gomez wrote in the post's caption, "My heart."
According to statistics from the U.S. Institute Against Human Trafficking, almost 21 million people are affected by human trafficking worldwide. Of that number, the site says 55 percent of human trafficking victims are women and another 26 percent are children. In the U.S., statistics are a little bit fuzzier, but the USIAHT believes "the number is by far in excess of 100,000."
Those figures might sound daunting — and they are, unequivocally, grave — but that certainly doesn't mean they should be left alone. Folks looking to help out with anti-human trafficking efforts in the U.S. and around the globe should check out A21's volunteer page. Or, if Gomez's route isn't for you, the organization's website touts a whole medley of resources, event briefings, and generally pertinent information about the issue, who it impacts, and how to help.
Hopefully Gomez's Instagram post will inspire some of her fans to follow in her footsteps — and the footsteps of so many anti-human trafficking advocates, like A21 — in the push toward eradicating human trafficking at home, and abroad.