Sen. Kirsten Gillibrand's New Book For Kids Is All About The Women Who Won The Right To Vote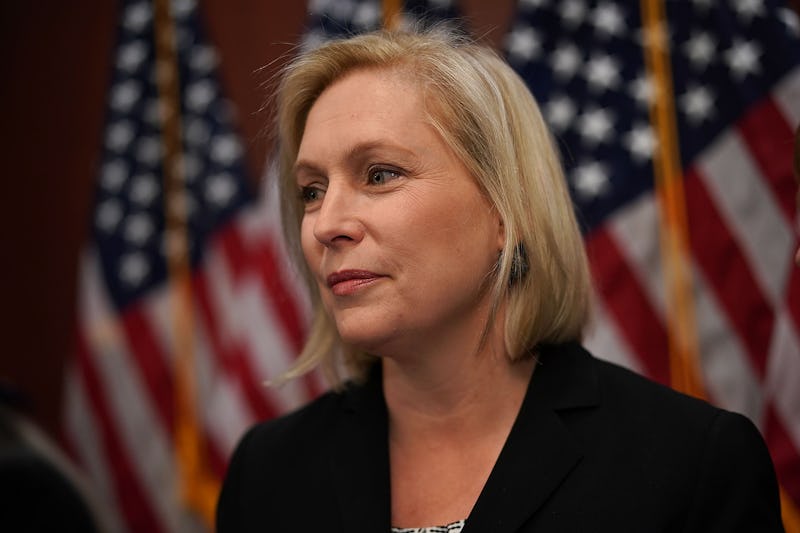 Alex Wong/Getty Images News/Getty Images
Poised to give us the next in a line of activism-inspiring books for kids, Sen. Kirsten Gillibrand has a new book for children coming out this fall. The Democrat from New York's debut picture book, Bold & Brave: Ten Heroes Who Won Women the Right to Vote, hits store shelves on Nov. 13, one week after the 2018 midterm elections.
As difficult as it may be to believe, women have not had the right to vote for very long in the U.S. The 19th Amendment, which gave all white women the right to elect their representatives in Washington, D.C., was ratified in 1920, but women of color would not be enfranchised until many years later. Asian-American women got the vote in 1952, but all black and Native American women were not guaranteed the right to vote until 1964. Today, women who live in U.S. territories, such as Puerto Rico and Guam, cannot vote, and those who have been convicted of felonies are barred from voting for some period of time, and perhaps indefinitely, in 48 of the 50 states.
Illustrated by Maira Kalman, Sen. Kirsten Gillibrand's new children's book, Bold & Brave, profiles 10 American suffragists: Susan B. Anthony, Lucy Burns, Jovita Idár, Inez Milholland, Alice Paul, Elizabeth Cady Stanton, Mary Church Terrell, Sojourner Truth, Harriet Tubman, and Ida B. Wells. According to a press release from Random House Children's Books, "The front cover . . . depicts the 1913 Women's Suffrage Parade, the first of its kind in the U.S.," and "will remind readers of the 2017 Women's March, illustrating that the fight for equality continues today."
Bold & Brave: 10 Heroes Who Won Women the Right to Vote by Kirsten Gillibrand and Maira Kalman, $19, Amazon
Regarding the book, Sen. Gillibrand said in a statement included in the press release: "One hundred and forty-six years ago, in 1872, Susan B. Anthony, from my home state of New York, decided to do something radical on Election Day. Her crime was voting — because at that time, like it was for more than half of our country's history, it was illegal for women to vote. Just like today, women understood that by working together, by creating a national movement, they could change the world. The lessons of these incredible women leaders are ones of perseverance and determination and a willingness to never give up, especially when it's really hard. Our history teaches us that each new generation builds on the last, and I hope this book will inspire young readers to be bold and brave in dreaming big and never giving up."
Bold & Brave: Ten Heroes Who Won Women the Right to Vote will be available at your favorite bookstore on Nov. 13.