Sen. Tammy Duckworth Knows Firsthand How Trump's Transgender Ban Would Devastate The Military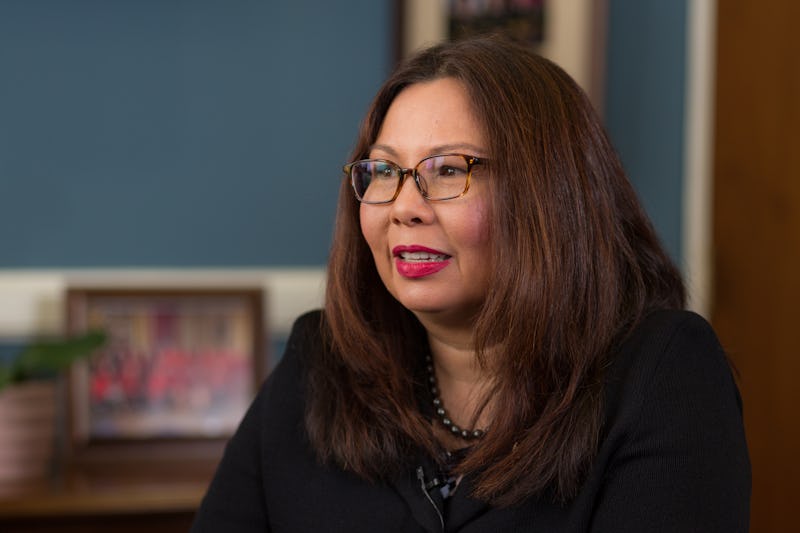 Pruitt Allen / Bustle
When President Trump reinstated the military's ban on transgender service members last week, several military leaders — and advocates across the spectrum of industries — condemned the President's decision. Now, Democratic Senator and Army veteran Tammy Duckworth says Trump's transgender ban weakens the military. When Duckworth spoke to Bustle this week, she echoed the concerns of many and offered her own firsthand perspective.
"If he wants a stronger military, he would allow anyone who is willing to serve and who's capable of doing the job to serve, " Duckworth tells Bustle in her Capitol Hill office. "In fact, what he's doing is weakening us." The Democratic Senator from Illinois served more than 20 years in the U.S. Army, reaching the rank of Lieutenant Colonel. In 2004, Duckworth, a Blackhawk helicopter pilot, lost both of her legs after her helicopter was attacked in Iraq.
"Are you willing to go through the misery that I'm willing to go through? And if you are, then do the job."
As the Iraq war's first female double amputee and her unit's first female platoon leader, Duckworth knows what it's like to stand out in the Army. She was also the only Asian-American in her unit.
"What I love about the military, why I fell in love with the Army, was that it at its heart and at its core is a meritocracy," she says. "Can you do the job, you have my six and I have yours, and are you willing to go through the misery that I'm willing to go through? And if you are, then do the job."
In a series of tweets sent out last week, the president reversed an Obama-era decision to allow transgender people to serve openly in the U.S. military. "Please be advised that the United States government will not accept or allow transgender individuals to serve in any capacity in the U.S. military," Trump tweeted. He cited "tremendous medical costs and disruption" as reasons for the ban.
"What he's doing actually hurts our military."
Speaking to Bustle, Duckworth points out, "Transgender Americans have been serving in our military probably going back to the Revolution." She also adds that transgender Americans "have served honorably and continue to serve honorably."
When asked if a soldier's gender identity would have mattered to her when she was serving in the Army, she quickly says no. "What he's doing actually hurts our military," she says.
Ultimately, the transgender ban is just one of the issues that Duckworth has with Trump's leadership, particularly when it comes to the military. President Trump in April said that he gave the military "total authorization," implying that the ultimate decision-making power for military action was turned over to the military leaders in the Pentagon. Months later, Duckworth still isn't comfortable with that decision.
"If you're the Commander-in-Chief, you need to be the Commander-in-Chief, and the Pentagon needs to follow your orders," Duckworth says. "Yes, you take in advice and counsel from the Four Stars, but this is not a military junta. We are the greatest democracy in the face of the earth, and we need someone who can take that role and that leadership role, and we don't have that in this President."
For what it's worth, Duckworth isn't the only lawmaker to question the President's approach to running the military. After Trump's transgender ban was announced, Republican Sen. John McCain, also a military veteran, called the move "a mistake." Like McCain on the opposite side of the aisle, Duckworth's perspective comes with a fair share of weight behind it, given her time in service to the country.
Now on Capitol Hill, Duckworth seems committed to holding Trump accountable and keeping U.S. interests in the world top of mind.