Senate Issues Last-Minute Subpoena For Paul Manafort To Publicly Testify On Russia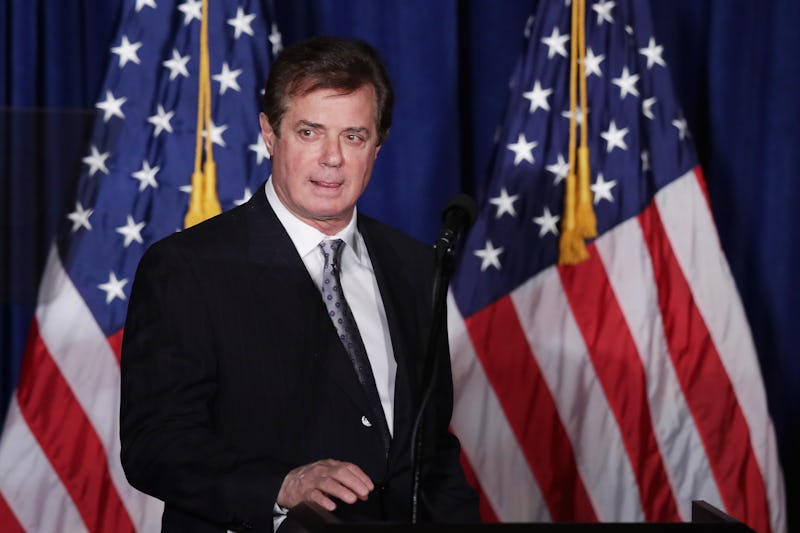 Chip Somodevilla/Getty Images News/Getty Images
After unsuccessfully trying to set up a private meeting with the former Trump campaign chairman, on Monday night, the Senate Judiciary Committee issued a subpoena for Paul Manafort to appear at a public hearing on Wednesday. The hearing in question will focus on the continuing investigation into the Trump campaign's possible collusion with the Russian government's alleged interference with the 2016 election.
"While we were willing to accommodate Mr. Manafort's request to cooperate with the committee's investigation without appearing at Wednesday's hearing, we were unable to reach an agreement for a voluntary transcribed interview with the Judiciary Committee," read a statement released by Senate Judiciary Committee Chairman Chuck Grassley and Sen. Dianne Feinstein. "Mr. Manafort, through his attorney, said that he would be willing to provide only a single transcribed interview to Congress, which would not be available to Judiciary Committee members or staff [...] Yesterday evening, a subpoena was issued to compel Mr. Manafort's participation in Wednesday's hearing."
According to a POLITICO report, Manafort will specifically be questioned about Donald Trump Jr.'s meeting with Kremlin-connected Russian lawyer Natalia Veselnitskaya on June 9, 2016, for which Manafort was present. Along with Manafort and Trump Jr., the president's son-in-law, Jared Kushner, was also present for "probably the first seven to 10 minutes" of the meeting, according to Veselnitskaya.
Both Trump Jr. and Kushner have recently made public statements denying that any form of collusion took place during the June 2016 meeting. On July 11, the president's son released a chain of emails between himself and entertainment publicist Robert Goldstone setting up the meeting with Veselnitskaya. The messages revealed that the first son's interest in meeting the Russian lawyer was rooted in the promise of receiving damaging information about Hillary Clinton. One line by Goldstone — "This is obviously very high level and sensitive information but is part of Russia and its government's support for Mr. Trump." — also gave credence to the accusations against Russia's government for election meddling.
On Monday, Kushner released an 11-page statement insisting he did not collude with the Russian government. Kushner's account has him not fully reading the emails Trump Jr. sent to him describing the purpose of the conversation, and places him as a late arrival and early departure to the now-notorious meeting.
Manafort, Trump Jr., and Kushner will all be speaking — not under oath and behind closed doors — with Congress in the coming days to further discuss their rendezvous with Veselnitskaya.