The Senate Voted To Pass The Massive GOP Tax Bill While You Were Sleeping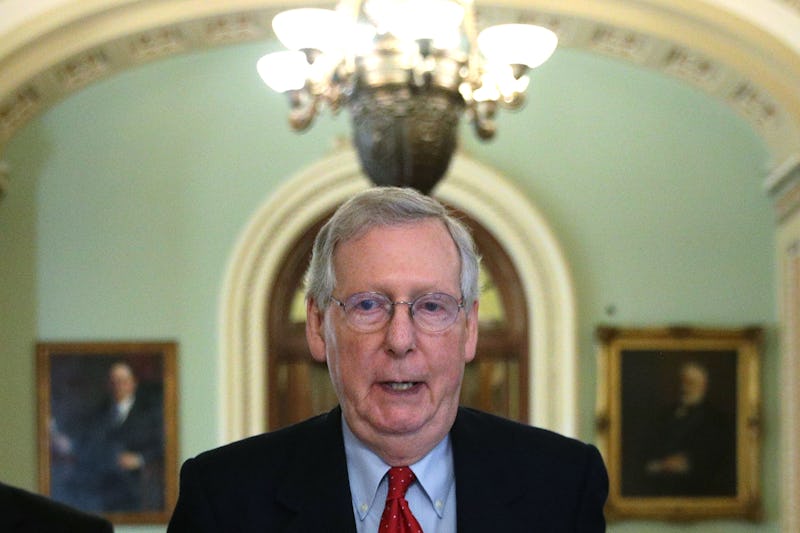 Alex Wong/Getty Images News/Getty Images
At around 2 a.m. ET on Saturday, the Senate voted to pass the sweeping GOP tax bill in a hasty process that has been roundly criticized by Democrats and the public alike. Changes to the 479-page legislation were haphazardly made until nearly the very end, and the bill passed with a 51-49 vote.
Senate Majority Leader Mitch McConnell said on Saturday morning after the bill passed that Democrats had ample opportunities to offer amendments, USA Today reported. "You complain about process when you're losing, and that's what you heard on the floor tonight," McConnell said.
However, leading up to the vote, many Democratic senators noted that there was not enough time to read through the bill; in fact, Republican senators showed the bill to lobbyists before it did their Democratic counterparts and journalists. Senate Minority Leader Chuck Schumer had tried to delay the vote until Monday with a motion to adjourn, but it was voted down.
The Congressional Budget Office (CBO) estimated that this Republican tax bill will add $1.47 trillion to the deficit over the next decade (reducing the federal debt was once central to the party's platform). The GOP has insisted that the cuts would pay for themselves, but various experts have disputed that claim. Tennessee Sen. Bob Corker was the sole Republican who voted against the bill. It will now have to be reconciled with the House's version of the bill, and both chambers will have to pass that for it to head to President Trump's desk.
Many analyses of this tax bill have pointed to one clear winner: wealthy people. Corporations would get a massive tax cut from 35 percent to 20 percent. Overall, millionaires stand to benefit the most from specific changes in the bill, including through a higher tax benefit, a lower tax rate, and more exemptions in the estate tax.
Heaping nearly $1.5 trillion onto the already bloated federal debt would mean that lawmakers will likely be making cuts to Medicare, Social Security, and other programs that help poor and middle-class Americans. The bill would also repeal Obamacare's individual mandate, which will potentially strip health insurance from 13 million people and raise premiums. And although it cuts taxes for many income levels, it does so in a way that puts the wealthy on top; according to the Joint Committee on Taxation, it will likely raise taxes among every group making less $75,000 by 2027.
Among the more outrageous things the bill includes is a tax increase exemption for the maintenance costs of private jets. A last-minute addition to the bill also made headlines late on Friday after Democrats pointed out that a proposal to exempt educational institutions from an endowment tax would only apply to one Michigan school, Hillsdale College. Hillsdale, they pointed out, is a private college with close ties to Education Secretary Betsy DeVos. The final version of the bill that passed, however, had that provision removed altogether.
Republicans have been angling for a legislative victory for months. The Senate vote on Saturday is a major boost for President Trump, who, despite having signed dozens of bills into law, has yet to sign any major legislation since taking office in January. (Republicans' repeated efforts to repeal and replace Obamacare have all failed.)
Trump thanked Republicans on Saturday morning after the bill's passage in the Senate. "Biggest Tax Bill and Tax Cuts in history just passed in the Senate. Now these great Republicans will be going for final passage. Thank you to House and Senate Republicans for your hard work and commitment!," he tweeted.
Earlier, immediately after the bill passed at around 2 a.m., Trump hailed the legislation as a massive tax cut for "working families across America." He tweeted that he hoped to sign a final bill before Christmas.