The Senate Rejects The Repeal & Replace Bill, But The Fight Isn't Over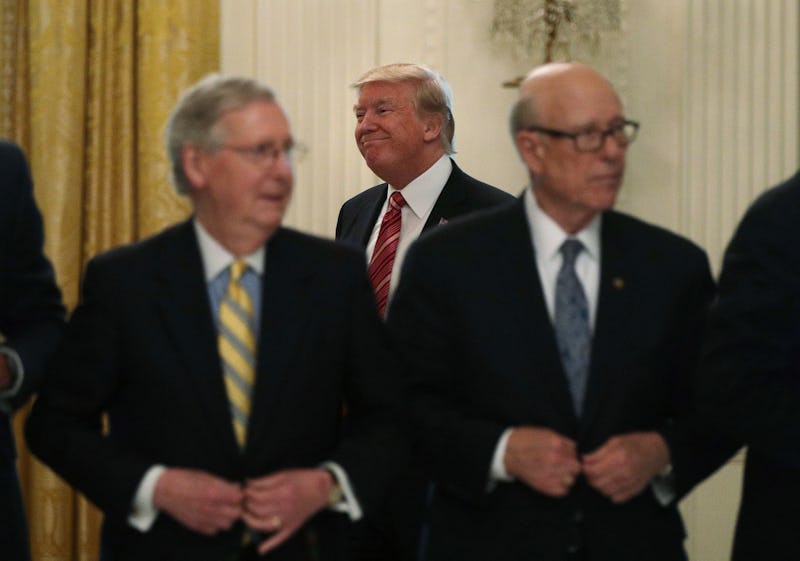 Alex Wong/Getty Images News/Getty Images
Just six hours after Tuesday's vote to begin debate on health care, Senate Republicans rejected a repeal and replace health care measure. While the vote was technically about whether the version of the bill complied with the budget act, as the New York Times noted, the future of the Better Care Reconciliation Act (BCRA) is pretty much nonexistent without some major rewrites.
Although hours before President Donald Trump, at an appearance in Ohio, emphasized what he said were "obstructionist" actions from Democrats — none of whom voted to open up the debate— it was Republican senators who ultimately nixed the Better Care Reconciliation Act (BCRA). They failed to get the necessary 60 votes (required due to Senate budget rules) — losing 43 to 57 with all Democrats and nine GOP members against it.
Among the Republicans who voted "no" on the measure are longtime criticsof the repeal and replace plans, Maine Sen. Susan Collins and Alaska Sen. Lisa Murkowsi. Also on that list are Sen. Bob Corker of Tennessee, Sen. Tom Cotton of Arkansas, Sen. Lindsey Graham of South Carolina, Sen. Dean Heller of Nevada, Senator Mike Lee of Utah, Sen. Jerry Moran of Kansas, and Sen. Rand Paul of Kentucky.
Experts have said that the BCRA in this form wasn't expected to pass, particularly given the effects of provisions from Texas Sen. Ted Crus and Ohio Sen. Rob Portman that would drastically effect low-income Americans —and were not scored by the Congressional Budget Office (which is why the 60 vote threshold was in play rather than special reconciliation rules).
However, this vote is just the first of many expected throughout this week (along with the 20 hours of debate on the Senate floor). One of the next votes expected to come up (and anticipated to fail) is one on a repeal of Obamacare without a replacement. Another vote will be on a version of the repeal bill that passed both the Senate and House in 2015 — only to be vetoed by then-President Barack Obama. That repeal, at the time, was widely considered a "symbolic" one because the veto was guaranteed.
Should those votes also fail, the next steps are expected to ultimately lead to a so-called "skinny" repeal of the healthcare law. That situation, though still a little vague to many, was explained by lobbyists to The Washington Post as a removal of the mandates requiring people to buy plans and employers of a certain size to provide coverage while also, potentially, eliminating taxes on manufacturers of medical devices.
While this iteration of the BCRA isn't likely to move forward, this week is sure is one to watch for the future of American healthcare.